You never know how strong you are until being strong is your only choice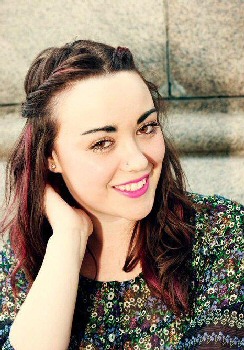 DESPITE being given just a 5% chance of survival, Naomi Daly successfully battled Leukaemia and Non-Hodgson's Lymphoma. A Facebook update simply read:- "I've done it." But 10 months after beating the illnesses, Naomi developed Pneumonia, which proved 1 battle too many for the 21 year old. Naomi sadly died on New Year's Eve 2012. On Saturday, 13 June 2015; what would have been Naomi's 24th Birthday; 9 of Naomi's friends and family will take part in a 200ft abseil from the top of the Royal Liverpool University Hospital to raise funds for vital equipment and facilities in the new Royal; something that Naomi cared passionately about. So far, more than 50 people have signed up for the abseil to help raise funds for facilities which will include a bespoke Teenage and Young Adults Cancer Unit with a better environment for younger patients.

Naomi's sisters, Anne Marie and Katy, along with the rest of the family and friends are putting their fear of heights to one side. Anne Marie, 38, said:- "She's making us laugh through life just as she did when she was alive. We're absolutely terrified; we don't do heights. Whenever our family finds itself in a tricky situation; like a 200ft abseil; it must have Naomi behind it with her mischievous smile. But it's her Birthday; what better way to celebrate it? When she was given the all clear she put a message on Facebook saying:- 'I've done it'. But then she developed Pneumonia and we lost her on New Year's Eve. We walked out of the hospital just after midnight as all the fireworks and church bells were going off around us."

Naomi wanted a tattoo of a cancer research ribbon, with the words:- "You never know how strong you are, until being strong is your only choice..." written across it, but she was never able to get it. "She had so much strength and zest for life and never moaned about what she was going through. She was the type of person that everyone wanted to be around and to know. She probably would have been up for giving the abseil a go." laughed Anne Marie.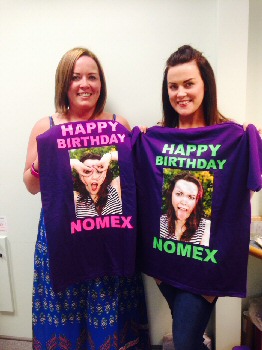 Naomi was treated on ward 10Z's Day Care unit and having experienced the ward conditions 1st hand, started campaigning for the refurbishment of the ward so that people like her could enjoy a better quality of life during treatment. The Dalys want to use Saturday's abseil to inspire others, just as Naomi did. "She campaigned for more funding and fought really hard to have a better environment for patients; she even went to the local MP. She had so much drive even when she was unwell. She's still inspiring us." said Anne Marie.

A keen actor, Naomi was part of the Everyman theatre group and spent 6 weeks teaching English to children in Thailand just before she was diagnosed with cancer. "She was so dramatic; she was given the nickname Naomi 'Diva' Daly on her ward. She wanted to make it all the way to Hollywood so we had a Hollywood star made with her name on it which now sits next to her urn at home," said Anne Marie.

Katy Daly, 31, remembers how being in hospital didn't get in the way of family life: "Our brother, Peter, lives not far from the Royal and Naomi could see his apartment from her room. He would flash his lights on and off when he got home after visiting her to let her know that he got back ok and to tell her to go to sleep. She was never alone in hospital; there was always someone there with her. We would all turn up and ask how she was feeling, but she was never interested in that, she just wanted to know about our day and how we were. She was always thinking about others."

The abseil is part of the R-Charity appeal to raise £10million for vital equipment and facilities in the new Royal.
The £10 million fund will allow for some of the most up to date and innovative treatments and equipment to be used in the new hospital, giving patients from Merseyside access to some of the best care available in the UK.

Mr Motivator Launches 'Older Actives' Competition in Search for Fittest Person over 65's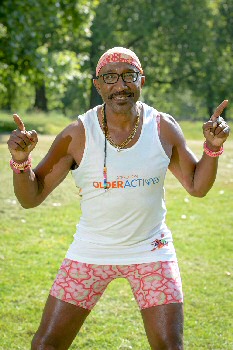 IF you are over 65's and still like to keep active, know that age is just a number and you take pride in putting younger people to shame with your fitness routines, then don your training shoes and enter the national search to find the UK's most active person aged 65 and over, starting with a regional winner from the North West.

Launched by well-known celebrity fitness guru Mr Motivator, who at 62 still keeps fit and healthy with regular workouts that used to keep the UK energised every morning in the 90's, the 'Older Actives' competition, sponsored by Ateronon, is searching for 9 regional winners from around the Country, culminating in an overall national winner taking the crown.

Fear not, the winner won't just be chosen for running 9 marathons or being a veteran cyclist who completes 30 miles a day. It can be any form of exercise that wins the competition, whether that's enjoying swimming, going to weekly Zumba classes or maybe you have a prize kept garden, as long as it keeps you fit and healthy and you enter, you have a chance of winning.

The winner from the North West will receive £500 worth of Ateronon products, £100 Marks and Spencer vouchers and a winner's medal. All regional winners will then be automatically entered into the national final later in the year. The national winner will be crowned as the Older Actives 2015 champion and will receive the above prizes as well as a trophy and £1,000 worth of UK holiday vouchers.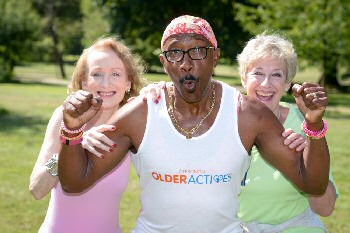 Whilst the over 65's have been considered as the least active age group, new research shows that they are now the UK's most frequent gym users. With a shift over the decades of how older people are perceived, the Older Actives campaign is aimed at promoting wellbeing and proving that anyone, regardless of age, can remain active.

Mr Motivator, said:- "My whole ethos in life is about looking after myself and when I was asked to help launch this campaign, I literally jumped at the chance. Celebrating exercise in older age is something we all need to embrace and the Older Actives campaign will reward those who include fitness in their daily life. Anyone can fit exercise into their routine, whether that's taking the stairs instead of the lift, a walk to the shops or going to the supermarket and lifting cans! You don't need to spend a fortune to stay fit and healthy and I think this campaign is a great way to inspire people of my generation in the North West, to get active."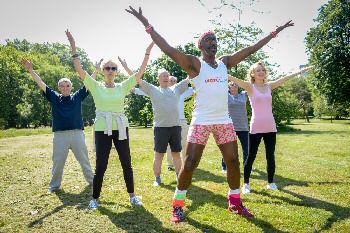 Chris Meaney, Head of Marketing at Ateronon Active, added:- "This is a great campaign for us to get behind as it sits perfectly with Ateronon's brand values of helping people live healthier, more active lifestyles. We want to celebrate the achievements of the older generation and hopefully inspire others along the way."

The launch of the Older Actives Campaign supports a new product called Ateronon Active, a natural supplement aimed at providing relief for those with aches and pains. It can also assist anyone who still exercises and wants to combat the effects of Delayed Onset Muscle Soreness (DOMS).

You can enter the competition via post, online at:- OlderActives.Co.UKk or call them on:- 0845 505 0090 for more information.
Postal entries can be sent to:- Ateronon, CamNutra Ltd, Bishop Bateman Court, Thompson Lane, Cambridge, CB5 8AQ.