Number of heritage buildings at risk at new low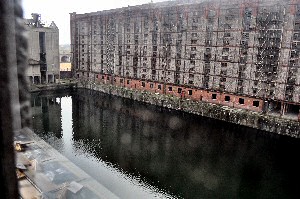 THE number of historically significant listed buildings in Liverpool deemed to be 'at risk' of falling into dilapidation, has fallen to a 24 year low, according to new figures.

As of the end of June, just 96 out of a total of 2,679 are said to be 'at risk'. This is down from 351 in 1991 and 142 in 2009.
It's anticipated that a further 25 buildings across the City will have either been repaired or undergoing full refurbishment within the next 12 months, including St Luke's Church near the City Centre and Heaps Rice Mill which is set to become residential accommodation, as part of a larger development project in the Baltic Triangle.

Historic England, the government heritage body that oversees buildings and monuments, says the average number listed buildings at risk in a City, like Liverpool, should be around 6% or 7%.
By the end of 2016, Liverpool City Council estimates the figure will have fallen to just 2.6%, less than ½ the national average.

| | |
| --- | --- |
| 1998/1999 | April 2014 |
| | |
Recent success stories include the North Warehouse, at Stanley Dock, the Royal Insurance building on North John Street, the Laundry and Laundry Cottage at Croxteth Park and St Andrew's Church on Rodney Street.

Welcoming the figures, Mayor of Liverpool Joe Anderson said:- "It's important that we protect and enhance the heritage of our great City for future generations. These buildings have shaped not only the Liverpool's history, but the Country's and the wider world's. The team responsible for these impressive figures have my thanks and I'm sure the whole City's; for the important work they've done in preserving our civic heritage. It's a huge challenge because many of the buildings are not in the ownership of the Council. However we are not complacent and know there is more work to be done."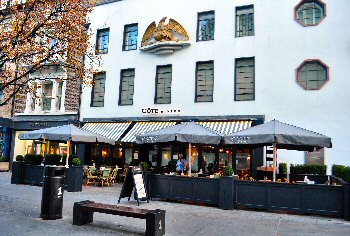 Chris Griffiths from Liverpool City Council's Urban Design and Heritage Conservation team added:- "For a number of years, we have set out to get to grips with the issue, putting in place sound working practices, protocols and experienced staff to make sure that the City's historic buildings are cared for and preserved. The approach is paying off, with the number of at risk buildings now at the lowest for a generation."

Last year, Historic England (formerly English Heritage) praised Liverpool for its approach to preserving its historic buildings, highlighting the work to preserve Stanley Dock North Warehouse by transforming it into a five star Titanic Hotel, and the restoration of the former Royal Insurance Building into the Aloft Hotel.
Buildings currently on the list include:- the Wellington Rooms and churches including St Bride's, St James and the Welsh Prebyterian Church; all in Liverpool 8, All Saints Church in Liverpool 7, Greenbank Drive Synagogue in Liverpool 17 and Holy Trinity Church in Liverpool 5. Liverpool City Council is working in partnership with Historic England on rescuing each.

A new bid to the Heritage Lottery Fund for Townscape Heritage Funding has been prepared for the Ropewalks and Chinatown area of the City and, if successful, will provide funding for the Nelson Street area, as well as other key sites in Ropewalks, part of which is in the World Heritage Site.

£5,000 of camera equipment waiting to be snapped up in manufacturing photography competition
KEEN photographers are being urged to put UK manufacturing in the frame for the annual EEF/Lombard manufacturing photography competition, where a share of £5,000 of Canon photography equipment is available.

The competition is now in its 6th year and EEF, the manufacturers' organisation, and Lombard, the UK's largest asset finance provider, are asking photographers to submit images that capture the essence of modern British manufacturing. Photographs can portray any stage of manufacturing, from design, process and technology in action through to the finished product, and can cover traditional or high-tech sectors.

The competition is designed to raise the profile of UK manufacturing by showcasing the industry's creativity, diversity and heritage through inspiring photography. Companies are being encouraged to open their doors to photographers in their local area to demonstrate what makes manufacturing so great.

There are three categories to enter: professional, amateur and young photographer (14 to 19 years old). The competition closes 30th September 2015. Entries will be shortlisted by a panel of photography and industry experts with winners announced in December at a special ceremony in the House of Commons.

Terry Scuoler, Chief Executive of EEF, says:- "Manufacturing has a key role to play in underpinning the UK's drive to compete in the global economy. From investing in the future by providing high-quality apprenticeships to exporting products across the world, manufacturing is the beating heart of British ingenuity and creativity. This competition is designed to capture and showcase its breadth and scope and to open eyes to the innovation going on each and every day in our sector."

Ian Isaac, Head of Sales at Lombard, says:- "This competition challenges photographers to push aside out-dated perceptions about manufacturing and capture it in all its modern glory. UK manufacturing is innovative and thriving. More importantly it's on the cusp of a fourth industrial revolution making it an exciting and historical time for photographers to get involved. We're delighted to be sponsoring the competition again this year."

The competition is backed by Canon, The ERA Foundation, BIS, APMG, The Guild of Photographers, The Manufacturer magazine and The Times. The gallery of winning and shortlisted images will be showcased around the UK throughout 2016.

For more information and to enter the competition, visit:- EEF.Org.UK/Photo.
More females wanted for football
FEMALES inspired by the England football team's success at the Women's World Cup are being urged to get involved in 1 of County FA's Female Football programmes across Merseyside. Female football is the fastest growing format of football in Merseyside. Liverpool County FA have over 170 female grassroots football teams across Merseyside who have teams ranging from under 7's through to adult female, playing five a side to 11 against 11 at various indoor or outdoor football facilities.

Liverpool County FA have just completed the Merseyside Game Changer which included a complete review of female football in the area including school, grassroots, recreational football and the Female Talent Pathway.

Over 350 females aged from 5 years upwards were consulted by the County FA on what changes and developments could be made to improve female football for females of all ages and abilities. The overall findings from the Game Changer highlighted that females want to be treated the same as their male counterparts and be given the same opportunities to play football, access to better playing and training facilities and increase promotion/media coverage of the female game to help change the perception of the game and increase participation rates in Merseyside.

Playing a helping hand in changing the perception of female football are the four local female players currently flying the flag for Merseyside in the Women's World Cup in Canada; Fara Williams, Toni Duggan, Alex Greenwood and Jodie Taylor. Fara is an adopted Scouser, and has played football in Merseyside since 2004 with Everton Ladies and her current club Liverpool Ladies. Liverpool born Toni Duggan (Manchester City) and Alex Greenwood (Notts County) started their careers playing with Everton Ladies in their Centre of Excellence and they both progressed into the 1st team, and Jodie Taylor from Birkenhead (Portland Thorns) began playing the game with Tranmere Rovers Ladies and has played in America, Sweden and Australia.

Female Football in Merseyside has benefited from £30,000 of investment from various external funding agencies including the Football Foundation, Sport England and the People's Postcode Trust during the 2014-15 season.

Anna Farrell, Football Development Officer for Liverpool County FA said:- "Female Football is the fastest growing format of football in Merseyside and the achievements of the Lionness in Canada is only going to increase awareness and help us change perception of the game locally and nationally. The FA has recently launched the #WeCanPlay which aims to canvass the support of 100,000 girls and parents as part of its drive to boost participation and change the way girls/parents view the game. At Liverpool County FA we are working tirelessly to ensure that we cater for the needs and wants of our female community and ensure that we offer football for players of all ages, abilities, races, religions and disabilities."

Councillor Tim Moore, Mayoral Lead for Sport, said:- "The success of the England Lionesses at the World Cup could prove key to changing the perception of football and get the message across that it is a sport for both women and men. It is fantastic that we have such a strong local contingent in the national squad and that is a reflection of our work with the FA to create fantastic facilities, which are used by leagues with players of all ages and abilities."

For further information on the #WeCanPlay programme and also for further information on female football in Merseyside please visit:- LiverpoolFA.com or contact Anna Farrell, Football Development Officer at Liverpool County FA on:- 0151 523 4488. You can also send them an email.