'Sarah's Law' postcode lottery may leave children at risk from sexual predators
CHILDREN may be at risk of harm from sexual predators as very few Police forces are making full use of 'Sarah's Law', the NSPCC has warned. The Child Sex Offenders Disclosure (CSOD) scheme came into force following public outrage over the savage murder of 8 year old Sarah Payne. It allows parents and others to ask Police for details about individuals if they suspect they might harm children. But since it began in April 2011 just 1 in 6 applications for information has been successful and in Lancashire, the Police force gave information about people who pose a risk to children in just 3% of applications (7 out of 235 applications).

NSPCC Freedom of Information requests to Police forces in England and Wales found that from 2011 to 2014, just 16% of applications under the scheme, known as 'Sarah's Law', were successful; with vast variations in the numbers of Police disclosures made across England and Wales. Between 2011 to 2014, 5,357 applications were made to 33 forces, but only 877 applications resulted in disclosures being made. 5 other forces said they had received 908 applications but did not provide information about disclosure numbers.
The new figures reveal wide variation in the proportion of disclosures made by different Police, indicating a post code lottery when it comes to responding to public concerns. Warwickshire Police gave information about people who pose a risk to children in just 1% of applications (13 out of 1,084 applications). Suffolk Police disclosed information they held for around a third of applications (31 out of 93 made). Meanwhile Sussex Police, the force who investigated Sarah Payne's murder, gave out information for only 7% of applications (14 out of 193 applications).

As well as parents, carers and guardians, any concerned member of the public can formally ask the Police to tell them if someone has a record for child sexual offences. Peter Wanless, NSPCC chief executive, said:- "We are both disturbed and surprised by this wide discrepancy of figures across the country, revealing that there is a postcode lottery when it comes to how forces deal with Sarah's law. Families need to know if there are individuals in their area who pose a risk to children. How can you expect parents to make the right choices in order to protect their children if they don't know who is a threat? The Police need to be proactive in empowering communities to protect vulnerable children. The wide variation in disclosure numbers doesn't breed confidence that the scheme is being understood or applied consistently and that is a concern. While there may be very good reasons for not disclosing information held to applicants, some forces seem to be too cautious which could put children at serious risk of harm. We need to see regular independent evaluation of this vital law to make sure it's working as it should."

The figures come weeks after the NSPCC's State of the Nation report showed a dramatic increase in child sexual abuse being reported to Police, with 3 offences committed against children every hour.
Befrienders bring a little sunshine this Summer
OUR Befriending and Re-ablement service has been operating for 3 years in Sefton and has quickly been established as a premier service for helping older people increase their independence, improve their confidence and overcome loneliness. We have just been granted Approved Provider Standard by the Mentoring and Befriending Foundation as a mark of the superb quality of our service. Our summer message for anyone thinking of becoming a volunteer Befriender is to bring a little sunshine into someone's life. Being lonely can really dampen a person's spirit. Our volunteers brighten up their client's day and are very special to them. During their time together each week, our volunteers and clients can do anything they would like to do. Some have a chat and a cuppa, others go along to our Companions social groups either in Southport, Maghull or Bootle and some enjoy a short walk to the park. We only ask for an hour or two to spare. The companionship befriending provides really does brighten up someone's day. We would love anyone who feels they are able to bring some sunshine to get in touch. When speaking about the service, one of our existing Befrienders said:- "As a society, we have a responsibility to look after and support our senior citizens, it is in fact, being age concerned. My favourite part of volunteering is having a connection with someone else. We have a lot in common and I enjoy listening to them, I've gained a lot of knowledge that I didn't have before helping them. It started off when I was younger, we lived with a lot of elderly people, so that's enhanced my life and I've gained so much from being around people of that age group. I think finding time to provide companionship to elderly relatives in today's busy schedules is difficult for a lot of younger people any time, no matter how little, can make a difference It's a very rewarding role. You gain a lot more than you give and it'll bring something special to someone's life. Don't think about it, just do it."

This volunteer Befriender meets the client for a trip to town every week and a look at a few different cafes for a change of scene; they both have a great deal in common as they both worked in similar areas of business and have a passion for local history. The client really appreciates and values the companionship which has been forged and looks forward to the weekly catch up and chat. To become a volunteer Befriender or for information on volunteering please call Lauren on:- 01704 516 574. If you or a family member or friend would like to access the service for support in many different areas including Befriending please do give us a call on:- 01704 542 993 (press option 4 when asked). You can also pop into our Sefton Office at:- 8 to 10 Hoghton Street, Southport or you can also look at our website.

Poignant poppies come to Liverpool
Photograph copyright and taken by Richard Lea-Hair and Historic Royal Palaces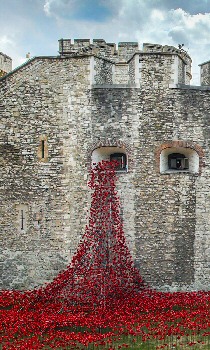 THE iconic poppy sculpture which attracted millions of people to the Tower of London in 2014 is coming to Liverpool. Weeping Window is a section of the artwork showcased in the capital last year and is a tribute to the fallen in World War One.

It will go on display on part of the external façade of St George's Hall; a location intrinsically linked with the Great War; as part of a UK wide tour organised by 14-18 Now who are the national organisers of the First World War Centenary Cultural Programme.

When on display in London, the Weeping Window was the cascade of poppies that could be seen pouring out of a high window and in to the moat below and is made up of thousands of ceramic flowers.

It will be erected at the start of November in time for the City's annual Remembrance Service on Sunday, 8 November 2015, and will be in place until January 2016. Following a bidding process to host either Weeping Window or Wave which is another part of the poppy sculpture, Liverpool is one of just three locations for 2015. The others are the Yorkshire Sculpture Park in Wakefield and Woodhorn Museum in Northumberland.

Mayor of Liverpool Joe Anderson said:- "Liverpool is honoured and privileged to be chosen to host the Weeping Window. There is no better location than St George's Hall, with its intrinsic links to WW1 and the Liverpool PALS and its Cenotaph where people come to pay their respects to the war dead. It is the spiritual heart of the City and a place where Liverpool gathers at important moments in its history, whether for celebration or sorrow. I know that people will come from far and wide in huge numbers to see the Weeping Window, particularly around Remembrance Sunday. We will be working in partnership with other organisations to run a community education programme focused around the history of WW1 and encourage personal remembrance and reflection."

The Weeping Window and Wave are from the installation Blood Swept Lands and Seas of Red by Paul Cummins Ceramics Limited in conjunction with Historic Royal Palaces. The original poppies concept was created by artist Paul Cummins and installation designed by Tom Piper. It was originally at the Tower of London from August to November 2014 where 888,246 poppies were displayed, one to honour every death in the British and Colonial forces of the First World War.

Jenny Waldman, Director of 1418 NOW, said:- "14-18 NOW are thrilled to be taking the poppies to Liverpool, and we are pleased to announced that Weeping Window will be in St George's Hall for Armistice Day 2015. This is the latest in a number of commissions with the City that have opened new perspectives on the First World War, including the Giants, Dazzle Ship and the Dazzle Ferry, and we look forward to working with them on this exciting project."

The 2 sculptures, which together have more than 10,000 poppies, have been saved for the nation by the Backstage Trust and the Clore Duffield Foundation, and gifted to 1418 NOW and Imperial War Museums. Financial support for the presentations has been received from the Department for Culture, Media and Sport and the Heritage Lottery Fund, and fundraising for the presentations is ongoing.

DAF Trucks are the transport sponsor for the UK presentations, and 14-18 NOW are delighted to partner with DAF on making this historic project a reality.
There will be free access to the poppies for the public to view the work, and it will be supported with an educational programme.
Secretary of State John Whittingdale said:- "It is fantastic that there will be new ceramic poppy installations in different parts of the country. This is art at its most powerful and it is only right that everyone should have the chance to see them. The London installation had a huge impact on all those who saw it and the new installations will do the same. This is an another important opportunity for us to remember and pay tribute to those who gave their lives in the First World War."

For the latest information visit:- CultureLiverpool.Co.UK/Poppies or 1418Now.Org.UK/Poppies. On Twitter follow @CultureLpool or @1418NOW #PoppiesTour.