Scratch and Win for Summer Fun with Arriva North West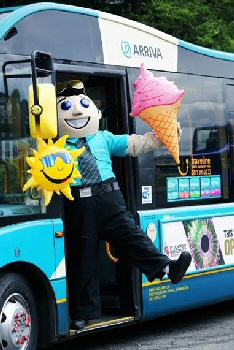 ITS game on for Arriva customers this summer, as the bus operator offers up a bumper package of gifts and treats sure to put some sunshine in the season, whatever the weather may bring.

A bounty of brilliant prizes worth over £300,000 is currently up for grabs to people heading online and trying their luck on:- 'Top Deck' Arriva's virtual scratch card. With holidays, days out, bikes, toys and shopping vouchers all hidden behind the game's squares, there is something to brighten even the darkest of summer days.

Debra Heaton, marketing and communications manager, from Arriva North West, explained:- "Summer should be a time of fun, and here at Arriva we pride ourselves on ensuring we are able to help give people better access to that fun by bus, wherever it may be. So to celebrate the onset of the summer holidays we are hoping to banish any potential bad weather blues by guaranteeing to put smiles on the faces of people across the UK. With over 15,000 people wonderful seasonal treats to be won, all you have to do is register to play 'Top Deck' online and you could be claiming a super sunny surprise!"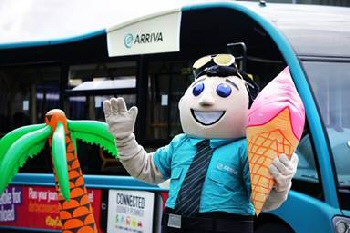 To play, simply visit:- ArrivaWin.Co.UK and sign up to My Arriva. Those already registered to My Arriva should just enter their log in details. Plays are limited to 1 per person. Terms and conditions apply.
Timetables and details about services in Southport are available at:- ArrivaBus.Co.UK/North-West.

Serving up improved tennis courts
LOCAL tennis players can look forward to much improved facilities as work is under way on upgrading the courts at Sefton Park. The Park's 2 free to use Courts have been given a makeover as they were in poor condition and required a substantial renovation. A programme of improvements, investing £56,000 of capital funding, has been carried out by the City Council's contractors, Glendale Liverpool. It has involved resurfacing the courts, undertaking new line markings, posts and nets. There will also be a new wire mesh fence around the courts with access gates and path edgings. Councillor Steve Munby, cabinet member for neighbourhoods, said:- "Tennis in local parks is very important and we need to ensure that the facilities meet the players' needs. Who knows; a future Wimbledon champion might play their 1st games at Sefton Park. We want all the users of parks; whether they are playing tennis, taking children to the play area or just going for a walk to have an enjoyable and safe experience. This investment will make Sefton Park a more attractive place and encourage more people to play tennis."
Hospital excludes 4 members of staff from work following whistle blowing complaints
SOUTHPORT and Ormskirk Hospital NHS Trust (the Trust) have excluded from work four members of staff, the Chief Executive, Chief Operating Officer, Human Resources Director and Deputy Director of Performance. The exclusions follow an independent external investigation into 3 separate whistle blowing complaints received by the Trust.

No aspect of the whistle blowing complaints or investigation related to issues of patient care or safety.

The 4 employees are excluded whilst an internal investigation is conducted. Exclusion from work is not a disciplinary sanction, but is a holding action pending the completion of an investigation. During the investigation the Trust will be unable to comment further as it relates to both employment matters and an ongoing investigation. The decision to exclude the 4 employees was unanimously agreed by the Chair and the 6 non-executive directors on the Trust Board with support from the NHS Trust Development Authority.

Sue Musson, Chair of the Trust said:- "In response to the three whistleblowing complaints made to the Trust and the subsequent independent external investigation by the Good Governance Institute it has been necessary to exclude three senior executives and one other employee. I want to stress to our patients, their families and the public that no aspect of the complaints, the investigation that has taken place and the exclusion of the four employees are related to issues of patient care or patient safety. This action will not affect the healthcare services provided by the Trust to our patients. An internal investigation will now begin in line with our disciplinary policy. With immediate effect Ann Marr, Chief Executive of St Helens and Knowsley Teaching Hospital NHS Trust and Gaynor Hayles, Associate Director of Nursing at the NHS Trust Development Authority will be assisting the trust. Ann will be providing leadership within the Trust in the Accountable Officer role on an interim basis. Gaynor will be supporting Ann in this role, overseeing a variety of functions including that of Chief Operating Officer, again on an interim basis. Both Ann and Gaynor will be continuing with their current roles whilst supporting the Trust. Ann comes with a strong track record in running hospitals in the North West. We are pleased to be able to have someone of Ann's calibre as an experienced and long standing Chief Executive to support the other members of the Executive Management Team in the day to day running of the Trust. Sheila Samuels will work with the Trust to provide Interim Director of Human Resources support in the short term whilst investigations are ongoing. Sheila is an experienced health and local government sector professional, this has included working as an Executive Director in the NHS covering governance and human resources. Whilst this is a serious employment issue for the Trust, our priority is, and remains, providing quality healthcare in hospital and the community to the 258,000 people across Southport, Formby and West Lancashire whom we serve."

Ann, Gaynor and Sheila will join the existing executive director team of Damian Reid our Director of Finance, Rob Gillies Executive Medical Director and Simon Featherstone Director of Nursing, Quality and Risk.