Remembrance of Diana, Princess of Wales and All Road Crash Victims
CHARITY RoadPeace NW are inviting those who have been bereaved or injured through road crashes, together with those who support them, to the remembrance event in the:- Lady Chapel of Liverpool Anglican Cathedral, St James' Mount, L1 7AZ, on Monday, 31 August 2015, starting at 2pm. The day marks the 18th Anniversary of the death of Diana, Princess of Wales, in a road crash. It also marks the anniversary of the world's first motor vehicle death, that of 'Mary Ward' in Ireland in 1869. Britain's first road death also occurred in August, when Bridget Driscoll was killed at Crystal Palace on 17 August 1896, with the Coroner pronouncing "This must never happen again". Since then, over half a million people have been killed in crashes in Britain and the current annual global death toll is estimated at over 1.3 million deaths. Such scale of loss has been described by Professor Danny Dorling, a patron of RoadPeace, as this century's biggest public health crisis with our roads the "open sewers of the 21st century". There will be a minute's silence during the ceremony after which 5 doves will be released in memory of loved ones, as each day, on average, 5 people are killed on Britain's roads. The doves will be released from the Children's porch. Pauline Fielding of RoadPeace said:- "We encourage anyone who has been bereaved or injured through a road crash to join us for this remembrance and the chance to support and talk to each other after the ceremony. We are thankful to those who support us and to those who are working hard to reduce the number of people killed on the roads of Merseyside." The event will be attended by the Deputy Lord Mayor of Liverpool, Councillor Roz Gladden and other dignitaries as well as representatives of the emergency services and organisations which deal with and support road crash victims. The RoadPeace helpline number is:- 0845 450 0355 and further information is available from:- RoadPeace.Org.
It's a great time to enrol at King George V College
STUDENTS who want to take their dreams to the next level and reach the heights of their ambition are invited to enrol at King George V College (KGV). Following outstanding A-level results, the opening of a multi million pound creative arts building and recruitment of a range of new staff, Principal Adele Wills said there has never been a better time to study at KGV college, in Southport. "This is the best time ever to come to KGV, We have a fresh focus on excellence. We have made dynamic changes across the college to ensure we're providing the best education for our students. We value our students and work with them to build their futures." said Principal Adele Wills.

Ms Wills said the college offered students:-
► Staff committed to inspirational teaching and learning.

► A £4 million new creative arts building with excellent learning resources.

► Small class sizes and excellent pastoral care more extracurricular opportunities than ever, including overseas residentials and national competitions work placements for every student.

► Excellent results; showing year on year improvement and fantastic progression opportunities to higher education
flexible study programmes.

► The mark of any college's success is its students and this summer KGV's achieved outstanding A-Level results with a 99% pass rate. Grades A* to C were achieved by 80% of the college while more than 53% received the highest possible grades.

Ms Wills said results were strong across the college's 38 A-level subjects, with a significant number of subject areas achieving 100% high grades (grades A* to B). The college also achieved a 100% pass rate for BTEC Advanced Level Extended Diplomas with 95% of these at distinction grade or above. The impressive grades attained this year have allowed nine students to fulfil their dream of studying medicine or dentistry, including Dan Howard, who will study at Cambridge University. The college is hugely proud of the destinations of all its students and in the last three years has seen over 1,000 students successfully gain places at the university of their choice. Principal Adele Wills said:- "These outstanding results are recognition of the hard work students put into their studies. KGV staff were instrumental in supporting and inspiring students to get these result. They reflect the tremendous strides we have taken and clearly show the commitment we have to valuing our students and building their futures."

Birkenhead housing developer named Gold Medal winner for safety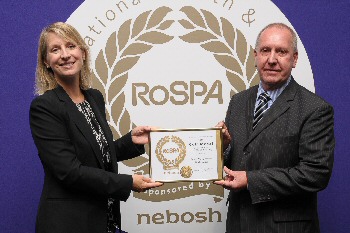 BIRKENHEAD based affordable housing developer and regeneration specialist Lovell is celebrating a Gold Medal winning performance in the RoSPA (the Royal Society for the Prevention of Accidents) Occupational Health and Safety Awards 2015.

The national safety charity has presented Lovell; which is based locally in John Street, Birkenhead; with its sought after Gold Medal award marking the company's achievement of consecutive RoSPA Gold Awards over the past 7 years. The Gold Medal recognises Lovell's outstanding safety management performance at its construction sites and offices in the North West and North Wales.

RoSPA awards manager David Rawlins says:- "The RoSPA awards encourage improvement in occupational health and safety management. Organisations that gain recognition for the health and safety management systems, such as Lovell's North West and North Wales region, contribute to raising standards overall and we congratulate them."

Lovell regional director Nigel Yates adds:- "This RoSPA award underlines the sustained expertise and hard work of our health and safety team, our staff and our subcontractor partners. Ensuring the safety and wellbeing of everyone who works with us as well of local people in the communities where we undertake projects is of the utmost importance to the company."
The Gold Medal award was presented in a ceremony at the Hilton Birmingham Metropole Hotel.

Current projects for Lovell in the North West include:-
► Joseph Williams Mews, an £8.3 million retirement living complex which Lovell is building in Belle Vale, Liverpool, for Riverside housing association and which is due to be completed this summer. Joseph Williams Mews consists of a total of 70 homes, along with 56 affordable rent apartments, as well as 12 apartments and 2 bungalows available to buy on a shared ownership basis.
► A £2.2 million development of 23 affordable rented homes for housing association South Liverpool Homes on former brownfield land at Window Lane and Island Road South in Garston, Liverpool. Work has just started on the new homes which are supported by Homes and Communities Agency funding and are set to be completed in March 2016.
► A £2.6 million development for St Vincent's Housing Association which is creating high quality affordable apartments for older residents in Billington, near Whalley in Lancashire. The new 2 storey apartment block on land off Elker Lane will create 19 modern, self contained 2 bedroom homes, for shared ownership or affordable rent, for over 55's.
► The company began work last year on a £40 million, 217 home mixed tenure development; The Laureates, at Cockermouth, Cumbria which will create 156 homes for sale and 61 affordable homes for Home Group.
► 60 new homes for sale in east Manchester in the latest phase of the £235 million Miles Platting PFI regeneration programme. Work has started on the new homes with the 1st completions due by the end of the year (2015).