Southport's Chairty Day scores big success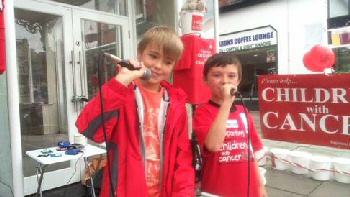 SOUTHPORT'S recent charity day in aid of Children with Cancer raised £500 for the charity on 22 August 2015. Bypassers in Southport donated whilst performers sang a variety of songs in the Town Centre. "We're delighted by the response from the people of Southport. The public really got into the spirit of things and enjoyed the singing. We even had some volunteer bypassers who sang songs for us. There's no doubt that there's plenty of singing talent in Southport. As well as wanting singers we're also desperate for volunteer collectors and drivers to help us with a series of charity collections in different towns around the region. So if you think you can help us please text me on:- 07807 541438 with your full name, age, and address and I will phone you back. Volunteer work is rewarding, great fun and a useful addition to your CV." said Molly Howarth of poetry publishers United Press, which sponsored the event. United Press has been sponsoring the volunteer group for 13 years. It's raised £500,000 for charity by performing and collecting in various towns; mostly on Saturdays. "We may be back to hold another event in Southport but can sometimes provide transport for volunteers who want to help us with collections in other towns," explained Molly. For further information go to UKCharityAid.Com or UnitedPress.Co.UK or ring:- 01282 459533 or simply text:- 07807 541438.
Council's energy bill is lighter
THE introduction of LED street lighting into Liverpool is cutting the City council's energy bills by a bigger amount than forecast. Following the completion of the 1st phase of the programme, in which 12,000 LED lights were installed in roads across the City, the energy bill has been cut by £585,000 a year, taking the bill down from £2.6m a year to just over £2m. The 2nd phase of the programme, which involves installing a further 8,000 lights is still to be completed, meaning that further savings will be made. It was originally anticipated that the savings would be £500,000 a year when all the lights are installed, but that has been comfortably exceeded halfway through the scheme. The new lights cost a total of £2.7m but it was always envisaged that there would be long term savings. As well as the financial savings there will also be a reduction in carbon emissions of approximately 1400 tonnes in each phase. On going maintenance costs will also be reduced by more than £100,000 per year. Councillor Malcolm Kennedy, cabinet member for regeneration and transport said:- "Not only are our streets brighter but we are cutting costs by significantly more than we anticipated as well as reducing our carbon footprint; this is good news all round."

Deputy Mayor unveils new housing development
COUNCILLOR Ann O'Byrne has unlocked the doors to a stylish new show village at Countryside's Queen Mary Place development in Liverpool. Prices start at £148,950. The Deputy Mayor of Liverpool helped to celebrate the official release of 200 affordable homes with a ceremonial ribbon cutting at the £26m redevelopment project in Walton. The development, which is being built by Countryside on behalf of Sigma and Liverpool City Council's regeneration partnership, Regeneration Liverpool, features a collection of high quality and affordable homes that are designed for modern family living.
Councillor Ann O'Byrne, Deputy Mayor of Liverpool, said:- "This is a fantastic development which forms part of our commitment to deliver 5,000 new homes in Liverpool, driving up the quality and range of properties available to residents. It is another example of the council using brownfield sites which have been previously developed for housing."

Ian Kelley, Managing Director of Countryside's Partnerships North division, added:- "The Deputy Mayor's presence here today truly reinforces Liverpool City Council's commitment to building high quality and affordable homes throughout the City. We've already experienced an overwhelming amount of interest in the development since opening the doors to our interior decorated show village, with 14 homes already sold off-plan. This success replicates the popularity of our nearby NGV Liverpool development, which has been instrumental in the transformation of Norris Green and further improving the quality and variety of homes across the City."

Of the 200 homes under construction, 136 will be available for sale through the Government's 5% deposit Help to Buy scheme, with the remaining 64 available for private rent under a new private rental offering (PRS) between Sigma Capital, Gatehouse Bank Plc and Barclays.

Graeme Hogg, Chief Operating Officer at Sigma Capital, said:- "The 64 PRS units that we have here at Queen Mary Place are in addition to the 150 we have on site at NGV Liverpool, both of which are part of our initial £100 million fund created by Sigma Capital, Gatehouse and Barclays. This alone is a £25 million investment in PRS in North Liverpool. We only commenced on site in February and are delighted with progress to date. Demand for the product has been very strong and lettings are going extremely well. We expect to be letting the homes at a rate of around 15 per month and will be handing over keys to our 1st tenants this week. All of the of the units will be completed and fully let by November 2015, only 10 months after we started. We look forward to continuing to work with our colleagues at Liverpool City Council on new sites as we feel the combination of PRS and private sale can evidentially bring about transformational change to an area. Queen Mary Place and NGV Liverpool are great examples of this happening now."

For more information please visit:- QueenMaryPlace.Co.UK, send an email to:- QueenMaryPlace@CPPLC.Com or contact the sales team on via calling them on:- 0151 601 4860.