Rock The Lakes 2015 - Part 1
Photographs by Patrick Trollope.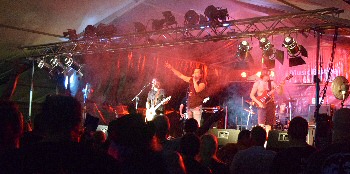 WHEN most people think the Southport Flower Show is the only big event being held in the area, just in the outskirts of Southport, a hidden event is being staged. This year was the 5th rock festival to take place at Leisure Lakes, at The Gravel, Mere Brow, running over 21 August to 23 August 2015. As it's just over the Tarleton Runner, the site it falls in no man's land, on the edge of what is regarded by many locals as Southport, but in West Lancashire, not Sefton. As a result it gets overlooked and we have to admit, until this year, we overlooked it too, and what a shame we have not spotted it sooner! Unfortunately, we could not stay all the time as the atmosphere was amazing. This is the Southport Weekender, but for Rock Music... With over 1,500 people attending, in tents, travelling in from as far as St Ives, Cornwall, also from Fersit, in Scotland and even France and Germany for this event, it just shows how good this event must be... It is quite a shock not more locals realise it is on! The audience comprised with a huge age range from babies to those over 90 years of age; with all of them enjoying themselves, no hassle or issues to be found, this is what marks a good event out. Plus, many of the young kids had ear protection on all the time, unlike most events we attended over the years, including LIMF… Not only that, but the volume levels were well controlled as too were the lighting and FX. The organisers did a fantastic job or as most of them pointed out, the main Organiser, Mike Blundell was said to have done the most. The team had to work together, building stages, cutting grass and putting up tents, in order for the event to take place on what was, until then, an overgrown field.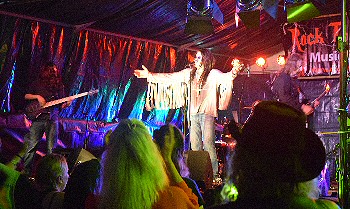 Mike said:- "It's a team effort, despite what some of them say. I'm so pleased to see how the festival has developed over the past 5 years. When I started I out I did not think we would have sell out year after year. We now have to look at how to expand it, but keep it family orientated. It is hard work, but everyone really enjoys it. We don't do it for the money, we do it as we love the music and that is what we want to keep the focus on." Among the bands who took to the stage where Liverpool's The Cavern's house band, The Rockits, Southport's favourites Fag Ash Lil, plus Sack Sabbath and London based Rainbow in Rock... plus many more... It might lack the true stars, but these tribute bands can still play and deliver an amazing show. With the lighting, costumes and fantastic bands, who needs the big stars anyway? This was fun... Plus, not only did they have good music and a fantastic bar, they also had stalls selling merchandise and a proper FX make-up artist doing amazing face painting! Even though thunderstorms lit up the sky on the weekend's night time gigs, it did not dampen spirits, but just added to the atmosphere… Let's hope it builds just as the Southport Weekender did, but we also hope this one stays in the area! We are so pleased we have found out about it. To see some of the many photographs we took at the event, please click here now. We will have even more in next week's issue as well! To find out more about the event, please check out the events website.