Come Together at Central Library
LIVERPOOL'S Central Library will be embracing all things Fab Four at a special free event on Saturday, 29 August 2015. To mark International Beatleweek, Central Library is hosting Come Together in the Library, which will see a series of musical performances and talks take place celebrating the legacy of the City's legendary sons.

A tribute band hailing from Scotland; Them Beatles; will recreate the Beatles' famous rooftop gig of 1969 with three performances taking place on the library's rooftop terrace. Taking place at midday, 1pm and 2pm, some of the band's hits will be played live with the stunning City Centre backdrop behind them.

John Lennon's sister Julia Baird will talk about her life with John and will read from her brother's written work including his books and his song lyrics. Julia will also read extracts from her own, moving book:- 'Imagine This'. Copies of the book will be available to buy and she will also take part in a book signing session.
There will be 2 chances to experience this unmissable talk at 1pm and then 3pm, both in the Hornby Library. Julia Baird said:- "I feel very privileged to be part of this event and it's an open invitation for everyone to come and celebrate the legacy of the Beatles. I'm excited to be part of the library family for the day, and share with people my experience of growing up with John and what it's like to be the sister of one of the most iconic figures in modern history."

At 2pm, Dee Elias an American Beatles fan and author will be talking about her new book about the Beatles, investigating their impact on her as a teenager growing up in the United States. Her book will also be on sale and there will be a book signing opportunity.

Beatles related archives will also be on display within the Hornby Library for people to enjoy as part of the event. These will include school registers, correspondence from Brian Epstein regarding the Hard Day's Night premiere and a home coming in 1964, and Paul McCartnery's award winning poem from his school days which was actually presented to him in Central Library in the 1950's.

Assistant Mayor and Cabinet Member for Culture, Tourism and Events, Councillor Wendy Simon, said:- "We're delighted to be part of this year's Beatleweek event. This is the 1st year Central Library has been involved and we have fascinating mix of events taking place which are guaranteed to thrill any Fab Four fan. From the live music and talks right through to our Beatles related archive material on display, there is lots to see and do to keep music fans enthralled. We hope as many people as possible make the most of this free event in the impressive surroundings of Liverpool's Central Library."

International Beatleweek runs from August 26 to September 1. For full details visit:- CavernClub.Org/BeatleWeek.

Owls About That Then! Feathered Friends Visit Walton Manor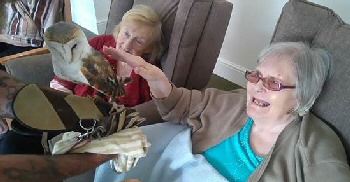 RESIDENTS of Walton Manor care home in Liverpool welcomed some feathered friends for the day, enjoying a therapeutic owl show.

The magnificent birds of prey arrived at the care home for an animal therapy session in the afternoon and stayed for a couple of hours. Residents fed and petted the owls, which enjoy the attention. The staff and residents all were all impressed with how soft owls' feathers can be! The pet therapy session proved to be a hit with everyone at the home.

Animal interaction is part of a range of therapeutic activities that are offered to residents at Walton Manor, including scent reminisce therapy, nostalgia cafés and music. Animal therapy is recognised as an effective therapy for people living with dementia, since spending time with animals can improve both physical and mental wellbeing by encouraging communication.

Walton Manor is part of Embrace, providing tailored care and support for older people. The home provides person centred care identifying people's goals and ambitions and focusing on enablement and the promotion of personal dignity.

Marina Moore, Activities Coordinator at Walton Manor, commented:- "The owls' visit was fantastic fun! To be able to see such interesting and beautiful birds up close and personal was great. A fantastic time was enjoyed by all I we would recommend this activity for all of our care homes. Many of the residents are big fans of nature and wildlife so the owls' visit was a real treat; we look forward to having our feathered friends visit again in the future!"

Walton Manor, part of Embrace, provides personalised nursing, residential and dementia care for older people.
Deceased estates notice - Lilian May Jackam
Pursuant to the Trustee Act 1925, any persons having a claim against or an interest in the Estate of Lilian May Jackam (also known as Lillian May) Jackam (Deceased), late of Birch Abbey Rest Home, 55 Alexandra Road, Southport, Merseyside, PR9 9HD, UK, who died on 04/10/2018, are required to send particulars thereof in writing, to the undersigned Solicitors, on or before 24/05/2019, after which date the Estate will be distributed having regard only to claims and interests of which they have had notice. Churches Solicitors, 12 High Street, Fareham, Hampshire, PO16 7BL, UK. Ref:- 'T553015.'
..Paid Advert..
Contact us:-
(+44) 08443 244 195
Calls will cost 7p per minute, plus your telephone company's access charge.
Calls to this number may be recorded for security, broadcast, training and record keeping.

News24@SouthportReporter.com
4a Post Office Ave, Southport, Merseyside, PR9 0US, UK


Our live Southport Webcam image above.
To see it live, please click on image.

Event Notices

More events that are taking place on Merseyside can be found on our Event Listings Calendar.

Click on here to see our event calendar.
Are you going to this event? If you are please let us know what you thought of it!

These are our other websites within the Southport & Mersey Reporter Network.

Mersey Reporter

Formby Reporter

Liverpool Reporter

Southport TV
| | |
| --- | --- |
| | © - Southport Reporter® is the Registered Trade Mark of Patrick Trollope |
..