Local Restaurant Strives to Become a Record Breaker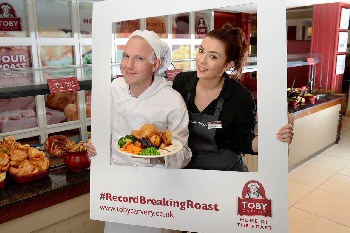 TOBY Carvery in Southport is attempting to become Guinness World Record holders for the largest online photo album of roast dinners. As the team at the restaurant on Liverpool Road celebrate their 30th Birthday, they are asking guests to get involved in the challenge to become record breakers by uploading pictures of their roast dinner to the album hosted on Toby Carvery's website and smash the target.
The roast dinner album must reach 50,000 photos in order to be named successful in their attempt, but Alexandra Wheelton, manager at Toby Carvery Ainsdale, has no doubts that a nation of roast dinner lovers won't have any problems completing the contest. Alexandra Wheelton said that:- "Britain is a nation that loves a hearty roast dinner so I'm sure we will have no problem setting this title. We really value our guests and want to involve them in our 30th birthday celebrations. Everyone who uploads an image can say they were part of a world record attempt, which is really great."

Each person that submits an image to the Guinness World Record attempt will receive voucher to get 2 course, for just £6.50, so they can indulge in more tasty roasts and celebrate their efforts in helping to crown Toby Carvery king of the roast dinner. Entrants are also invited to join the world record attempt conversation online with the hashtag #RecordBreakingRoast. To continue their birthday celebrations, customers can also look forward to reading through a list of '30 facts about roast dinners', compiled by Toby Carvery. Locals who want to join Toby Carvery on their world record quest simply need to upload a picture of their roast dinner to WorldRecord.TobyCarvery.Co.UK. Roast dinner images can be uploaded to the site from Friday, 28 August to Saturday, 12 September 2015 and must include a plate of the following items:- 1) meat (turkey, gammon, pork, beef or nutroast), 2) roast potatoes or mashed potatoes, 3) Yorkshire pudding, 4) vegetables and 5) gravy. Toby Carvery believes there's only one way to do Great British Roast and that's properly. Food is always freshly prepared at Toby to satisfy your carvery craving. You can choose from a selection of tender, slow cooked meats, ten lots of veg, including crispy, ruffled roasties, and all the trimmings. With over 160 locations across the UK and over 30 years' experience of laying on a family sized feast, you can be sure that Toby Carvery is home of the roast.

Jazmine can't wait to take on obstacles for R Charity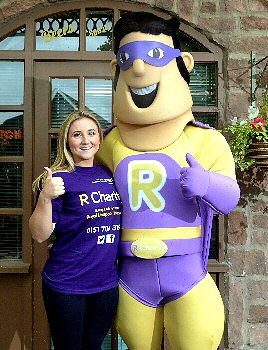 HOLLYOAKS star Jazmine Franks will be among the hundreds of people taking part in a 5k obstacle course for R Charity. Jazmine, who plays Esther Bloom in the popular Channel 4 soap, is taking to the obstacle course in aid of R Charity's £10million appeal for the new Royal Liverpool University Hospital. The Gung Ho! event will also raise funds for Alder Hey Children's Charity.

The 5k Gung Ho! inflatable obstacle course; which includes a huge 170ft slide; will take over Aintree Racecourse on Saturday, 29 August 2015. R Charity's £10million Appeal will raise vital funds for ground breaking services in the new Royal, including three new mammography units and a new x-ray scanner to help in the early detection of breast cancer.

Jazmine, 23, from Bury, says she jumped at the chance to take on the Total Wipe-out style course. "I can't wait to take part; it's going to be so much fun. I don't think I've even ran five kilometres before so for my first one to be filled with giant obstacles is going to be interesting; I'll just be laughing my way round the racecourse. Although I'm not from Liverpool, I really feel a part of this City; the new Royal will help to provide the highest quality of care to the people of Merseyside. If you're not taking part, then come down and watch anyway as it promises to be a really fun way to spend your Bank Holiday weekend!"

Loren Slade, events fundraiser for R Charity, added:- "It's great that Jazmine and so many others are taking on Gung Ho! for R Charity and helping us to reach our £10million target. You don't have to be super fit or a thrill seeker to raise money for the new hospital. Get in touch with the fundraising team for more ideas on what you can do."

To find out how you can support R Charity and raise money for the new Royal email:- loren.slade@rlbuht.nhs.uk or call:- 0151 706 3150.