Southport Flower Show 2015 - Part 2
Report by Madeleine Saghir and photographs by Patrick Trollope.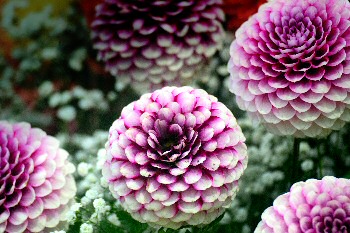 CONTINUING.... from last week's article is a closer look at Southport's annual Flower Show featuring some more detail on several of the Show Gardens. To read last weeks report, and see photos in the last edition please click on here now. More photos are in this edition and even more will be added to the next edition as well!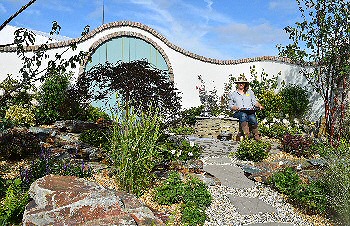 Muddy Boots

The winner of the best outdoor garden was "Muddy Boots" who featured a Chinese style "moon door" within the garden, setting the oriental theme. The garden also consisted of streams and a bench which created a relaxing space for quiet and peace. "Muddy Boots" claims that after 8 shows this garden this year (2015) is her favourite and felt that it would still work in a western garden.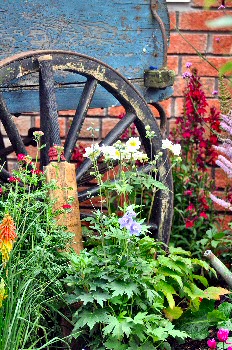 The Alzheimer's Society

The Alzheimers Society created a memory sensory garden dedicated for people with dementia; old props were used in the garden to evoke memories of peoples past. The Forget Me Not symbol played a role in the garden and was placed in the middle created from loose slate and golden stone. The garden aims to raise awareness about dementia.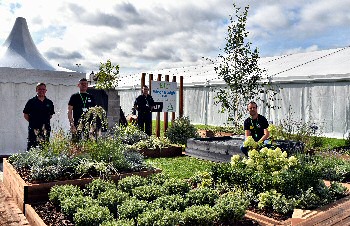 Groundwork Cheshire, Lancashire and Merseyside

This garden took its inspiration a child's puzzle toy, as different parts of the garden can be moved around to organise the garden in a variety of ways. This makes the garden easily adaptable and ready for change and for an abundance of functions. Wigan and Leigh Homes sponsored this garden. At the end of the show all the different boxes were lifted and put into other projects within the community to be re-used in residential care homes, community gardens and sheltered housing etc. The furniture within the garden was all made out of recycled pallets by a project that works for young, unemployed people gaining them helpful and useful skills such as woodwork.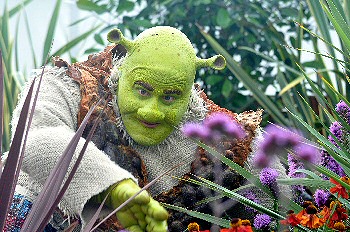 Shrek at The Lowry

Mook Gardens took on a project to re-create Shrek's swamp which they were asked to build for the Lowry Show to advertise the new Shrek production, which they claim was great fun to make. Shrek at The Lowry Theatre will take place next year from Tuesday the 2nd till Saturday the 10th February and will also be performed at the Liverpool Empire. A spokesperson for this show has said that it is a very high quality show, fantastic and great for all the family; and that everyone should come and see it.

Mook Gardens also showcased another garden at the flower show. This garden featured a rockery and a stream. The theme of China, the rockery they had gone for was Chinese in style. It was revealed that rockery cannot be designed in advance, as, because of the size and structure, you do not know what it is going to look like until it all goes together. It is the same with the plans for the garden which takes imagination to design, but it gets harder and harder each year. The idea of this garden was that an old derelict house had been left up on a mountainside and it had been made to look although a rambler had found it after many years. This was reinforced by all the alpines that had spread, creating the impression of a somewhat wild area on a mountain.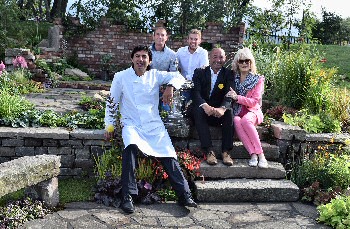 Some of the plants in the garden are Chinese, but the garden had to be designed in order to live in England, although there are several Chinese plants that could survive in England as well.

Mook gardens have been participating in the Southport Flower Show for over 20 years and it is therefore challenging to think of something totally different every year. During the course of the 20 years they have done some modern and contemporary and a few Mediterranean gardens and next year it will be something totally different again.

It was also added that due to Southport being a Victorian town, old stone has to be used to match the old houses. When asked if weather was a factor the answer was 'no'. No matter what the weather does; even if it was snowing, they go straight for it and work through it.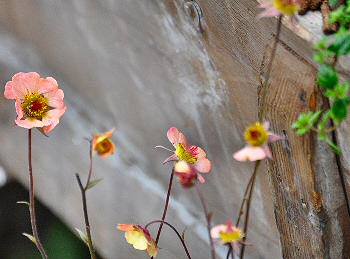 It was also said that having a theme for the show is sometimes problematic as there are a lot of showcase gardens, so it is important to come up with something that you do not think everyone else will do. This is because the gardens cannot all look the same, so a unique personal touch has to be added and it is good to diversify.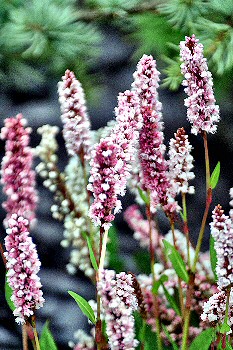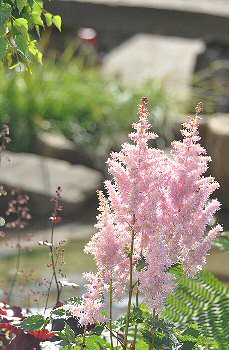 Royal Society for the Protection of Birds (RSPB) were also present at the Flower Show. Their aim is to look after wildlife all across the UK. They have over 200 nature reserves and try to encourage people to come along and get closer to nature and to also give nature a home in the garden. An example of this is making planters out of wellington boots. It is also reported that hedgehogs are in massive trouble and their numbers are declining, they think they will be extinct in 10 years due to the loss of habitat. Bees are also in danger and numbers are also dropping, a major cause for this is pesticides. Bees are extremely important for the environment so it is important we help to maintain an environment in which they can live. The RSPB suggest Bug Hotels for wildlife in gardens to help with this problem. The heart of this trust is birds and they are at the centre of what they do, but nature is all connected and it is crucial to look after and protect wildlife.
To see some of the many photographs we took at the event, please click here now.
Do not forget we have more photos in next weeks issue for you as well!

If you attended, please let us know what you thought of the event, by emailing us to:- news24@southportreporter.com .

Despite the rain over the last 2 days, the Southport Flower Show, overall was a success and the gardens were interesting and entertaining to look at, as were other events and stalls that were going on at the show. It will be back again in 2016, so it is highly recommended to go for a good day out or maybe even a couple!