Film Review:- "The Man From U.N.C.L.E."
Review written by Dasha Ibrajeva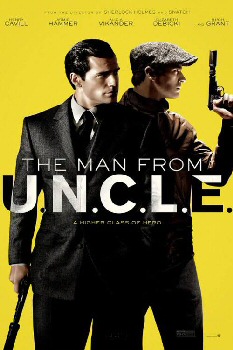 THE Man From U.N.C.L.E. is very stylish and incredibly tasty movie with beautiful actors, outstanding humour and elegant plot twists, and most importantly; it works as a perfect antidepressant! So, if for any reason you are feeling down or just wishing to enjoy your time and get charged with positive emotions, this film is exactly what your doctor would prescribe.

The movie brings us back to the early 60's, when a roguish American secret agent, Napoleon Solo, (Henry Cavill) is forced to team up with a severe KGB agent, Illya Kuryakin, (Armie Hammer), to save the world from a mysterious organisation. That's pretty much the whole story! You might ask me what is so outstanding in it then. My answer will contain just 2 words:- "Guy Ritchie"! This guy has a talent to create a masterpiece from simple and ordinary things, and his latest movie:- "The Man From U.N.C.L.E." is another great example that proves it.

The 1st thing that catches your eye whilst watching the movie is its elegance and style. Vintage furniture, motorbikes, clothes, hairstyles, wine; all that gives you indescribable taste of retro and allows you to be a part of this beautiful era! Special thanks go to the talented, English composer, Daniel Pemberton, whose musical accompaniment is beyond any praises.

Another thing that I'd like to highlight is that subtle and unobtrusive humour, which is so characteristic in Guy Ritchie's movies. It is not trivial and always comes to the right time and the right place, which only adds some unique charm to the film.

The 3rd important component of The Man From U.N.C.L.E. is its casting. I know that many film critics couldn't accept the fact that the main roles went to Henry Cavill and Armie Hammer, and were still imagining how cool it would be to see George Clooney or Tom Cruise in the movie. Personally, I was very happy to see fresh faces and really think that the film only benefited from it. Just look at this lovely Cavill Hammer duo, both of them are so handsome, so sporty, so funny; the lively role of Alicia Vikander? I simply fell in love with her.

Summing up, it was definitely 1 of the best movies I have seen this year! 2 hours flew like a minute, leaving me with a pleasant aftertaste and excellent mood! It is, without a doubt, a "Must See" movie for everyone, so what are you waiting? Run to the nearest cinema and get your own 2 hours of pleasure!





"The Man From U.N.C.L.E." = 5 out of 5
UK Rating:- 12a Due to moderate action violence.)
Director by:- Guy Ritchie
Running time:- 1hr 56mins
Story by:- Sam Rolfe
Screenplay:- Scott Z. Burns, David C. Wilson
Cast members:- Alicia Vikander, Hugh Grant, Henry Cavill

Film Review:- "Ant Man"
Review written by Patrick Trollope.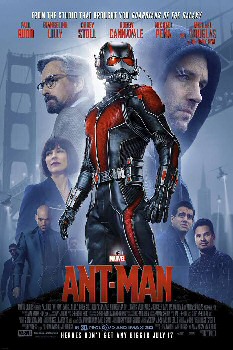 EVER since The Walt Disney Company acquire Marvel Entertainment, back in August 2009, the Marvel Cinematic Universe has been close to saturation point with audiences though out most of the world. Many of the fantastic dark characters being made more appealing to mass audiences by toning them down, thus making the world of Marvel increasingly dull. This has had an impact on audiences and has even started to loose its appeal to true fans. It was hoped that "Ant Man" would reignite the franchise, and it has done just that. This small, forgotten character so not only to be a secret weapon on paper, but also in the box office. The character is not only appealing to its original fan base, but also has helped build up a new following, thanks to it being one of the more quirky and arguably goofy Marvel Comics characters of the Marvel Universe. The plots comedy element has meant that the film could please the censors without compromising the character, as it did not have to be 'dark', making it a better investment for the studio. Plus it would be less likely to be slammed by film critics and Marvel fans. Shockingly the character is also not new, as "Ant-Man's" 1st appearance was in Tales to Astonish No. 27, published in the US, in January 1962, so it is about time he turned up in the Marvel Cinematic Universe and not just forgotten on paper. Sadly the evolution behind turning the comic it into a film was not as polished as the studios would have liked, but the end result is a glowing success, in our view. So we feel that it's not unsurprising that more "Ant-Man" films are planned. "Ant-Man" is a refreshing blend of unbelievable ideas and implausible science, that makes this type of genre fun. If you dispel the real world, you will have fun and find yourself feeling like a kid again. It's funny a refreshing change for a film like this, and it has gone down well across the board, even with non-comic, Sci-Fi fans. The ideas behind "Ant-Man" is nothing new, with shrinking characters with superhuman strength and agility being in many stories over the years, but this character is in some ways like Bat Man or as pointed out in the film, Ion Man, a normal human, using a special gadget to gain an advantage over an enemy. The plot brings a founding member of The Avengers to the big screen, but the originally, "Ant-Man". The originally was a scientist and inventor who developed a serum that could allow him to change the size of his body and increase in strength. But in this film it is not him who will be the "Ant-Man", but a master thief, turned good, who is being used by the original "Ant-Man" to protect the secret behind his spectacular "Ant-Man" suit from a new generation of towering threats. Thanks to a special suite and the astonishing ability to shrink, the new "Ant-Man", Scott Lang, must embrace his inner hero and help his mentor, Dr. Hank Pym and his daughter to pull off a heist that will save the world. Can he do it? Well you will have to watch and find out! But in short... This was one of the few occasions when attempting to please everyone and going for the lowest generic classifications, world wide, that a film of this nature could get, that has worked. the simple, but fun plot, action, adventure, mystery and Suspense, plus a good dose of science fiction fantasy mixed with a few good funny one liners, you should love it... Lets just hope they don't, as with other Marvel hits, turn this into a over used character. The future success "Ant-Man" now depends on the success of the next film and how much saturation Disney gives it. Lets hope they keep this character fun and avoid over exposure... This film is a definite 5 out of 5.





"Ant-Man" = 5 out of 5
UK Rating:- 12a (Due to action violence)
Directed By:- Peyton Reed
Written By:- Joe Cornish, Edgar Wright, Adam McKay, Paul Rudd, Stan Lee
Runtime:- 1hr 55mins
Cast members:- Hayley Atwell, Evangeline Lilly, Paul Rudd