North West Childhood Ambitions Revealed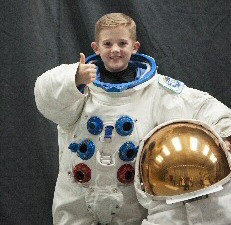 NEARLY 1 in 5 adults in the North West managed to achieve the job they dreamed about when they were children (19%) an NSPCC survey reveals today. The survey conducted by YouGov, found that the most popular childhood dream job; for just over 1 in 10 adults in the North West (11%) was a doctor or a nurse, followed by an actor (8%) and footballer (8%). Across the UK 1 in 10 adults in the UK; wanted to be a Doctor or Nurse (10%), followed by Footballer (9%), and Teacher (7%) plus UK adults who wanted to be a Medic (31%) achieved their childhood ambition. Teachers (27%), Writers or Journalists (9%), Police Officers (6%), and Actors (5%) also got their dream job.

The survey results are revealed as the NSPCC unveils a new UK wide TV and digital campaign; Alfie the Astronaut; to highlight that when a child is free from abuse they are free to dream. At the heart of the campaign is a film about a boy called Alfie who dreams about becoming an astronaut. As we watch Alfie training at space camp he tells us how the NSPCC helped him and his mum recover from domestic violence. At the end of the film we see Alfie back in the real world, safe and happy, protected from future abuse.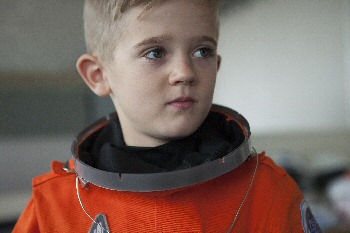 NSPCC Chief Executive Peter Wanless said:- "Every child is born with hopes for the future but if a child's head is full of fear, anxiety or loneliness there's no space for dreams. Childhood should be a time when we're free to dream. Abuse can destroy that; but it never should. NSPCC services help children just like Alfie to recover from domestic violence or other abuse. Every year, the NSPCC helps keep 1 million children safe from abuse and neglect, but we can only do this work with the support of the public as more than 90% of our funding comes from voluntary donations. Today, my ambition is that through a combination of education and prevention work all children can one day grow up free from abuse. And until that day comes I want every child who has suffered to get the help they need to rebuild their childhood."

Childhood ambitions varied across the UK. Being a footballer was the most popular childhood dream for people in the North East and the Midlands. However, Wales was where more people than average had dreamed of becoming lawyers or ballet dancers. And East of England was the region with the biggest proportion of aspiring zoo keepers. Sadly, most UK adults surveyed (86%) didn't ever achieve their childhood dream and 28% said it was because they thought their ambition was unrealistic. A lack of encouragement or approval from parents were also reasons given for why people gave up on their dreams. For those who did realise their childhood dream, 68% said hard work was the reason they got there; but the support of parents (29%) and other family or friends (14%) were also key factors. And the future appears to be bright for many of today's young people; 66% of under 18's surveyed by ChildLine say they are confident about getting their dream job. Most children said achieving their goal would be down to their own hard work and good grades, but support from family and friends came a close 2nd.

Alfie the Astronaut premiered on 15 September 2015, can can be seen on online CatchUp Channel 4, during the 3rd episode of Educating Cardiff, and is also available to watch at:- NSPCC.Org.UK/Alfie.
Airport bosses head to Durban for 2015 World Route Development event
SENIOR Management from Liverpool John Lennon Airport (LJLA) travel to Durban in South Africa this weekend ahead of The 21st World Route Development Forum. Often described as 'speed dating' for airports and airlines, the event which brings together 250 airlines, 650 airports and around 2,500 delegates, is an annual global gathering and is seen as the meeting place for the world's airport/airline route development industry. The event is viewed as one of the most cost effective ways to build relationships with airlines from all over the world and to promote the Airport and the City Region to the aviation industry. The team from LJLA will also be joined by Director of Marketing Liverpool, Chris Brown who will also attend to help showcase the Liverpool City Region and the close partnership with the Airport. LJLA has been successful at generating new business as a direct consequence of attending this and its European equivalent event in the past. With 20 meetings already confirmed with airlines from Europe and further afield, the team from the Airport hope that talks held during the four day event will lead to further new business opportunities, building on the Airport's recent success. Over the past 12 months Liverpool John Lennon Airport has secured flights from 5 new airlines, announced 11 new services to 7 new destinations, bringing over 90 additional flights per week. Mark Povall, Director of Air Service Development commented:- "This is always an important event for us, but what's interesting is that many airlines are just as interested to talk to us as we are to talk to them and a real sign of the progress we have been making here in recent months. It's also an excellent way to let airlines know about all of the exciting opportunities and developments taking place in the Liverpool City Region." Chris Brown, director of Marketing Liverpool, said:- "As the City's visitor and investment offer continues to grow it is important that we convey this message in conjunction with LJLA to airlines who are seeking to develop new routes. Following a successful European Routes event in Aberdeen, the opportunity to take our message to World Routes provides another excellent platform and opportunity for us."

Karen Potter Craven Minor JFL
Results Week Ending 13 September 2015
Under 12
Formby Athletic 1-9 Trinity White
Crosby Stuart 0-2 Redgate Rovers
Phoenix 0-9 S&A Red
Formby JSC Black 1-4 S&A Blue
Under 13 Premiership
S&B Red 0-6 Formby JSC United
Redgate Yellow 7-5 Mitch Green
ChurchTown Athletic 4-1 Tarleton Corinthians
Formby JSC Black 0-5 Burscough Green
Under 13 Chamionship
Mitch Red 2-4 S&B Yellow
Formby JSC White 4-6 Redgate White
Redgate Black 0-8 Phoenix
Southport FC 9-2 Formby Athletic
Burscough White 8-1 S&A Amateurs
Under 14
Birkdale R 9-2 Ormskirk
Birkdale SAC 2-2 Formby JSC
Redgate Rovers 0-8 Southport Trinity
Crosby Stuart 3-0 Hesketh Colts
Under 15
Redgate Rovers 0-6 Birkdale Black
North Sefton 8-0 S&A Amateurs
Maghull Youth 4-0 Birkdale United
Under 16
Midweek
The Hares 9-0 ChurchTown Athletic
Weekend
Birkdale United 5-3 ChurchTown Athletic
The Hares 9-2 Redgate Rovers
Formby JSC 2-4 Southport FC
Under 18 Premiership
AFC Liverpool 3-2 Southport FC
ChurchTown Athletic 1-1 Burscough Dynamo
Town Green 1-4 Southport Trinity
Under 18 Championship
Birkdale United 3-3 Formby JSC
Dynamo Rangers 3-0 Jaguars White
Jaguars Red 4-5 Hesketh Colts

Fixtures Week Ending 20 September 2015
Under 12 John Disley Cup
Formby JSC Black v S&A Red
Trinity White v Trinity Blue
Under 12
Crosby Stuart v Phoenix
Redgate Rovers v Formby Athletic
S&A Blue v Hesketh Colts
Under 13 Tom Galvin Cup
Formby Athletic v Mitch Green
Redgate Black v Birkdale United
S&B Red v Southport Trinity
Southport FC v Formby JSC Black
Tarleton Corinthians v Burscough White
Under 13 Premiership
Formby JSC United v ChurchTown Athletic
Burscough Green v Redgate Yellow
Under 13 Chamionship
Maghull Youth v Mitch Red
Phoenix v S&B Yellow
Under 14 Anita Shaw Memorial Cup
Birkdale SAC v Formby JSC
Formby Athletic v S&A Amateurs
Ormskirk v Redgate Rovers
Southport Trinity v Birkdale Black
Under 14
Birkdale R v Crosby Stuart
Southport FC v Hesketh Colts
Under 15
Redgate Rovers 0-6 Birkdale Black
North Sefton 8-0 S&A Amateurs
Maghull Youth 4-0 Birkdale United
Under 16 Adam Bell Cup
Maghull Youth v Birkdale Black
Under 16
Southport Trinity v Hesketh Colts
S&A Amateurs v Redgate Rovers
Under 18 Geoff White Memorial Cup
Birkdale United v Trinity Blue
Under 18 Premiership
Hudson v AFC Liverpool
Lydiate v ChurchTown Athletic
Southport FC v Southport Trinity
Under 18 Championship
Formby JSC v Redgate Rovers
Dynamo Rangers v Lions
If you child takes part in this group, please let us know who you think, of the adults deserves a mention as well as the kids! News24@SouthportReporter.Com.