Military charity seeks brave fundraisers to walk across hot coals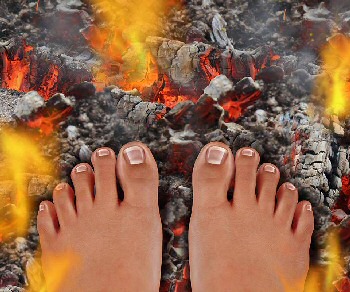 FIRE feet A military charity is joining forces with Liverpool students to find brave "soles" to walk 15ft across a smouldering bed of coals. The Blind Veterans UK Fire Walk held on 14 November 2015, will be the 1st to be held in Liverpool, and is organised to follow, Remembrance Day, on 11 November 2015.

The fire walk, held in partnership with the Liverpool Guild of Students, hopes to raise more than £3,000 for vision impaired ex-Service men and women.

The fire walkers will cross coals that reach temperatures as high as 1,200 degrees Fahrenheit, hot enough to melt aluminium. Yet it is perfectly safe, fully risk assessed and open to ages 8 and over. All walkers will receive an hour of training from UK Fire Walking, 1 of the UK's leading fire walk companies and the organisers of the event.

Barbara Mitchell, 87, and from Deganwy, completed last year's fire walk with her son and 2 grandchildren. She says:- "The logs were glowing and fiery, but I felt totally confident doing the walk. The whole experience was great fun. We did it 3 times, and the last time, we formed a conga line!"

Victoria Beech, Regional Fundraiser at Blind Veterans UK, said:- "We love to be able to offer our supporters exciting ways in which they can fundraise for us; what could be more exciting than overcoming your fears and crossing a smouldering 15ft bed of hot coals?! We receive many donations from Liverpool and the Wirral, so we are thrilled to give our supporters in the region an opportunity to fundraise for us, closer to their homes."

Registration costs £10 and fire walkers must pledge to raise a minimum £50 in sponsorship. Team entry is available and walkers can fundraise for any registered charity of their choice. To find out more, email Victoria Beech on:- victoria.beech@blindveterans.org.uk or call:- 01492 864574 to obtain a registration and information pack.

The fire walk begins at, 4pm, on 14 November 2015, at the Liverpool Guild of Students, Mt. Pleasant, L3 5TR and is open to all.

For fire walkers who can't make the 14 November 2015, Blind Veterans UK will be holding another fire walk, in Llandudno, on 8 November 2015.

You can find out more information about Blind Veterans UK at:- BlindVeterans.Org.UK.

Thousands have their say over St Luke's Church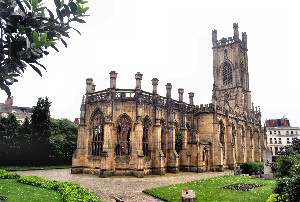 MORE than 5,000 people have already put forward ideas for the future use of St Luke's, known locally as the 'Bombed Out Church'. The survey is available online and is open until the end of September 2015. It asks people to complete a short set of questions that asks users their views on the role St Luke's should play in the future life of the City Centre. It follows a commitment from Mayor Joe Anderson to keep it in public ownership and secure a viable future for the building. The consultation is gauging views on how the 'Bombed Out Church' can be preserved as a living war memorial, the type of events that should be held there and what further facilities or possible development should be carried out. The results will be used as the basis to make decisions in relation to its future, which could include seeking expressions of interest for the appointment of an occupier/operator to run the site in 2016. The successful applicant will have to be able to demonstrate that they can offer a viable future for the site, in line with the results of the public consultation. Cabinet Member for Regeneration, Councillor Malcom Kennedy said:- "This is an exciting phase in the history of Liverpool's famous Bombed Out Church. We have a great opportunity here to engage with the City to find out what they want to happen at St Luke's, and to explore options for its future use. Our aim is for St Luke's to be re-open in time for the new year, by when we will be in a position to outline how we plan to give it a new lease of life." The public consultation comes as the City Council prepares to commence repair works to the structure of the Church. The £150k project; funded by Liverpool City Council and Heritage England; will involve repairing and replacing heavy stonework, meaning the site will be closed. The scheme was postponed earlier this year to allow the summer events programme to go ahead.
Business club raises £196 for Community Link Foundation
A Community Link Foundation has become the latest local charity to benefit from money raised by a popular Southport business networking event. The Southport Business Club is an event organised by local professionals from Moore and Smalley chartered accountants and business advisers, Harbour Business Group, Birchall Blackburn Law and Royal Bank of Scotland. The group brings together local businesses and entrepreneurs in a relaxed and informal atmosphere to make new connections and create new opportunities, as well as raising money for good causes. The latest event has raised £196 for Community Link Foundation, which will assist anyone in Southport and surrounding areas who require financial support in a number of ways. Whether that be a parent with a child who requires assistance with a long term illness or disease, a sports team in need of new equipment, or a community group that needs financial support, Community Link Foundation help those who need it most. Around 30 local business owners and entrepreneurs attended the latest event, which was held at The New Ronnies. Danny Houghton, partner at Moore and Smalley, said:- "The Southport business club, despite being in it's infancy is already proving to be the networking event for local entrepreneur's, the relaxed format, the quality of the attendee's and the charitable element works for everyone. Each month we select a different local charity to raise funds for, the Community Link Foundation is a great local charity and we all firmly believe in what they are trying to achieve for the area."