Police Operation Brookdale's results in 176 seizures and 59 people arrested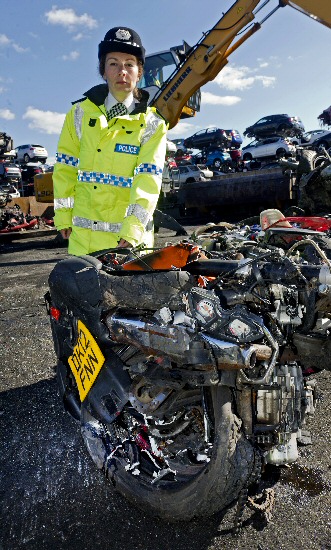 MERSEYSIDE Police Officers are hailing another successful summer crackdown on dangerous scrambler bikes and off road bikes, with 176 seized and a total of 59 people arrested as part of 2015's 'Operation Brookdale.'
The campaign, which has run since the start of July 2015 and was dedicated to putting the brakes on people who use off road bikes in an illegal, dangerous or anti social way. It has become apparent over the last few years that many riders don't give a second thought about the consequences of their actions and the misery they bring to decent, law abiding members of communities across Merseyside. As a result, Operation Brookdale has been concentrating on areas where people have told us they are suffering because of the way scrambler and quad bikes are being ridden and used.
The operation has included high visibility Police Patrols, the use of information from the community to target known hot spots, education in schools and visits by officers and PCSTOs to petrol stations.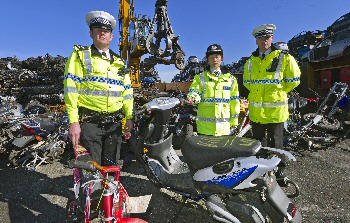 Superintendent Jenny Sims has led the operation and she told the media that:- "We are delighted with the success of this year's operation. 176 bikes which are believed to have been stolen or used anti-socially have been taken off the roads and Merseyside is undoubtedly a safer place as a result. The number of bikes seized during this year's operation should mean that our communities are subjected to less incidents like this 1 in the future and I also hope it makes people who use off road bikes illegally or anti-socially think very carefully about their behaviour. Despite these successes however, we are not complacent. We know that many communities continue to be blighted by scrambler bikes being ridden dangerously and I want to reassure people that although Operation Brookdale may have finished for this year, our work targeting scrambler bikes definitely isn't over. We will continue to be out on patrol and to take action whenever the community tells us there are problems. I would appeal to anyone with information about illegal or nuisance scrambler bikes in their areas to get in touch with us and I can assure them that we will take action."
Anyone with information can call Police via the:- 101 number, or dial:- 999 in the event of an emergency or if there is a crime in progress. Alternatively, people can pass information anonymously to Crimestoppers, 24 hours a day, on:- 0800 555 111.

Final Operation Brookdale figures:-

► 176 stolen vehicles were recovered.
► 59 Arrests.
► 1079 OSCO's issued by Roads Policing staff.
► 49 Section 59 Warnings issued.
► 5 Section 59 Vehicle seizures.
► 62 section 165 vehicle seizures.
► 5 search warrants executed.

Edge Hill success in Sunday Times University rankings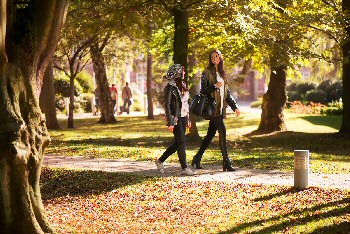 EDGE Hill University has risen up the rankings in yet another university league table. The University has been named in the top 4 in the North West, in:- 'The Sunday Times Good University Guide 2016', improved four places nationally and also scored highly for graduate prospects and degree completion rates. 'The Times' and 'The Sunday Times Good University Guide 2016' is published over the course of 3 days, beginning with a 56 page supplement in the newspaper on 20 September 2015, and provides the most comprehensive overview of Higher Education in Britain.

A separate analysis of student satisfaction with the quality of the teaching at each institution is also published for the 1st time this year. The University's success in the:- 'Sunday Times' table adds to a year of achievements which started with being awarded the:- 'Times Higher University of the Year' accolade and also saw it rise in the:- 'Guardian University League Table' and achieve great results in the 'National Student Survey.'

The National Student Survey (NSS) is the most important measure of student satisfaction and at institution level Edge Hill has sustained last year's record performance with of 4.2 out of 5. Based on the responses to all 23 questions in the Survey (which cover teaching, assessment and feedback, academic support, organisation and management, learning resources, personal development, overall satisfaction and satisfaction with the students' union) Edge Hill occupies a top 10 position amongst all English universities. Dr John Cater, Vice Chancellor at Edge Hill University said:- "From being awarded University of the Year, to consistently rising through national league tables, a top four position in the North West in the Sunday Times University Guide shows that we are being recognised for our great student satisfaction scores, our commitment to research and providing life changing opportunities for our students. With our continuing commitment to the student experience, strong levels of graduate employment and social mobility and over £30m of investment in new sporting and residential accommodation this year, I am confident these positive results will be maintained and further enhanced."

The Sunday Times league table is made up of 9 indicators including student satisfaction with teaching quality and their wider university experience, research quality, graduate prospects, entrance qualifications held by new students, degree results achieved, student/staff ratios, service and facilities spend and degree completion rates.
Letters to the Editor:- "Bag It!"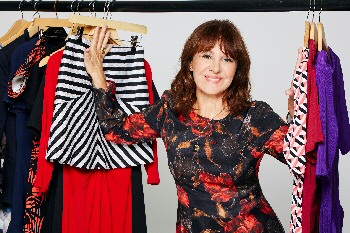 "I'm writing to invite your readers to join me in turning unwanted items into life saving research this month for the British Heart Foundation's Bag It. Beat It. campaign. Over 18,700 people die each year with cardiovascular disease in the North West, but with donations to Bag It. Beat It. campaign this September, the BHF will be able to fight harder to reduce this figure. I've donated to my local shop and I'd encourage everyone to get involved this September and do the same. Simply fill a bag with unwanted clothes, shoes, books, handbags, DVDs, CDs, bric-a-brac and children's toys, to Bag It. Beat It! For more information and to find your local BHF shop go online or to book a free collection call:- 0808 250 0024." Arlene Phillips, Director and Choreographer and former Strictly Come Dancing judge.