Fugitive money launderer extradited in joint operation
A convicted money launderer, who fled overseas in 2012, has been extradited to the UK where he will now begin a 6 year prison sentence, HM Revenue and Customs (HMRC) announced.

Darren John Bagnall is subject to a £1.6 million confiscation order, relating to a 2007 conviction for money laundering. In November 2012, Bagnall fled to Dubai telling magistrates that it was to realise assets to settle the order. He failed to return and told the Court that he was too unwell to travel.

In April 2015, on the application of the Crown Prosecution Service, the Liverpool and Knowsley Magistrates Court activated a 6 year default sentence owing to Bagnall's failure to pay, and a European Arrest Warrant was issued.

In July 2015, Bagnall was arrested by Cypriot police officers in Nicosia, Cyprus, under the authority of the warrant. Following Court Proceedings in Cyprus, Bagnall was extradited to the UK, on 13 October 2015, to begin his sentence.

Kevin Newe, Assistant Director, HMRC's Fraud Investigation Service, London and South region, said:- "Bagnall's extradition demonstrates our determination to use all legal means to ensure that those who abscond for not paying what they owe are brought to justice, no matter where they try to hide. In this case, it takes on greater importance given that, with interest, Bagnall still owes some £2.2 million, which we are determined to make him pay."

Gary Balch, Deputy Head of Crown Prosecution Service's Proceeds of Crime, said:- "This case underscores the Crown Prosecution Service's determination to ensure that those who are subject to confiscation orders pay them in full or face the consequences. If a defendant refuses to pay, or tries to avoid paying, they will be found and locked up while we continue to track down their ill gotten gains."

HMRC publishes details of the Most Wanted Tax Fugitives online. Anyone with any information on the whereabouts of these people should contact the HMRC Tax Evasion Hotline, on:- 0800 788 887.
Appeal following a serious vehicle collision in Bootle
MERSEYSIDE Police are appealing for witnesses following a 2 vehicle road collision in Bootle, Sefton, in which a pensioner sustained a serious neck injury. The collision, is reported to have involved a black BMW and a black Kia Sportage. It occurred at around 5.20pm, on Saturday, 10 October 2015, at the Junction of Harris Drive and Orrell Road. The collision is said to have resulted in the BMW flipping onto its roof and coming to rest on the kerb outside a row of shops. The Kia driver stopped at the scene and the driver is assisting Police with their enquiries. The driver of the BMW sustained minor injuries, but the 66 year old, female passenger, sustained a serious neck injury. Anyone who witnessed the collision is asked to call Merseyside Police on:- 0151 777 5716 or 0151 777 5721 or the confidential Crimestoppers line, anonymously, on:- 0800 555 111.
Witness appeal after passenger racially abused on Wigan North Western
THE British Transport Police are appealing to the public to help them identify a man they wish to speak to about a hate crime incident on board a train from Warrington Bank Quay to Preston on Friday, 4 September 2015. Investigating officer PC Adam Heslop said:- "The victim, a 34 year old Asian man, boarded the Virgin service at Warrington and stood in the vestibule area. Another younger man was already standing in the same area with a female companion. At Wigan, 2 older men barged onto the service and entered into a racist conversation with the man and woman before one of the older men began directing abusive, racist comments at the victim." The victim left the train at Preston. The 2 older men left the service at Lancaster. Officers believe the man in the images could have vital information about what happened and urge him or anyone who recognises him to come forward to assist officers with their enquiries. Anyone with information is asked to contact British Transport Police on, or text:- 61016, quoting reference:- PSUB/B6 of 14/10/2015. Information can also be passed anonymously to the independent charity Crimestoppers on:- 0800 555 111.

Call for Poppies Ambassadors
Photograph by Major (Retd) Roy Bevan MBE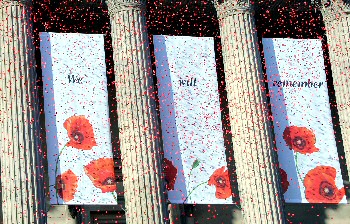 LIVERPOOL City Council is giving people the opportunity to be part of the Poppies team. Weeping Window, a moving installation of ceramic poppies, will be on display on the façade of St George's Hall from Saturday, 7 November 2015, and is part of the installation Blood Swept Lands and Seas of Red which was showcased at HM Tower of London in 2014.

The artwork will be on display in the City for 10 weeks and organisers are looking to recruit a large team of Event Ambassadors to make sure visitors receive an exceptional service when they come to see the poppies.

The role of the Ambassadors will be to welcome, inform and engage with members of the public and any volunteers will be given full training, guidance and supervision and will also get to meet the team behind the work before it is officially opened.

The team are looking for people with excellent interpersonal and communication skills, they also need to be enthusiastic and flexible.

Working in shifts of 4.5 hours, Ambassadors will be required throughout the installation of the Poppies to let people know what is happening, when it will be open and what other experiences of activities are going on in the City at that particular time.

Once Weeping Window has opened, Ambassadors will be on hand to give Poppies information to passing public, be the point of any contact for any pre-booked visits and ensure access to their designated viewing area, working with the onsite security team to ensure the smooth running of the queue and assisting any people with accessibility issues.

Anyone interested in being part of this important team can fill in the application form online in the 'Get Involved' section. Or send an email and the form will be sent out. Individuals won't be expected to work the full ten weeks and the form will give the applicant the chance to indicate their availability for the ten weeks. They will also be asked to tell the organisers in no more than 300 words why they want to be an Event Ambassador.
The deadline for applications is, 5pm, on Wednesday, 21 October 2016.

Assistant Mayor and cabinet member for culture, tourism and events, Councillor Wendy Simon, said;- "Volunteers play a vital role in our major events and the Poppies is no exception. We're expecting to be very busy across the 10 weeks, with thousands of people heading to St George's Hall, to not only admire this iconic piece of art, but also take time to remember those who lost their lives during conflict. The Event Ambassadors will play an integral frontline role and will really be the 'face' of the event as they welcome people to the area and help deal with any queries about the art work, or indeed the Hall or the City itself. This is a unique opportunity to be part of the Poppies Team and I hope that we have lots of enthusiastic applicants who would love the chance to show their pride in this City and make it an unforgettable experience for the tens of thousands of visitors we're expecting until January 2016."

For the latest information visit:- CultureLiverpool.Co.UK/Poppies, follow @culturelpool on Twitter, or Like Culture Liverpool on Facebook.