Liverpool school help over 55s get online at new retirement community – Get Online Week 2015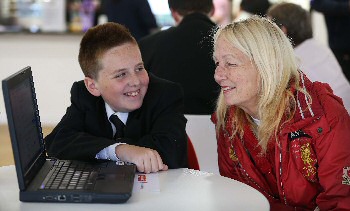 RIVERSIDE'S newest retirement community in Liverpool welcomed local high school students this week to celebrate all things digital and getting online. The housing association opened Joseph Williams Mews, its newest Retirement Living complex in the heart of Belle Vale, last month with the help of Liverpool Mayor, Joe Anderson. The scheme hosted this week's session to mark Get Online Week following Mr. Anderson's digital taster session at the official launch event.

Students aged 14 to 16 years old from Gateacre School came to Joseph Williams Mews on Braehurst Way to take part in a digital session at the scheme's community café.

Running from 12 October to 18 October 2015, 'Get Online Week' is a national initiative to show thousands of people up and down the country how the internet can make their lives a little easier. The theme of this year's campaign is encouraging people to see how the internet can make almost anything a little easier; from staying healthy or finding work, to saving money and having fun.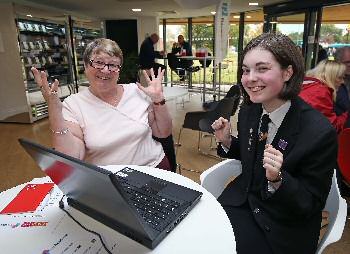 Dot Kelly, Riverside Area Manager, said:- "It's a great opportunity for our retirement living customers to get online for the first time and to learn to do more with their digital skills. Riverside is committed to helping customers engage with the digital age. Many of our newest customers are already online and many more have shown an interest in getting internet savvy as more amenities are now available via the web and are accessible without leaving our front doors."

Riverside's digital inclusion activities are helping improve the prosperity and opportunities available to customers by promoting digital literacy and skills and affordable access to the internet, supporting access to online learning, promoting access to online services like money advice and home shopping, and tackling isolation of older people within our communities.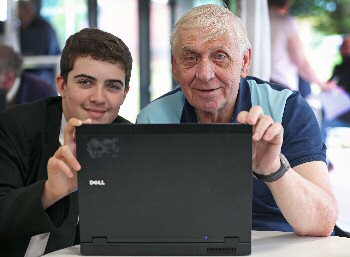 Lisa Mitchell, Community Coordinator at Gateacre School, said:- "Having run our own 'Silver Surfers' group for the past 2 years, it was great to meet our new neighbours at Joseph Williams Mews. It was great to see both generations working together and learning something new."
IT Teacher, Catherine Newall, added:- "The children really enjoyed working with the older generation helping them to access online services. It was a learning experience for both our students and those at Joseph Williams Mews."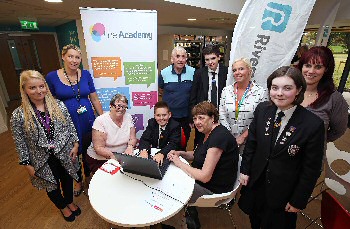 The initiative is being supported by Bauer Media Radio City and its training academy with the aim of engaging all generations within the community to get involved with the digital sessions at Riverside's Joseph Williams Mews.

Joseph Williams Mews is Riverside's newest retirement living development for over 55's, in Belle Vale, located directly opposite the area's main shopping complex. The scheme consists of 56 affordable rent apartments as well as 12 apartments and 2 bungalows available to buy on a shared ownership basis. The complex was built on the former site of Joseph Williams School (attended by Sir Paul McCartney from 1949 to 1953) in line with the Lee Valley Green Space Strategy.

With figures showing that the over 65's will account for almost 60% of the increase in households by 2033, last month Riverside is launching a rebrand of its sheltered housing into Riverside Retirement Living, focusing on providing safe, affordable and contemporary housing as part of a £27 million 4 year investment programme.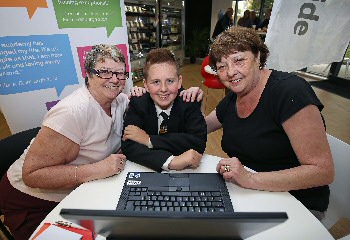 Riverside's Executive Director of Care and Support Leann Hearne is championing a fresh approach to retirement housing for the 50 plus generation who want great homes, with the added support that retirement living brings when provided by social landlords like Riverside.
"When I am looking for a place to stay I want a choice of contemporary design, great facilities, the option of onsite social activities and at a rate that doesn't break the bank. These are exactly the things that people look for when they are thinking about moving from their current family homes into retirement housing and this is what social landlords should be delivering. We know the aspirational retirement housing we want for ourselves and we want this for our customers too." said Leann Hearne.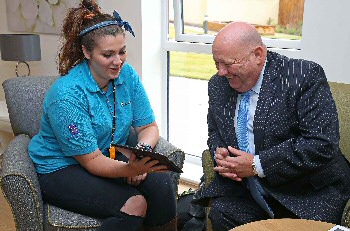 When Mayor of Liverpool, Joe Anderson, officially opened Riverside's Joseph Williams Mews development last month, he commented:- "Joseph Williams Mews means local people can look forward to retiring in their own community surrounded by their friends and family. The modern development has transformed the area not only for the people that live there, but the wider Belle Vale community with a number of facilities also open to the public too. The investment in housing for over 55's comes at a vital time and I'm delighted to have opened the stunning development."

For more information about Get Online Week please click on here.

Private tenants urged to check Landlord Licensing database
PRIVATE sector tenants can now search online to see if their landlord has applied for their property to be part of the city's Landlord Licensing scheme.

The mandatory initiative, the 1st of its type in a big City; requires all landlords in the City to have a 5 year licence for each of their rented properties, as part of a major drive to improve standards in the sector.

More than 8,000 landlords responsible for more than 36,500 properties have so far started the application process for the scheme, which came into effect in April 2015.

Interested parties such as freeholders, landlords and managing agents are now being issued with notices of intention to grant a licence following the processing of their applications.

More than 500 landlords who have not yet started the application process; despite reminders; have come to the Council's attention, and could face additional charges and potential prosecution if they do not apply.

Tenants can now access the online database and type in their address to see if their landlord has started the application process; and let the Council know if it is not on the database.

Councillor Frank Hont, Cabinet member for housing, said:- "This is a major project which is part of our determination to drive up standards in the private rented sector and improve the quality of life for tenants. Liverpool has a growing number of privately rented properties and the sector is vital in meeting the City's housing needs, so it is important that what is on offer is of high quality. We have had a very good response from private landlords, and would like to take this opportunity to thank them for doing so. To those who have not, our message to them is that they need to do so as soon as possible or face enforcement action. Already a knock on effect of the scheme has been a huge increase in applications for membership of our accredited landlord scheme, CLASS, resulting in thousands of properties being checked for electrical safety, improving standards in the sector. This scheme is about giving tenants some expectation of their rights, and the City Council the power to tackle breaches. Over the 6 months we will be intensifying our work on compliance to make sure standards are being met."

Landlords who haven't completed the 1st part of the application process can do so now. It is also with noting that the Landlord Licensing has the backing of campaign groups including Shelter and Generation Rent.
About the scheme...

► The online application licence fee costs £400, per property and landlords with more than 1 property will pay £350, for each additional online application made.

► Members of an accredited or co-regulation scheme approved by the Council, such as class, will pay £200 per property to recognise that they are already a good landlord.

► The City Council will determine that the proposed licence holder is a 'fit and proper' person to manage their properties including having regard, amongst other things, to any convictions for:- dishonesty, violence or drugs or contraventions of housing or landlord/tenant laws.

► Landlords have to meet a variety of conditions around fire, electric and gas safety; rectifying disrepair issues; tackling pest infestations; keeping the exterior in a good state of repair and dealing with complaints about anti-social behaviour caused by tenants.
Liverpool prepares for The Big Freeze
COMMUNITIES in Liverpool are being challenged by:- 'Love Food Hate Waste' to make the most of their freezers; and get to know how freezing and defrosting food can help to save money and reduce food waste; at 'Big Freeze' event, to take place on on Church Street, Liverpool, on Friday, 23 October 2015.

The latest figures reveal that wasting food costs the average Liverpudlian household £470 a year, rising to £700 for a family with children; the equivalent of around £60 a month.

The Big Freeze set to provide practical advice and top tips to local people about foods that can be frozen (and how to use them) to help save money; and the environment.

There will be interactive games, giveaways and competitions; all designed to help people make the most of the freezer and enjoy mouth watering meals made by mixing and matching frozen and fresh food.

Emma Marsh, Head of Love Food Hate Waste, said:- "As we look for ways to save money on our household bills, many of us aren't aware that food waste not only hits us in the pocket – almost £60 a month - but also has a serious impact on the environment. No good food needs to go to waste and it's easy for us all to make a difference. Love Food Hate Waste has some great tips, recipes, tools and solutions to help you join the growing number of people across Liverpool who are reducing their food waste and saving money today."

Josh Hardie, Corporate Responsibility Director at Tesco, said:- "No one wants to throw away food which could otherwise be eaten, and this event will really help people out with valuable hints and tips about how to make the most of their freezer to reduce waste. At Tesco, as well as helping our customers reduce food waste at home we're absolutely committed to cutting the amount of food wasted in our own operations. This year we've made real progress on making sure surplus food from our stores goes to people in need and not to waste with the launch of our FareShare FoodCloud project. In Liverpool this is already underway in two of our stores, Old Swan Superstore and Park Road Extra."

Almost 50% of the 15 million tonnes of food thrown away in the UK comes from our homes. Together we throw away 7 million tonnes of it and more than half could have been eaten. Buying and then throwing away good food and drink costs us £12.5 billion a year. If we ate it, instead of wasting it, the impact on our environment would be the equivalent of taking 1 in 4 cars off the road.

Love Food Hate Waste is aiming to help the people of Merseyside know more about why throwing away good food and drink is an issue, and give them all the help they need to take simple actions at home today and start by doing 1 thing differently.
Theatre in the Rough Festival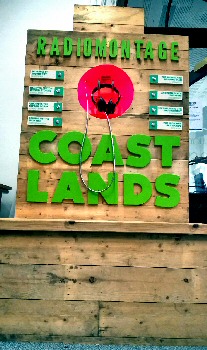 A new audio project has unearthed the hidden histories and secret stories of communities along the Sefton coast. Coastlands, produced by the Theatre in the Rough Festival, is a series of 6 audio documentaries, created through a year long collaboration between local theatre makers and the general public. They combine documentary recordings with original writing, soundscapes and drama to capture a unique panorama of the Towns and Villages that form the 22 miles of Sefton's coastline.
► Join Emma Little on a road trip through South Sefton, seeking the truth behind the story and local phenomenon known as the 'Litherland Running Man'. Se also looks more deeply into the nature of social media fandom.
► Joseph Rynhart accompanies a cabbie and his passengers through 24 hours in Southport, charting the Town's culture, people and history, from 1 dawn to the next.

► Chelsea Bassnett discovers the spiritual side of Formby, joining a communal earth chant on the beach, and learning about the therapeutic benefits of gong baths and meditation.

► Helen Stenson and Rebecca Downing uncover Sefton's spooks, including:- poltergeists and exorcisms in Altcar, and strange reports of flashing lights at the abandoned Seaforth Radar Tower.

► Phil Montgomery questions the value of public art in the borough through the prism of Another Place. He follows pupils from Forefield Junior School in Crosby as they create a musical project inspired by the Iron Men.

► Ashleigh Panther looks at environmentalism along the coast, going on location at Ainsdale National Nature Reserve, as well as talking to the young winners of Sefton's 2015 Eco Champion Awards.

Chris Fittock, Artistic Director of Theatre in the Rough, said:- "Coastlands attempts to place a creative landscape over the culture, history and geography of Sefton. Our work has always celebrated the vibrancy of the borough, and this project has enabled local people to explore their own surroundings afresh."

The documentaries are being released weekly from Monday, 19 October 2015, through the organisation's website:- TheaTreinTherough.Com, where they will be free to stream and download. They are also touring as an audio installation throughout the autumn. They are currently at The Atkinson until mid-November, and will also be visiting Lydiate and Waterloo. There is a short trailer with excerpts available here.