Karen Potter Craven Minor JFL
Results Week Ending 22 November 2015

Under 12
Hesketh Colts 1-5 Formby Athletic
Crosby Stuart 2-1 Trinity Blue
S&A Blue 0-6 S&A Red
Formby JSC Black 5-4 Phoenix
Trinity White 6-1 Redgate Rovers
Under 13 John Disley Cup
Formby JSC Black 2-1 Churchtown Athletic
Under 13 Premiership
S&B Red 3-2 Burscough Green
Tarleton Corinthians 3-1 Southport Trinity
Birkdale United 1-4 Mitch Green
Under 13 Chamionship
Southport FC 3-2 Phoenix
Redgate Black 4-3 Formby Athletic
S&A Amateurs 1-5 Burscough White
Formby JSC White 9-1 S&B Yellow
Under 14
S&A Amateurs 0-8 Formby JSC
Redgate Rovers 2-5 Hesketh Colts
Ormskirk 0-2 Formby Athletic
Birkdale R 0-9 Birkdale Black
Under 15
Maghull Youth 3-3 Hesketh Colts
S&A Amateurs 1-4 North Sefton
Birkdale Black 4-2 Redgate Rovers
Southport Trinity 2-5 Southport FC
Under 16
Formby JSC 2-1 Southport Trinity
Under 18 Geoff White Memorial Cup
Southport Trinity 3-2 Hudson
Lydiate 1-6 Redgate Rovers
Under 18 Championship
Hesketh Colts 1-4 Birkdale United
Lions 2-3 Formby JSC
Jaguars Red 4-1 S&A Amateurs
Trinity Blue 1-5 Dynamo Rangers

Fixtures Week Ending 29 November 2015

Under 12
S&A Red v Hesketh Colts
Trinity Blue v Trinity White
Redgate Rovers v Crosby Stuart
Formby Athletic v Formby JSC Black
Phoenix v S&A Blue
Under 13 John Disley Cup
Formby JSC Black v Tarleton Corinthians
Under 13 Premiership
Formby JSC United v S&B Red
Mitch Green v Southport Trinity
Redgate Yellow v Burscough Green
Under 13 Championship
Southport FC v S&A Amateurs
Maghull Youth v Redgate Black
S&B Yellow v Formby Athletic
Redgate White v Mitch Red
Phoenix v Burscough White
Under 14
Birkdale Black v Hesketh Colts
Redgate Rovers v Birkdale SAC
Ormskirk v Birkdale R
Formby JSC v Formby Athletic
Southport Trinity v S&A Amateurs
Under 15
S&A Amateurs v Birkdale Black
Southport Trinity v Redgate Rovers
Birkdale United v Maghull Youth
Under 16 Adam Bell Cup
Formby JSC v Southport FC
Under 16
Southport Trinity v Redgate Rovers
Under 18 Geoff White Memorial Cup
AFC Liverpool v Churchtown Athletic
Under 18 Premiership
Lydiate v Southport Trinity
Southport FC v Burscough Dynamo
Under 18 Premiership
Jaguars White v Jaguars Red
Redgate Rovers v Lions
Trinity Blue v Birkdale United
Dynamo Rangers v S&A Amateurs
Star Wars themed Cosplay event to be held in Southport!
SOUTHPORT Cosplay Community Event, to be held on 18 December 2015, at the Fox and Goose. To celebrate the new Star Wars, the pub has agreed to hold a yet another Cosplay Event. Free Enter for any 1 who arrives before 10pm, and after then, if not dressed in a Star Wars costume or other FULL costume, it will be £2 on the door! 3 bands will be performing, Survival Code, So Green and Andrew Back. The bar closes at 4am! More to follow on our Facebook Page and also on our Twitter account @SouthportReport. Plus more in next weeks issue!

Debenhams Beauty gala event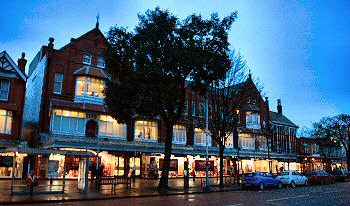 SOUTHPORT Debenhams are having a Beauty gala event on Thursday, 3 December 2015, from 4pm till 7 pm in store.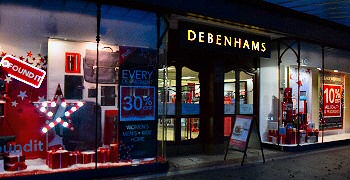 All the counters with be offering free treatments from eye make up tutorials to hand and arm massages. There will be gift with purchase exclusive to the Christmas gala event, it's an opportunity to try something different and learn something new! Once you have been and visited each of our counters (clinquie, clairins, Estee lauder, Dior, Elizabeth arden, Lancôme ) at the end of your winter wonderland journey you will receive a goodie bag filled with treats for yourself this Christmas season.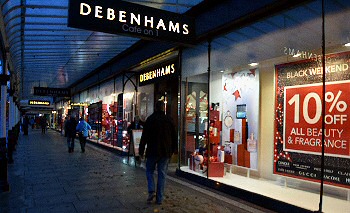 There will be entertainment going on with a choir, dancers, popcorn machine and candyfloss, some family games for everyone to get involved in. Tickets are £5, but are redeemable off purchases that night and with any ticket purchased you will get £5 worth of beauty club card points, don't have a Beauty club card it's fine we will start you 1 and register it right away so you don't miss out. Tickets are available in store now from the beauty department. For any more information please call Debenhams, Southport on:- 01704516041.
Knowsley Youth Mutual totally commit to the young people of Merseyside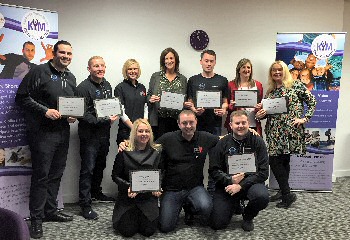 ON Wednesday 25 November 2015, Knowsley Youth Mutual (KYM) proudly received 10 licensees for:- 'Total Commitment Training' by PDP, personal development specialists and educationalists. When asked why KYM decided to embark upon the Total Commitment Training, Patricia Jackson, Business Development of KYM stated:- "We have faced a number of challenges this last year from when we changed from being part of the local council to a mutual. By including Total Commitment Training into our portfolio, we are able to offer a new approach to all our schools throughout the region. Moreover, we want to invest in our high trained staff for them to diversify their portfolio as well."

Paul Oginsky, Chief Executive of PDP comments:- "We created tct to provide a structured, engaging approach to personal and social development. Comprising 18 hours of interactive training, participants move through the 4 phases to ensure they grow their self awareness, focus and ambition to build on relationships, resilience and refection. We are proud of the commitment KYM has shown, and are delighted to be able to license their staff for TCT."

Gill Kirby from Knowsley Virtual School, also qualified from the tct training and stated that:- "We work closely with KYM and Alex Roper our head teacher decided that we ought to embark upon the training to help children on the fringes as a preventative measure. We want to offer creative ways to work with children in order to be able to support and guide them back on track to improve their lives. tct gives us ideal tools to achieve this."

PDP rebranded earlier this year from Personal Development Point to launch their new Total Commitment Training. Other companies which have benefitted from this fresh approach include Dame Kelly Holmes Trust (Young people not in education, employment or training), Inspira Cumbria (Long term unemployed adults), Leicestershire council (Supporting Leicestershire Families) and Liverpool John Moores University.

Successful licensees from KYM are:- Lyn Pye, Colin Scicluna, Maxine Ellis, Matty Donnelly, Rachael McGowan, Billy Randles, Molly Ryder, Ste Blackhurst, Gill Kirby (Attendance Support Officer) and Patricia Jackson.