Participate in Poppies
Photos by Major Roy Bevan MBE.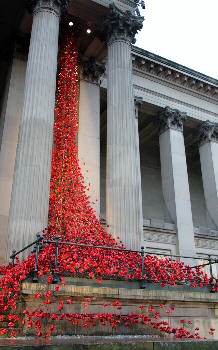 CROWDS are flocking to Liverpool's Poppies: Weeping Window since it officially opened on Saturday, 7 November 2015. In the 1st week alone, around 150,000 people headed to St George's Hall plateau to take in the stunning display of ceramic poppies as they cascade down the façade of the Grade 1 listed building.

The poignant reminder of those who have lost their lives during conflict drew large crowds on Remembrance Sunday, around 20,000 alone came to the Poppies on the afternoon of 8 November 2015, following the annual service at the Cenotaph.

A short film shown on the Sunday on the giant Lime Street media wall which told the story of Liverpool's involvement in World War One and outlines the subject matters covered in the Poppies Participation programme:- 'Who Will You Remember' – prompted a strong reaction, and as a result the ten minute film is now available to viewed online. And people interested in the Poppies or learning more about the City and the war are being encouraged to take part in one of the many activities taking place as part of the participation programme. These include:

The Truce - Andy Edwards' moving sculpture depicting the famous Christmas Truce of 1914 is on display in the Heritage entrance of St George's Hall until January.

Songs on the Steps - Every Wednesday and Thursday, from 25 November until 10 December 2015, choirs from 20 schools across the City will perform on the steps of St George's Hall next to the Weeping Window installation. Each afternoon from 1pm to 2.30pm, up to four schools will sing carols and wartime songs. Please note, if the weather is bad, the performance will take place either inside the marquee on the plateau or in the Great Hall.

Black Poppies installation - To highlight the plight of black soldiers, seafarers and workers in 1919, Writing on the Wall have curated a fascinating archive of letters and documents which aim to inspire people to make their very own black poppies in special workshops led by professional artist Faith Bebbington. Taking place on 5 December 2015, from 10am to 4pm, in The Kuumba Imani Millennium Centre, anyone can attend and will have their creation displayed at Liverpool Central Library next to a specially commissioned poem by Levi Tafari. They will go on display in January.

Electronic Poppies - Arts organisation Metal have joined together with artist Laura Pulig who will become an artist in residence in St George's Hall on 2 January, 3 January and 10 January 2016. Laura will run workshops aimed at younger people using e-textiles, light responsive paper and inflatable sculptures to create a piece of art with a 21st Century take on the poppies.

Tale of Two Cities - St George's Hall plays host to this photographic exhibition depicting poppy planting around the City from 3 January to 16 January 2016.

Merseyside at War website - An online archive has been developed by Liverpool John Moores University and the office of the Lord Lieutenant of Merseyside and they are asking for any stories or memorabilia relating to World War One to be submitted in order to create a lasting memorial. Click here to find out more.

Chinese Labour Corps - Highlighting the role of the Chinese men who were recruited by the government during the First World War to free troops for front line duty, a unique exhibition is on display until Wednesday, 23 December 2015, at Pagoda Arts Centre, on Henry Street, in the City Centre.

Stories in Stone - An hour long walking tour around the monuments and memorials of St George's Plateau and adjoining St John's Gardens. Led by Deborah Mulhearn, the ticketed event tells the stories of Liverpool at times of war through the eyes of local and visiting writers, including Helen Forrester, Wilfred Owen, Charles Dickens, Shirley Hughes, Nicholas Monsarrat and Beryl Bainbridge. The walking tour takes place every Wednesday and Saturday up to the 30 January and tickets can be purchased from the Tourist Information Centres, at Albert Dock or in Liverpool Lime Street Station. Tickets cost just £5 for adults and £3 for under 16s.

Socks, Pin Cushions and Stories - Part of BBC Radio Merseyside's Up for Arts; this World War One craft project encourages those inspired by the Weeping Window to create their own craft items to commemorate those who lost their lives through conflict. There will be a focus on women crafters of the period who made comfort packages for the troops. Workshops will be held at St George's Hall, from 2 January to 16 January 2016.

Silent Voices exhibition: This photo exhibition is made up of 24 pictures taken by children in Bil'in; a village in Palestine. On display in St George's Hall from 2 January, until 16 January 2016, it reflects the children's lives, their surroundings and their hopes for the future.

Remembered? Emerging from Veterans in Practice's artwork, Remembered? Invites people to engage with local memorials and to think about the impact of these monuments have documenting lives lost. Taking place on Wednesday, 13 January 2016, from 11am to 2.30pm in FACT, a discussion will take place about how we choose what and whom to remember, reflect on how we might choose to commemorate in the future and contemplate what current and prospective methods imply about our own society. Veterans in Practice is FACT's creative digital programme for military veterans. For more information visit FACT's website. Tickets for the event are free but booking is required.

Poppies - Women in War - Telling the personal stories of women affected by war, this photographic exhibition displays striking portraits from the First World War to present day. Located in the Museum of Liverpool, there will also be workshops, craft and poppy making sessions to complement the exhibit. For full details visit the Museum of Liverpool's website. It is on display until summer of 2016.

Liverpool Remembers Poppy Trail - To complement the Weeping Window, this trail has been produced which gives a suggested route around the City centre encouraging residents and visitors to learn more about those whose lives were changed forever by the war. It comprises of more than 20 locations throughout the City signposting people to memorials ranging from the Liverpool Pals Memorial at Lime Street Station, the Unknown Soldier in Exchange Flags and the Maritime Memorials at the Pier Head right through to buildings of historic interest such as Martins Bank on Water Street, Liverpool Town Hall and several of the city's museums. Starting at the Weeping Window commission at St Georges Hall and finishing at the 14-18 Now Dazzle Ship commission. A map can be downloaded here.

Assistant Mayor of Liverpool Councillor Wendy Simon, Cabinet Member for culture, tourism and events, said:- "We always knew the Poppies would be popular, but we've been overwhelmed with the reaction so far. November hasn't given us the best of weather, but regardless of rain or wind, people have turned out in their thousands each day to see this amazing installation. It's wonderful that there is such a strong participation programme to complement the poppies; we want to ensure people can be as involved as possible and learn all about Liverpool's connections with World War One. Who Will You Remember offers many different activities for people, old and young to engage with, and as a result there will be a tangible legacy to the poppies being in the City. And with more activities taking place in December still to be announced, we're hoping to encourage even more people in to the City to see the stunning Weeping Window and in turn take part in the thought-provoking participation project."

Weeping Window is in the City until Sunday, 17 January 2016. The poppies are in the City as part of a UK wide tour organised by 14-18 NOW who are the national organisers of the First World War Centenary Cultural Programme.

For the latest information visit this link, or follow @culturelpool on Twitter and 'Like Culture Liverpool' on Facebook.

Make a dash with the team from Mersey Fire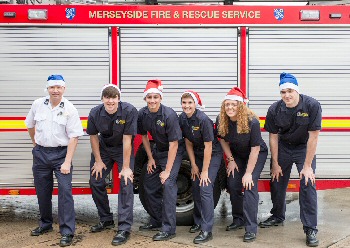 A team of 50 firefighters and staff from Merseyside Fire and Rescue Service are swapping their fire kit for Santa suits for the world's biggest festive fun run.

Merseyside Fire and Rescue Service is supporting The Medicash Santa Dash Liverpool 2015 as a way to promote well being in the workplace and encourage its staff to lead an active and healthy lifestyle.

The 12th annual Medicash Santa Dash Liverpool takes place on Sunday, 6 December, starting at 9.30am from Pier Head Liverpool.

The 5K fun run route takes Santas through the City centre, before they enjoy a festive grandstand finish outside Liverpool Town Hall.

The 1K Mini Dash for youngsters aged 12 and under starts in Castle Street at approximately 11am, once the main Santa Dash has finished.

Liverpool earned the World Santa Challenge title last year when 8,846 Santas took part; making it the world's biggest festive fun run. Las Vegas had held the title since 2011. Now organisers BTR Liverpool are hoping to attract 10,000 Santas to keep the title in Liverpool.

Merseyside Fire and Rescue Service is taking part in the Santa Dash for the eight consecutive year.

The team is made up of operational and support staff, and also includes 6 Community Support Apprentices who are raising funds for The Fire Fighters Charity, the leading provider of services to enhance quality of life for serving and retired fire service personnel and their families.

The fundraising apprentices are John Bilbao, Isaac Santos-Munn, Lewis Reid, Emily Thomson, Ellie Williams and Alexander Williams, who are stationed at Wallasey, Belle Vale, Sefton and St Helens community fire stations.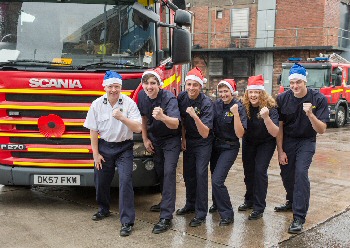 Group Manager Gary Oakford said:- "We use the Santa Dash as a fantastic way to encourage healthy and active lifestyles at Merseyside Fire and Rescue Service. We started taking part in 2008 following our hosting of the World Firefighters Games in Liverpool the same year, and now the Santa Dash has become a real highlight of our year. It's a fun way for us to take part in an activity together as a team. My personal favourite part of the Santa Dash is at the top of the Dale Street flyover, looking back towards Liverpool Town Hall; it's an extremely uplifting sight and gives you a real sense of being part of something special. The Santa Dash is a key event in the city's calendar, it has real spirit. The Merseyside Fire and Rescue Service Santas are looking forward to joining you all on the start line on 6 December."

The Santa Dash is open to all, attracting individuals; families; charity runners; and corporate organisations. Wheelchair participants and prams are welcome.

BTR Liverpool is the leading independent organisation for creating, managing and delivering headline race events in Liverpool City Region. Its growing portfolio includes the Vitality Liverpool Half Marathon, Tour Of Merseyside, Tunnel 10K and award winning Wirral Half Marathon/10K.

The official charity partners are Radio City's Cash For Kids; Claire House Children's Hospice; Everton in the Community; Jospice; and Roy Castle Lung Cancer Foundation; who are the five BTR Footsteps Fundraisers charities. The BTR Footsteps Fundraisers initiative brings the charities together through BTR's key race events by encouraging participants to fundraise and support them. Funds raised will be split equally between the5 charities. Sponsor forms are available from BTR Liverpool or fundraisers can set up an online fundraising page here.
Register for the Santa Dash at BTR Liverpool, 23 Hatton Garden, Liverpool, L3 2FE, BTR is now open 7 days a week, for Santa suit collection. For more details visit BTR's website.
Memory Lane Fairs Event
OVER the last 4 years British Wrestling Audiences have been entertained like never before. This free entry event, at the Prince of Wales Hotel, on Lord Street, Stouthport, will have over 30 stalls, with lots of fantastic hand crafted items and a multitude of lovely gifts... The Reason? 6'4 17½ stone American Heartbreaker "Sweetness" Sam Adonis. All Star Wrestling of Merseyside is very familiar with the SuperStars of professional Wrestling, dating back to Giant Haystacks and Kendo Nagasaki as well as popular current Television Stars Sheamus and Daniel Bryan. It will be to nobody's surprise to see Sam Adonis on the Main Stage Television Wrestling circuit in the near future. The 26 year old Adonis has already made history by becoming the first American born to capture the Historic British Heavyweight Championship coronating an extensive 8 year international career seeing action in countries worldwide as well as WWE Rings. Adonis says "It's in my blood to be the best" referencing to his older brother and trainer "Corey Graves" of WWE fame. All Star Wrestling is excited to have this talent on their events. Although the rule breaker sometimes gets carried away with his flamboyance and attitude, the fans of British Wrestling are glued to the action when Adonis takes stage. Only time will tell where this youngster will end up, but for now Adonis insists:- "The American Revolution of British Wrestling has just begun!" For more information or to book a stall, please call Marissa on:- 07460 304327.
Public welcome at Trust board meeting
SOUTHPORT and Ormskirk Hospital NHS Trust will hold its next board meeting on Wednesday 2 December at 9.30am. The meeting will be held in the Seminar Room of the Clinical Education Centre at Southport and Formby District General Hospital. Members of the public are welcome to attend and observe the meeting. Anyone with a special requirement should contact the Trust in advance on:- 01704 704783. The agenda will be available on the Trust website in advance of the meeting. Supporting papers will be made available on the day.