What makes this 6th form the best in The North West?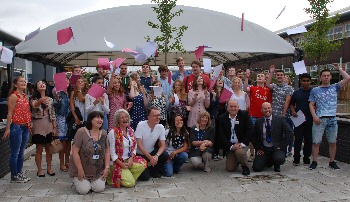 WINSTANLEY College, Wigan, has been named as one of the best Sixth Form Colleges in the country by The Sunday Times Schools Guide.

It is 2nd nationally in terms of average total points score per student and in terms of the percentage of students getting AAB in 2+ facilitating subjects, the college is ranked 7th. It misses out slightly on the top spot for total points to Greenhead College whose students get a mere 32.4 points more than Winstanley College students. An impressive 99% of its students achieve 3 or more A-levels.

The ranking makes it the best 6th form college in the North West of England.

So, what's so special about Winstanley College? How does this college in a quiet, semi-rural location on the outskirts of Wigan achieve such excellent results?

Well, you'd be forgiven for thinking that maybe they simply attract the brightest students from the area and so this reflects on the grades they end up achieving. But no, they've also just been promoted in the Government's 'Value Added' league table to a grade 2 for AS level results. Unlike traditional league table rankings, Value Added scores compare pupil performance in and between public examinations. They are designed to provide a measure as to how much more or less successful students have been by virtue of the school/college they attended, declaring how much 'value' their school or college has added to their results.

Vice Principal Mel Chadwick explains:- "You could look at it this way…if students with mostly Bs at GCSE go to most other colleges they achieve C grades on average at AS level, when students come to Winstanley College they achieve B grades."

So, this new ranking means that Winstanley College is in the top 10% of A-level providers nationally for 'Value Added' too.

Also, over 90% of students state that they are highly satisfied with their experience at Winstanley College and so clearly the College is doing something right. The College runs an extensive extra curricular activity programme and has built strong links with universities and employers, helping to strengthen their students' subject understanding and ultimately their employability.

Within the region, the College's excellent reputation is demonstrated by the numbers of students who apply each year, with a 28% increase in applications since 2009.

The results are based on exams taken in 2014 and the 2015 results will be published by the Government in January. Principal Louise Tipping is over the moon:- "I'm delighted that we are ranked so highly; it's testament to the hard work and dedication of both our staff and students."
Carolling for a good cause
AS Christmas draws closer, the NSPCC is inviting people across Merseyside to join its annual Carols by Candlelight concert on Tuesday, 15 December 2015 to raise vital funds for the charity's Call for Help Appeal.

Taking place at Liverpool Anglican Cathedral, from 7:30pm, the concert will feature performances from children and young people in the Wirral Schools Concert Band, the Liverpool Signing Choir and Circle of Voices Gospel Choir, who will delight those in attendance with carols, traditional music and singing in the stunning candlelit setting of the cathedral.

Tickets for the event, which is being sponsored for the 9th year running by Merseyside based retailer Home Bargains, are available now priced at £10 per adult, and £5 for concessions. Family tickets are also available, at £25 for 2 adults and 2 children.

Tom Morris, managing director at Home Bargains, said:- "We're thrilled to be supporting Carols by Candlelight for the ninth year running and are proud to support the incredible work that the NSPCC does every single day. As a Merseyside based family run company, our heart is still very much in Liverpool and we're extremely passionate about supporting causes such as this one to help local people. The charity's ChildLine Service, which proceeds from this evening will go towards, acts as a lifeline to children who have nowhere else to turn."

Daniel Poole, NSPCC community fundraising manager for Liverpool, said:- "For most children, Christmas is magical, but for others, it's a time when they feel more alone than ever; when they're struggling to cope with being neglected, bullied or abused. Carols by Candlelight is not only a beautiful Christmas celebration, it's also the perfect way to support our Christmas Appeal, Call for Help, to ensure our ChildLine service is able to offer support and hope to the thousands of children who will get in touch this Christmas and in the year ahead."

To book tickets for the Carols by Candlelight concert, please contact the NSPCC fundraising team on:- 0161 393 4474 or email them.
Eight in L8
A new public artwork, celebrating the people of Liverpool 8, has been unveiled. The work, a large metal figure '8' will stand on Princes Boulevard at the Upper Warwick Street Junction. The unveiling ceremony was carried out on Saturday, 28 November 2015, by elders of the Liverpool 8 community in a ceremony which the Deputy Mayor, Councillor Ann O'Byrne is attending.
The artwork was commissioned by the L8 Law Centre Trustees, now called the L8 Legacy Projects. Local artists with social enterprise Safe Productions held workshops with children from four local schools, Windsor Street, St Patrick's, Kingsley Road and St Silas. The children researched the history of Toxteth Park and King John's deer hunting forest, and designed their own circular templates, depicting images of deer, the king and things they thought you would find in the forest at that time.

They also produced designs demonstrating the pride they have in their local community of Liverpool 8, and the mystical powers of the number 8 with their work being incorporated into the artwork. Community leader Joe Farrag said:- "This artwork symbolises the spirit and journeys of the people of the area. This is a special piece of work that everyone will relate to, many of our ancestors arrived in Liverpool by sea and the links of the 8 reflect this."

The installation of the '8' artwork is being accompanied by environmental works in Princes Boulevard which include the removal, and cutting back of shrubbery and the crowning of trees, This work has been carried out by Enterprise Liverpool and INES Include Environmental Services. "This is an area which is on the up. and the improvements to the Boulevard will make its environment more attractive. The new artwork, which symbolises Liverpool 8 shows the pride the local community have in their neighbourhood. And the contribution made by local pupils shows what creative children we have." said Councillor Tim Moore.

Fun filled family 5k to help Liverpool say neigh to cancer
NORTH West Cancer Research is challenging people from Southport to walk, run or gallop 5k around Aintree's world famous racetrack, to help them say neigh to cancer.

Canter for Cancer, will be Liverpool's 1st ever horse themed running event, which will raise money for cancer research and Liverpool based health charities.

Race goers will wear novelty horse's heads as they make their way around the 5K (just over 3 miles) course at Aintree, home to the world's greatest steeplechase - 'The Grand National' - on Sunday, 6 March 2016.

Liverpool actress Suzanne Collins has put her name behind the race and is encouraging as many people as possible to take part. Organisers hope that more than 3,000 people from all over Liverpool and the North West will take part.

There will also be a chance for children to get involved on the day with a shorter:- 'Only Foals and Horses' race, which can be completed with an adult chaperone.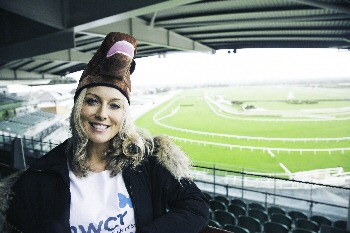 Suzanne, who lost her dad to lung cancer 3 years ago, said:- "Cancer touches the lives of all of us. My dad recently passed away after battling lung cancer and so many others of my friends and family have been affected by it. Cancer research is so important if we are to ever move forward and beat this killer disease, which is why I am proud to have been asked to support North West Cancer Research and its Canter for Cancer event. It's such a fun idea and a great way to unite everyone in a common cause all while raising funds for cancer research. I've got lots of my friends and family interested in signing up already and my daughter Mya has already said she will run the Only Foals and Horses event, with her friends which she'll do in memory of her grandad."

Canter for Cancer is supported by The Liverpool FC Foundation, as well as Liverpool-based Investec Wealth and Investment which has been named as the headline sponsor.

North West Cancer Research is the biggest locally-based charity, working to fund cancer research, which directly benefits those living in the North West.

The charity has committed to funding more than £11.2million worth of cancer research over the next 5 years. £7.7million of which will be spent on projects at the University of Liverpool, home to the North West Cancer Research Centre.

The most recent figures from the National Cancer Intelligence Network show that show that cancer is one of the biggest killers in Liverpool. On average 2,577 people are diagnosed with cancer per year and if you live in Liverpool you are 25% more likely to be diagnosed with cancer than anywhere else in the UK.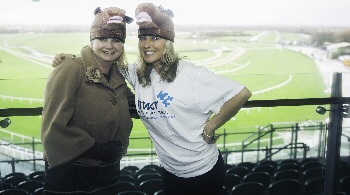 Anne Jackson, CEO, North West Cancer Research, said:- "Canter for Cancer offers a unique chance for members of the public to run Aintree's world famous course for themselves. This is the largest fundraising event we've ever held and we look forward to Canter for Cancer becoming North West Cancer Research's flagship fundraising event. It offers something fun for all the family; especially with our novelty horses heads. Support from Liverpool FC Foundation and The Jockey Club, who have offered us Aintree Racecourse, has been fantastic and will help us raise awareness of the importance of cancer research among as many people as possible. Cancer sadly affects every single one of us. It is one of the biggest killers in Liverpool. The good news is that today, for the first time ever half of all people diagnosed with cancer in the UK will survive; which is why research is so important."

Mark Haig, head of operations at Liverpool FC Foundation, said:- "We are delighted to support North West Cancer Research and its Canter for Cancer event. Right from the off, we knew this sounded like a great event and felt it was something that we could really get behind as a Foundation. Cancer is a serious issue in Liverpool, and the more awareness we can raise about it the better. Canter for Cancer will challenge people to think about cancer, as well as raise money for vital cancer research right here in Liverpool. We have worked with North West Cancer Research for ten year now as part of our Men's Health Programme. I am hoping that some of the guys; and girls; involved will sign up to take part and make this one of the biggest and best fundraising events in the city."

Liverpool FC Foundation is the official charity of Liverpool Football Club. It delivers a range of initiatives that inspire people from all walks of life to make positive change happen for themselves and their communities.

Its Men's Health programme was developed in 2005 in response to the high levels of poor health within the community. It aims to raise awareness and tackle physical and mental health issues, including cancer prevention. North West Cancer Research has worked with the Men's Health programme, since 2005 helping support some of its cancer awareness related activities.

Registration for Canter for Cancer is now open. Registration for the 5k race costs £20 per person and for Only Foals and Horses £20 for a child and adult chaperone.