Poppies inspire special carol concert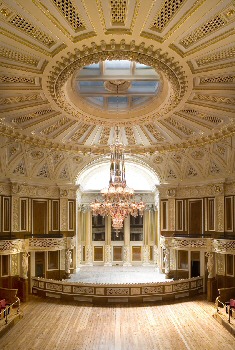 A moving and unique carol concert is to take place at St George's Hall which reflects on wartime at Christmas. As a tribute to the 'Poppies - Weeping Window' installation on the exterior of the Hall and The Truce statue, which is currently on display inside the venue and depicts the famous Christmas Truce of 1914, more than 10 groups of performers will take to the stage in the Concert Room to give live performances of carols and songs including some from the wartime era.

These songs include:- 'Till We Meet Again', 'Lili Marlene', 'White Christmas', 'Have Yourself A Merry Little Christmas', 'Don't Sit Under The Apple Tree' and 'Blue Moon''.

As a very special finale to the Silent Night Carol Concert The Farm will perform a spine tingling acoustic rendition of:- 'All Together Now', accompanied by the other acts.

It takes place on Thursday, 10 December 2015, and costs just £10 or £8 for concessions. Each choir or ensemble will perform for around 10 minutes and those taking part are:-
Night & Days
Resonate Singers
Liverpool Male Voice Choir
The Royal Court Theatre Choir
Resonate Brass
S.O.N.G Merseyside
SoSo (Singing Our Socks Off)
Vox in the Light
The Poppies
Pagoda Chinese Youth Orchestra
During the evening there will be a special performance by Resonate Singers of a song penned by local composer John Hogg who has written From Seeds of Hope, inspired by the poppies.
Copies of the song will be available to purchase at the Hall on the night.
In between acts, members of the Liverpool PALS Memorial Fund Committee will be reading out letters from the front.
Assistant Mayor and Cabinet Member for Culture, Leisure and Events, Councillor Wendy Simon, said:- "The Silent Night Carol Concert is set to be an emotional and uplifting evening, and in the surroundings of the stunning Concert Room, it's without a doubt an unmissable event. The public reaction so far to the Poppies installation has been overwhelming, and it's not a surprise that these beautiful ceramic flowers, and everything they symbolise, have inspired this evening of live music. I'm delighted so many performers are going to be involved and just thinking about the finale with local legends The Farm singing their iconic song is enough to give anyone goosebumps. Space is of course limited, so I hope as many people as possible make the most of this unique event and be part of what will be an unforgettable, Christmassy evening."

The evening has been organised in partnership with Resonate, Liverpool's Music Hub.
Doors open at 6pm, with performances starting at 7pm.

Tickets can be from Ticketquarter or by calling:- 0844 8000 410.

Win wonderful winter prizes with Arriva!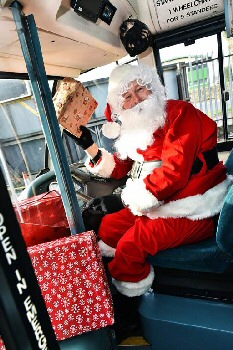 ARRIVA North West is hoping to make Christmas a real cracker for its customers this year, and has got the gifts all wrapped-up and ready to dish out during December 2015. To say thank you to passengers for choosing travel with Arriva throughout 2015, the team in Southport have started their Christmas shopping early and are looking forward to spreading some festive sparkle by handing out a wonderful range of 'Winter WonderPrizes' to customers, online and on board. People visiting the Arriva website are now able to sign up to be in with the chance of claiming some glorious gifts including top technology, shopping vouchers and even Christmas food, with more opportunities to win on Facebook.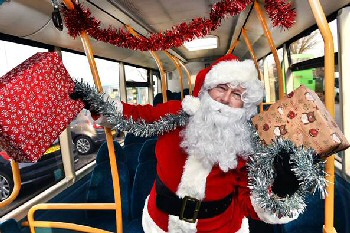 Alongside this, in a number of specially selected secret locations, the team will be surprising people with treats during their travels. Derek Bowes, marketing and communications manager, from Arriva North West explained:- "We really wanted to show our customers just how much they mean to us, and as Christmas is the time for giving, what better opportunity to give something back, and say 'thank you' for your continuing support. We have a mountain of gifts to give away, so please do keep your eyes peeled when on board this month, and be sure to register now for your opportunity to have a very merry Christmas indeed."

Prizes include:- annual Merlin Passes, smart phones, iPads, Beats headphones, luxury M&S hampers, Fitbits, restaurant and shopping vouchers. To enter the Winter WonderPrize giveaway, visit this link, or alternatively, find them on Facebook.
Formby Carol Wagon 2015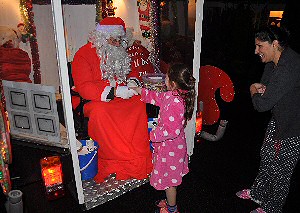 THE Formby Carol Wagon will be visiting all pubs in Formby, visited with Father Christmas on board, on Thursday, 17 December 2015, from 7pm. Then on Saturday, 19 December 2015, from 9.45am Father Christmas is at Tesco Formby, on the Formby By-Pass. He will also be on tour in and around the village, greeting children and raising money for local charities as normal, so keep an eye out for him at night. A list of roads will be on or Facebook page later this week, as some routes are subject to weather and other factors. To find out more, please visit the Rotary Club of Formby's website.