Freemasons donate £100,000 to help fund Liverpool research into deadly heart conditions
EVERY week in the UK 12 people under the age of 35 die unexpectedly from a heart condition they did not know they had. With a £100,000 donation local Freemasons are helping to fund the British Heart Foundation's research in Liverpool to understand how individual variations in titin, the longest human protein, can lead to a risk of sudden cardiac death.

Titin in heart muscle cells stretches and contracts elastically with every heartbeat, and is needed to ensure the heart beats regularly. It is known that the structure of titin varies very slightly between individuals, with many thousands of very subtle changes possible. Most of these do not lead to risk of sudden cardiac death, but a small number do. So far, it has proved difficult to predict exactly which changes increase risk.

The researchers, led by Dr Olga Mayans at the University of Liverpool, are using state of the art techniques to analyse how titin binds to other proteins and whether this binding is disrupted with particular variants of titin. This will identify the risky forms of titin more accurately than at present, improving diagnosis of people at risk of sudden death and helping to prevent its occurrence.

The Freemasons' healthcare charity, the Masonic Samaritan Fund, made the £100,000 donation following a vote of local Freemasons who nominated the British Heart Foundation to receive a grant.

Simon Gillespie, Chief Executive at the British Heart Foundation, said:- "We are hugely grateful to the Masonic Samaritan Fund for this generous donation. Their support will enable us to fund Dr Mayans' cutting-edge research at Liverpool, which could ultimately save lives by preventing sudden deaths in young people. Heart and circulatory diseases directly affect over 7 million people in the UK and through research we need to keep making progress to prevent suffering and premature deaths. This donation by the Masonic Samaritan Fund will help power that progress."

The £100,000 donation is being presented to Dr Olga Mayans at the University of Liverpool by Freemasons from the Masonic Province of West Lancashire on Thursday 3 December.

The Provincial Grand Master of West Lancashire Tony Harrison said:- "We were delighted to be able to demonstrate our support for the British Heart Foundation by nominating the charity to receive a grant. Over 1,000 Freemasons from around the Lancashire area nominated a research project and the success of the British Heart Foundation shows how keen Freemasons are to support cardiac research."

Dr Olga Mayans, lead researcher at the University of Liverpool, said:- "We are very proud to receive this support from the Masonic Samaritan Fund and the British Heart Foundation. Without their generosity we wouldn't be able to continue making progress with our research."

Problems with the titin protein can cause a heart muscle disease called dilated cardiomyopathy. This condition can cause sudden death in young people or debilitating heart failure, which can be severely life limiting.

Jenny Rees, aged 22 from Chester, was diagnosed with dilated cardiomyopathy at just 6 weeks old after doctors found fluid on her lungs because of her enlarged heart. She is a patient at Liverpool Heart and Chest Hospital and has had a number of treatments to manage her condition; she also has an internal defibrillator (ICD) fitted that will save her life if her condition causes a dangerous abnormal heart rhythm.

Jenny is in the final year of a psychology degree at the Chester University and her dissertation is on the psychological impacts of living with a cardiomyopathy. With the support of Cardiomyopathy UK, Jenny also set up and runs a support group for people with cardiomyopathy in Cheshire and Merseyside. Jenny said:- "I've been in and out of hospital because of my cardiomyopathy. But, in a way I'm lucky, I am a survivor and all too aware that not everyone is diagnosed early like me. By studying psychology, I understand the importance of laboratory research and clinical trials and that I'm still here because of it. I am so pleased to learn about this new research funded by the Masonic Samaritan Fund. The medication I am on now was not available when I was born, things are improving all the time and that is why this sort of research is so vitally important."

The British Heart Foundation is one of thirteen medical research charities the Masonic Samaritan Fund has supported this year with grants totalling £1.125million.

Find out more about how the BHF is saving lives by funding research into heart conditions at:- BHF.Org.UK/Research.

Funding boost for community projects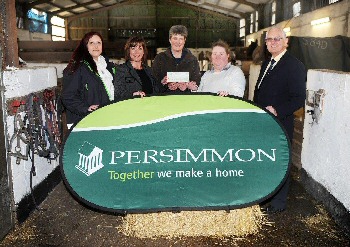 2 regional organisations are celebrating after being selected to receive community funding. St Anne's Kite Festival and Only Foals and Horses are the latest recipients of Persimmon Homes Lancashire's Community Champions donations. The year-long scheme provides 2 grants of up to £1,000 each month to local groups which enhance their neighbourhoods.

Diane Finch, sales director for Persimmon Homes Lancashire, said:- "As a company we are committed to supporting the small charities, clubs and organisations that operate near to our new homes developments. When ordinary people are giving up their time to improve their communities, they deserve our thanks and our backing."

St Anne's Kite Festival is a free family weekend which aims to bring together young and old. Held on the beach at Lytham St Anne's, the festival includes free kite making workshops for children and entertainment from local musicians.

Planning is already well under way for 2016's festival and more information can be found online.

Only Foals and Horse is an Oswaldtwistle based charity offering a safe refuge for more than 100 horses, ponies and donkeys. The organisation rescues animals at risk of mistreatment or neglect, rehabilitates the sick and provides very old and lame horses with a comfortable retirement.

The charity is heavily dependent on public donations and Persimmon's funding will be used to increase awareness of its services and fundraising campaigns. Information on how to support Only Foals and Horses can be found on the website.

Community groups, charities and good causes across the county have benefited thanks to the donations from Persimmon Homes. Organisations can apply for funding by completing a simple online form.

The scheme invites local groups and charities to bid for cash from a £750,000 national fund, with 2 donations of up to £1,000 being made locally every month.

Persimmon Homes Lancashire operates new homes developments throughout Lancashire and Cumbria.
Christmas boost for married couples in the North West
WITH 500,000 people eligible for receiving Marriage Allowance in the North West, married couples are being reminded to apply for a Christmas cash boost by HM Revenue and Customs (HMRC).

Applying online for Marriage Allowance; a Tax break for married couples; is quick and easy. Couples can apply at:- Gov.UK/Marriage-Allowance

The Allowance means a spouse or civil partner who doesn't pay Tax; either because they're not earning at all or because they're earning below £10,600; can transfer up to £1,060 of their personal Tax-free allowance to a spouse or civil partner; as long as the recipient of the transfer doesn't pay more than the basic rate of Income Tax. This can help save couples up to £212 a year.

Ruth Owen, Director General, Personal Tax, HMRC, said:- "Marriage Allowance means couples up and down the country can get a bit of extra support at a time of year when we all need a little more cash. Whether you use it to buy presents for the family or put it away for a rainy day Marriage Allowance means saving £212 on your Tax bill every year. People can apply at any point in the Tax year and still receive the full benefit of the allowance."