Every 12 minutes a renter in the North West is put at risk of losing their home
RESEARCH by the housing and homelessness charity Shelter has revealed that approximately 42,600 renters were put at risk of eviction in the last year (2015)... That is the equivalent to 1 renter every 12 minutes. The shocking new analysis, which uses Ministry of Justice figures, showed that 1 in every 53 rented households in the North West have been put at risk of losing their home. The charity also identified the hotspots in the region where renters are most likely to face losing their home.

Halton topped the list with as many as 1 in every 33 rented homes at risk of eviction, followed by Rochdale (1 in 36) and Bolton (1 in 37).
The charity is warning that a worrying combination of rapidly rising rents, drastic cuts to housing benefit and the chronic lack of genuinely affordable homes will leave thousands of families battling to keep a roof over their heads this Christmas.

Worryingly, the figures also show that approximately 10,700 renters in the North West have already lost the fight to stay in their home, and been evicted by county court bailiffs in the last year (2015).

To make sure they can continue to be there so that no family has to face the trauma of losing their home on their own, Shelter is urgently calling on the public to help by donating to its emergency appeal. Alison Mohammed, Shelter's Director of Services, said:- "It's shocking to think that each and every week, hundreds of people in the region receive a notice through the door with the devastating news that they might lose their home. We speak to parents every day who are desperately trying to keep a roof over their children's heads, but with rents soaring and housing support being slashed, many are finding themselves at breaking point. Already, over 1,100 children in the North West will wake up homeless and in temporary accommodation this Christmas, and tragically the situation looks set to get worse. Our advisers will be working non-stop over the festive period to support families at risk of losing their home; but sadly our helpline is receiving a huge number of calls and our services are straining under the demand. We desperately need more support from the public to help us be there for these families and make sure no one has to fight homelessness on their own this Christmas."

Shelter's helpline is open all year round, including Christmas day, and is staffed by a dedicated team of expert advisers offering free advice and support to anyone who needs it.

Case study: Angela and her 5 year old son lived in the same house for 5 years, but when Angela's landlord raised the rent she was unable to keep up and fell into arrears. They were evicted by bailiffs in November, and have been sleeping on a friend's sofa ever since. "Now that we're homeless, I just don't know where we're going to end up, it's really scary. My son was born in that house, he learned to walk and talk there; we had friends and a garden and a stable home, and now it has all gone. I've tried to explain our situation the best way I can to my son and I'm trying to stay positive for him, but it's so hard. What is keeping me going now, is having Shelter by side. It's a huge comfort to know that I don't have to go through this on my own anymore. I'm so grateful for everything they are doing for me and I hope that with their support and a bit of help from the council that maybe by next Christmas, my son and I will have a place to call home again."

To support Shelter's Christmas appeal please visit:- Shelter.Org.UK or text:- 'SHELTER' to:- 70060 to donate £3.

The Albion Christmas Band Brings the Musical Joys of Christmas to Southport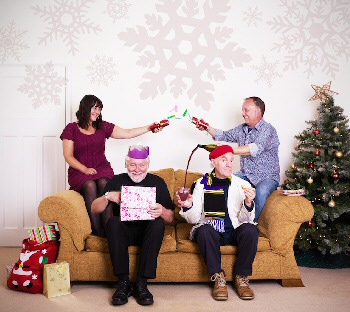 SOUTHPORT music fans can get into the Christmas spirit with the help of The Albion Christmas Band when the band visits The Atkinson on Friday, 11 December 2015, as part of its annual tour. Like all good things in season, the 4 band members keep their goodies under wraps 'til the beginning of December 2015, to make sure their festive offerings are the freshest they can be. The band's annual foray into the musical joys of the festive season has been described by many as the perfect start to Christmas. This popular show features a mixture of seasonal carols, spoken word, humorous readings and dance, enhanced by great musicianship and a wicked sense of humour. The band adds a modern twist to its arrangements of traditional tunes and showcases some newly written songs. The show is the antithesis of the 'Christmas specials' filling television screens, reminding audiences of the simpler pleasures and values of a traditional Christmas and offering them a chance to escape the hustle and bustle of festive preparations. This year the 4 band members will share their personal favourites from their extensive back catalogue that to each of them best signify the meaning of Christmas and they are very much looking forward to their visit to Southport. Simon Nicol explains:- "We've spent many years spreading the joys of Christmas around the country and returning to many of the same venues. The Atkinson in particular feels like home to me as I have played here both with the Christmas Band and my own band Fairport Convention. We are always made to feel so welcome" The Albion Christmas Band has been kicking off the Christmas season for more than 15 years, but it was the last incarnation of the Albion Band that originally created special seasonal shows. On a suggestion from melodeon player Simon Care, a previous Albion Band member himself, the Albion Band founder Ashley 'The Guv'nor' Hutchings brought together 2 other previous Albion Band members to create an autonomous band to present a guided tour through the Christmas customs of Britain. Joining Care and Hutchings are Simon Nicol (founder member of Fairport Convention) on acoustic guitar and vocals, Kellie While (Albion Band), acoustic guitar, vocals and percussion. The Albion Christmas Tour is at The Atkinson on Friday, 11 December 2015, from 7.30pm. Tickets are £18 / £16 concessions and are available online at theatkinson.co.uk or by calling the Box Office on 01704 533333. They are also available over the counter during The Atkinson opening hours.

* Please be advised that there is a £1 per ticket booking fee for telephone and online sales and 2% credit card charge for over the counter sales.