Radio City Live Gig Review
Review by Jo Forrest...
THIS was my 1st time at Radio City Live and there was a definite party atmosphere going on. The audience was filled with families and fans young and old eagerly waiting for the show to start. Olly Murs was 1st up, the cheeky chap of pop who found fame on the X Factor and also co-presents it, when he was runner up in 2009, has seen his career go from strength to strength. The audience were soon on their feet dancing and singing along as he performed a few of his hits, finally finishing with his latest single:- "Kiss Me."
Next up we had OMI, a Jamaican American singer who managed to keep the audience on their feet with his best known hit to date:- "Cheerleader." Fleur East followed next with some impressive vocals, another runner up from the X Factor, who 1st competed on the show back in 2005 with a member of the girl group Addictiv before launching her solo career in 20142 and returning to X Factor in 2014.
Ben Heanow completed the trio of X Factor competitors for the evening and was the winner of the shows 11th season in 2014. The 30 year old had the audience singing all the words to his debut single:- "Second Hand Heart." After a short break The Vamps were up next. This band who were found on Youtube have had a phenomenal success over the last couple of years. They have just released their second album and completed a world tour this year. They whipped the audience in to a frenzy, with pyros and singing 5 of their hits before finishing a sadly al to short set but not before reminding us all they will be back in Liverpool in April 2016.

Next up were Sigma, who certainly kept the part going with a trio of their hits including:- "Glitterball", "Changing" and "Nobody to love."

Final band up for the night were Scouting for Girls, who delighted the audience with a few of their hits. I don't know whether it was an impromptu decision, but Roy Stride decided to run around the arena seeing how many high fives he could get. The audience was ecstatic as he lapped the floor with the security trying to keep up looking panic stricken.

Radio City put on a brilliant evening with a great line up, the audience was kept dancing and singing the whole night. If you haven't been to one of these shows yet, then you are definitely missing out on a fabulous fun filled night. Tickets are now on sale for 2016, make sure you get yours.
Eyes and a citrus smell could help cut hospital infections
A picture of a man's intense staring eyes and a clean citrusy smell have been found to substantially improve hand washing and so cut the risk of hospital infections, according to a new study.
According to the latest research effective hand hygiene is the single most important procedure in preventing hospital acquired infections, which can lead to disease and even death for vulnerable patients and increase costs for the healthcare system. Yet the number of staff washing hands is often startlingly low in clinical environments.

Ivo Vlaev, of Warwick Business School, Dominic King and Ara Darzi, of Imperial College London, and Maureen Fitzpatrick, Ruth Everett Thomas and David Birnbach, of the University of Miami, used insights from behavioural science; often called nudges; to improve rates of handwashing in a study at 1 Hospital. They found a picture of a man's eyes saw a ⅓ more people wash their hands, while a citrus smell boosted hand washing by almost 50%. Professor Vlaev said:- "Appropriate hand hygiene is considered to be essential practice in clinical environments to prevent healthcare associated infections. Yet low rates of hand washing are widely reported and this was reconfirmed in this study, where only 15% of staff and visitors to an intensive care unit were observed to use the hand washing station."

In the paper 'Priming' Hand Hygiene Compliance in Clinical Environments, published in Health Psychology, the researchers experimented with psychological priming, which is the process where exposure to certain cues; for example words, smells, or images; alters behaviour without the person being aware of the impact of the cue on their behaviour.

A trial was set up in a surgical intensive care unit at a teaching hospital in Miami, Florida. A total of 404 healthcare workers and visitors were observed to see if they washed their hands by using the hand sanitizer next to the door before entering a patient's room. In the control group, of 120 visitors just 18 washed their hands (15%). Men on the whole seemed far sloppier with only 5 out of 54 (9.26%) washing their hands, compared to 13 out of 66 women who washed their hands (19.70%).
A total of 124 visitors were exposed to a visual cue of a pair of eyes positioned above the alcohol hand gel dispenser. When exposed to a photograph of male eyes there was a statistically significant increase in hand washing of 33.3%. However, when the photograph was of female eyes even less, 10%, washed their hands. Again males tended to comply with hand hygiene far less than their female counterparts with 21 women influenced by the male or female eyes and only 5 men, with just 1 man motivated by the female eyes to wash his hands.

Professor Vlaev said:- "This may be because male eyes cue different feelings, thoughts, or emotions than female eyes. In many previous studies examining gender differences in exerting social influence more generally, men have been found to exert more influence than women and this may explain the differences seen. However, it is important to clarify the male eyes showed used more facial musculature, often perceived as anger or threat, so this could have influenced the observed individuals."

There were 160 individuals observed who were exposed to a citrus smell and they were significantly more likely than the control group to wash their hands, with 46.9% using the alcohol hand gel dispenser. The citrus smell seemed to spur more men into action with 35 out of 83 males observed to wash their hands (42.17%). Females again complied more often, however, with 40 out 77 (51.95%) complying.
"Based on these preliminary findings, we believe that further research in this area should be performed in order to better determine whether priming interventions could be a powerful tool in encouraging hand washing to improve infection rates. Further work could look more fully at gender differences in response to priming based interventions; whether healthcare workers are affected differently than visitors, and whether the impact is strengthened or diluted through repeated exposure." said Professor Vlaev.

For a copy of 'Priming' Hand Hygiene Compliance in Clinical Environments of email:- ashley.potter@wbs.ac.uk.

Liverpool a hit with UNESCO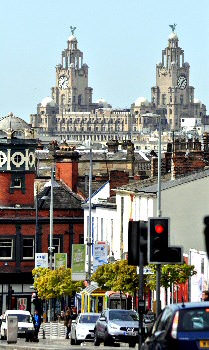 LIVERPOOL has been declared a City of Music by UNESCO, joining a select number of Cities across the globe. UNESCO, which awarded Liverpool 'World Heritage Site' status in 2004, has now turned its attention to the City's musical offering. The City of Music status has been awarded due to music's place at the heart of Liverpool's contemporary culture, education and the economy; from the live music scene to tourism, music management courses and digital businesses. It was also given to the City based on its commitment to having a clearly defined music, education and skills strategy for young people so that Liverpool can continue to produce world class talent.

Liverpool is the 2nd City in the UK to be given the honour; Glasgow received it in 2008. The City is among one of 10 other global destinations which have also been given the title on Friday, 11 December 2015, including Kingston in Jamaica and Salvador in Brazil. There are now 19 Cities of Music in total and they form part of the prestigious UNESCO Creative Cities Network.

The judges highlighted that urban festivals like Liverpool International Music Festival (LIMF), Liverpool Sound City and Liverpool Psych Fest have not only cemented the City as a haven for music, but also helped to develop young industry professionals. The designation also noted the importance and contribution of established names such as the Royal Liverpool Philharmonic Orchestra, Creamfields, Africa Oye and LIPA.

With music being 1 of the main drivers for visitors to the City, the award also opens up opportunities to further market the City's musical heritage and, ultimately, bring more tourists to the City. Joe Anderson, Mayor of Liverpool, said:- "Liverpool is renowned for its musical influence and this status is the ultimate, and appropriate, accolade for a City which lives and breathes music. It's no secret that music is one of the biggest reasons that visitors come here; you only need look at the numbers of people going to The Beatles Story, or the crowds that head to annual events such as Sound City or LIMF to see that. I'm confident that with the support of such a globally respected name as UNESCO, this will grow further and people will realise that it is not just about the City's contribution to music history, but is about the exciting things happening right now. In the same way our Waterfront has benefited from association with UNESCO, so too will the City's music offer."

Liverpool City Council worked with the City's partners on the bid. Kevin McManus, Investment Manager at Invest Liverpool who led on the application on behalf of the City, said:- "Liverpool's musical heritage is well documented, but the real reason we have been awarded this accolade is for the contemporary scene. We have some of the most vital, inventive festivals in the UK; as evidenced in the glut of recent awards; and music is at the heart of the City's economic planning. Whether it's the LIMF Academy developing young talent and teaching them how they can make a living from music, Sound City offering a platform to meet agents and managers or businesses like Sentric, in the Baltic Triangle, music is integral to the City's future as well as its past."

Vasily Petrenko, Chief Conductor of the Royal Liverpool Philharmonic Orchestra said:- "UNESCO's award recognises Liverpool as one of the world's great music cities. 2015 is Liverpool Philharmonic's 175th anniversary year and we are proud to continue to play our part at the heart of Liverpool's musical life in our concerts at our home, Liverpool Philharmonic Hall, with City partners in celebrations and festivals, through our learning programmes such as In Harmony Liverpool and as an ambassador for Liverpool when we tour in the UK and internationally."

This announcement comes just a fortnight since three Liverpool festivals scooped gongs at the prestigious UK Festival Awards 2015. Sound City, Creamfields and LIMF all took top honours, cementing the City's reputation for hosting outstanding live music events.

The accolade is well timed as preparations are being finalised for a City wide season launch in January 2016, of what is shaping up to be an incredible year of music performance, exhibitions, festivals and events taking place across Liverpool in 2016.

Destinations which have been given UNESCO City of Music status on Friday, 11 December 2015 where:-

► Adelaide, Australia
► Idanha-a-Nova, Portugal
► Katowice, Poland
► Kingston, Jamaica
► Kinshasa, Democratic Republic of the Congo
► Medellín, Colombia
► Salvador, Brazil
► Tongyeong, Republic of Korea
► Varanasi, India
Destinations which already have the title are:-

► Bogota, Columbia (2012)
► Bologna, Italy (2006)
► Brazzaville, Republic of Congo (2013)
► Ghent, Belgium (2009)
► Glasgow (2008)
► Hamamatsu, Japan (2014)
► Hanover, Germany (2014)
► Mannheim, Germany (2014)
► Seville, Spain (2006)