HRH Princess Royal Visits Iconic Building During Trip To Liverpool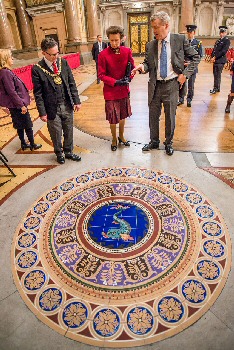 THE 1st phase of major restoration work at St George's Hall Liverpool has been given the Royal seal of approval by HRH The Princess Royal.

Staff and visitors at the landmark building were this week treated to a rare Royal visit by Princess Anne. It coincided with the completion of the first of five areas of the historic Minton tiled floor which have been earmarked for restoration work.

Widely regarded as one of the finest neo-classical buildings in the world, St George's Hall Liverpool is also a favourite building of Princess Anne's bother, HRH Prince Charles.

Princess Anne was given a tour of the Grade I Listed building by General Manager Alan Smith, and the Lord Mayor of Liverpool Councillor Tony Concepcion. Together they discussed the restoration project, which is the first major repair to the Great Hall since the iconic venue opened in 1854.

St George's Hall Liverpool is the world's best example of an encaustic tiled floor. But over time, five of the Great Circles of the tiled floor have become badly worn and colours have dramatically faded and have been identified as the key areas for restoration.

The 5 Great Circles are located around the perimeter of the Great Hall and form part of the natural walkway round the Great Hall. They were originally the route into the Crown Court, therefore they have become severely worn over time.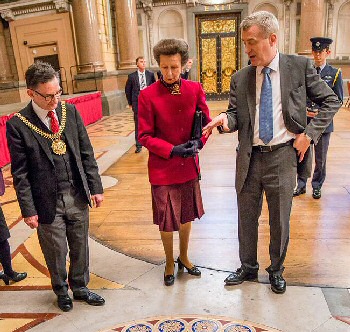 Work on the 1st area is now complete, and Princess Anne was full of praise about the end result. The faded tiles have been replaced with exact replicas, this means the striking and intricate designs have been brought back to life with brilliant colour. The original tiles have been retained and will be displayed to the public in the St George's Hall Heritage Centre. Work on the other four areas will follow in 2016 once funds have been secured.

The 1st phase of restoration has cost £73,000, which has been raised by the Trustees of St George's Hall and The Friends of St George's Hall, with the support of Liverpool City Council. Further fundraising is now required to continue with the remaining four phases which could take up to 12 months to complete.

Alan Smith, General Manager of St George's Hall Liverpool, commented:- "Our iconic venue is very much a great asset of Liverpool, so it is vital that restoration work is done with great care to protect and preserve its heritage for future generations to enjoy. The Princess Royal was extremely enthusiastic and encouraged by the quality and expertise required to replace the tiles. She fully understood the intricacies of the project ahead and wished us well with the remaining phases. It has cost £73,000 to create the template and produce the distinctive Minton tiles to repair the first circle, this has been raised through the efforts of our dedicated supporters. However, we have a long way to go to reach our target and raise the funds required to complete the overall restoration project. We hope our visitors continue to support us in our efforts to maintain one of the City's most important architectural gems."

While at St George's Hall, Princess Anne also took time to see the Poppies - Weeping Window display. The Princess Royal's visit was part of a wider trip to Liverpool, during which she also opened a new building at The Walton Centre.

Experts Craven Dunnill Jackfield Ltd from Shropshire, who specialise in encaustic tile manufacturer, have been commissioned to create the bespoke tile. They will be installed by world expert restorer of Minton tiled floors, Brian Joyce from Maw and Co. Ltd, who has worked across the globe on some of the biggest Minton restoration projects.

During the 20th Century, the Minton floor was only shown 6 times. Since St George's Hall Liverpool reopened in 2007, the floor has now been showcased 7 times in just 9 years.

Merry Merseyside nabs Christmas Number 1 Top Spot
EVER wondered which region of the UK is responsible for all those cracking Christmas hits? Thanks to Oxford Consultants for Social Inclusion (OCSI), we now know that the Liverpudlians amongst you are the most likely to come up with a winning festive formula. Since OCSI loves a good map, the company's intrepid research team set about mapping data on the origin of all UK Christmas number one chart toppers from 1952 to 2014; all in the name of science.

Using OCSI's Local Insight tool, which allows you to map any postcode-based data you can think of, the team worked through a list of all UK Christmas number ones, mapping the postcodes of each artist based on their birthplace or childhood home, and how long they spent at number one.

Individual artists were tagged with a single postcode, while collaborative efforts were broken down into individual locations for each band member. Each of these were weighted based on whether the person in question was in a band (for example the weeks at number 1, for every Spice Girls song were each divided by 5).

Several packets of mince pies later, the research team (with the help of the Local Insight tool) had generated a score for each location in the UK, with Liverpool narrowly edging London into 2nd place, with scores of 22 and 21 respectively.

This excellent map shows exactly where in the country these Christmas crackers originated, and how long they lingered on after the tinsel was put back in the attic. Why not see if your home Town is featured?
The darker red patches show the areas where artists spent the most weeks at number 1 and the green patches show artists who spent fewer weeks at number 1. So what gives Liverpool the edge?
Well, it is the birthplace of all four Beatles, who had four Christmas number ones in the 60s. And, as 1⁄5 of the Spice Girls, Liverpool's Mel C had 3 Christmas hits in the 90's.

London didn't do too shabbily either. Home to a fair few bands in their heyday (Pet Shop Boys, Pink Floyd and East 17), it also produced a couple of Spice Girls and a host of X Factor survivalists.

Next on the list is South of London, boosted by the Military Wives, Mr Blobby and comedian Benny Hill, while The Midlands (home to arguably the best Christmas song with Slade's 'Merry Christmas Everybody') came in a respectable fourth with a couple of members from Queen, and Bob the Builder (of course).

Scotland is represented by Band Aid's Midge Ure and X Factor's Leon Jackson. In Wales we have Tom Jones and Shakin' Stevens and in Ireland there is Westlife, 1 of Girls Aloud (with that classic Christmas song 'Sound of the Underground') and Bob Geldof heading up Band Aid, Band Aid II and Band Aid 20.

For a more detailed analysis of the results and to find out whether your region featured, see OCSI's recent blog post.
Public 'stay safe' guide to firearms and weapons attack
AN information film providing advice on the how to keep safe in the event of a firearms or weapons attack has been released to the public on Friday, 18 December 2015.
The 4 minute film, Stay Safe: Firearms and Weapons Attack, sets out three key steps for keeping safe and is freely available online. The film, which has been seen by tens of thousands of people at Police led security briefings, is accompanied by an online information leaflet.

Recent events around the world remind us all of the terrorist threat we face, which in the UK is considered as:- 'SEVERE', meaning an attack is highly likely. Police and security agencies are working tirelessly to protect the public but it is also important that communities remain vigilant and aware of how to protect themselves if the need arises.

The film and leaflet advise that if you are caught up in an incident to:- 'run, hide and tell' - guidance which can be applied to many places and situations. 'RUN' if you can. If you can't run, 'HIDE'. Then, when you can, 'TELL' the Police what's happening so they can get there quickly to stop the threat. Also tell others of the threat so they don't approach danger.

Greater Manchester Police Assistant Chief Constable Rebekah Sutcliffe said:- "The release of this video is designed to reassure rather than alarm and people should not feel anxious by its release. While the general level of threat to the UK is severe, the probability of being caught up in a firearms or weapons attack is extremely low. Regardless, it is crucial the public know what to do in the event of such an incident. Our advice has already been issued to tens of thousands of people during Police led security training sessions, but it is only responsible that we issue this public safety guidance more widely. We know that from case studies and the testimony of people who have survived attacks that the advice given in the film has saved lives. With the threat level remaining at a high level, the Police and security service continue to operate at a heightened state of readiness; we are working on hundreds of investigations and making an arrest a day. However, it is only with the ongoing support of communities that we can defeat terrorism; you are our eyes and ears so please be alert, but not alarmed. We are asking everyone to remain vigilant and report any suspicious behaviour or activity to the confidential Anti-Terrorist Hotline on:- 0800 789 321 or in an emergency on:- 999."