Quarter of a million visit Poppies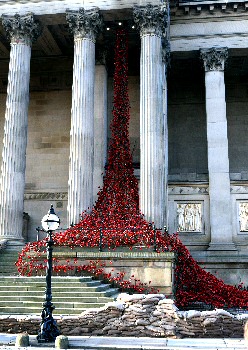 LIVERPOOL'S Poppies have reached a major milestone as they attract more than 250,000 visitors. The beautiful ceramic display featuring thousands of poppies officially opened on Saturday, 7 November 2015, and each week tens of thousands of people are braving the wintry conditions to see the tribute, with the current total at 263,500 visitors.

Poppies - Weeping Window is a poignant reminder of those who have lost their lives during conflict has proved to be an emotional work of art for many visitors, and more than 1,000 people have taken the time to fill out a:- 'Time to Remember and Reflect' postcard to record their reaction to the Poppies or to remember loved ones who lost their lives during war.

Some of the comments have included:-

"Long time lover, 1st time visitor of Liverpool. The Poppy wall took my breath away. I could surely feel the spirit of those long ago gone and the emotions of the people in Paris. God bless this beautiful world, so glad to have visited this amazing City." - Vivienne Henry, 51, California

"The Poppy Weeping Window is the most beautiful tribute I have ever seen. The Poppies are so beautiful yet create a peaceful calm. They are arranged with so much care to create such beauty; you can only feel emotion when looking at them. Liverpool has produced a 'window' that no one else can. Everyone should visit (all staff were so friendly and helpful) thank you." - Christine and Matthew Pye, St Helens

"A very poignant memorial to all those brave men who lost their lives from my own family. Herbert Hartley Senior 19 years, the Somme, John Raymond Senior 23 years, shot down over France, Robert Frost Justice, somewhere in Flanders never found." - Jean, 72, Chester

"Remembering Uncle David, age 3, killed by a bomb blast and Great Uncle Bob Cheshire Regiment killed in North Africa, gone, but not forgotten." - Ruth and Jennifer Moore, Birkenhead.

"WW1 Joseph Johnson. A very young man sent to France and was lucky to be put behind the big guns. Returned a hero. He never picked up his medals and always commented that the real heroes were the ones who didn't return home." - Esther Davies, Granddaughter of Joseph.

"In loving memory of my granddad Ronald who fought in the 2nd World War. Love Oliver." - Oliver, 8, Liverpool.

"To all of those who have fought bravely both in WWI and all the wars that have followed, we will never forget. Time may have passed but your legacy will always live on." - Rhiannon Wells, 18, Flintshire.

"In memory of my dad who gave his life for freedom and now sleeps in peace in a war cemetery in Italy age 26 years." - Daughter who will always remember.

"I think that the Poppies were interesting and beautiful, but it was sad when I thought of all the people who lost their lives." - Erin, 10, Burscough.

"A wonderful display. Let's hope it makes everyone reflect on the sacrifices that were made and are still being made. The horrors of war are still evident every day, let's hope one day there will be peace. In loving memory of my dear dad who served in the 2nd World War." - Anonymous.

"For Kenneth Glenfield Collin, died on the Somme 12 October 1916 leading his men from the front aged 19." - Ruth Collin, Little Sutton.

"We the young need to remember and show our gratitude to all those who have given so much for our freedom." - Honey 10, Bailey 8, Nico 5, Middleton.

"A fitting tribute to all those who died for us... So moving and beautiful at the same time. Liverpool you have done the fallen proud." - M Eves, 70, North Wales.

The postcards can be found in the marquee on the plateau of St George's Hall. The Poppies team will electronically log all contributions which will be published on the official website.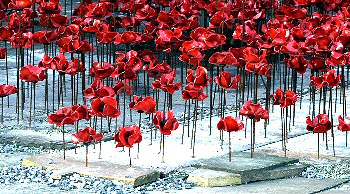 The online Roll of Honour is also another way in which members of the public can remember loved ones involved in conflict. Images or just a short note can be easily uploaded with the aim to create an online legacy around the reaction to the Weeping Window.

Assistant Mayor and cabinet member for culture, tourism and events, Councillor Wendy Simon, said:- "To reach the quarter of a million mark already is incredible and we have been truly overwhelmed by the response to the Poppies. Reading the hundreds and hundreds of comment postcards left by the public has been an emotional experience in itself. The Poppies set in the beautiful surroundings of St George's Hall inevitably evoke a reaction and I am so pleased that people have been eager to share their responses, memories and sometimes incredibly personal, moving stories with us to record online. We are home to the Poppies until Sunday, 17 January 2015, and we want to make sure that even after the work of art has moved on, we have a legacy of their time in this city, and the visitor feedback and the Roll of Honour will do just that. There are five weeks still to go, so I hope people continue to tell us just what the Poppies means to them."

The poppies are in the city as part of a UK wide tour organised by 1914 to 1918 NOW who are the national organisers of the First World War Centenary Cultural Programme.

Jenny Waldman. 14-18 NOW Director, said:- "14-18 NOW are thrilled with the overwhelming response the poppies have received in Liverpool. The installation at St George's Hall looks stunning, and it's wonderful that so many people in the area have been able to experience this extraordinary artwork. We hope many more people will be able to visit the poppies over the festive period before Weeping Window makes its way to the Black Watch Museum in Scotland in May 2016."

For the latest information visit:- CultureLiverpool.Co.UK, also you can follow @culturelpool on Twitter, or Like Culture Liverpool on Facebook.

Parents of children with life threatening conditions urged to apply for dream holiday to Florida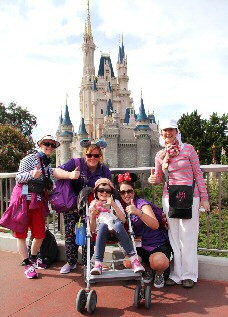 STAFFORDSHIRE based national charity, Caudwell Children, who provide practical and emotional support to disabled children and their families, is urging parents to apply for a place on its annual Destination Dreams holiday, to Disney World, Florida, in December 2016.

The charity has announced that the closing date for the receipt of applications, for the fully supported holiday, is 5:00pm, on Friday, 29 January 2016. Destination Dreams gives 25 children, with life limiting or life threatening illnesses, the opportunity to experience a once-in-a-lifetime holiday to Disney World. Since 2007 the charity has created magical memories for hundreds of children, and their families, from across the UK.

Lisa Bates, Head of Application Services at Caudwell Children, said:- "For many families caring for children with terminal or life-threatening conditions the thought of leaving the protected environment of their home town fills them with dread. By providing 24 hour professional medical support for the duration of the trip, along with a team of volunteers, Destination Dreams gives families the chance to create special, happy memories. If you've always wanted to take your child on that 'Dream' holiday, but not had the confidence or the financial means to do so, then I would urge you to get your application in."

Jill Cavagan, from Newcastle-upon-Tyne, experienced Destination Dreams in 2014 and she was delighted that she took the decision to apply. She said:- "We'd always dreamed of taking Sadie (8) and her sister Charlotte (5) to Disney World. However, without the medical support we just couldn't face the long journey. Sadie's condition affects her learning and her balance and she's also visually impaired. We never know what's going to happen to her, because her condition is so rare, and it's quite stressful if medical support isn't close by. So when we were accepted on the Destination Dreams trip we were delighted."

And Jill wasn't disappointed by the holiday, as she continued:- "Seeing my two children enjoying a holiday together was amazing. We actually forgot about Sadie's condition as we were having such a fantastic time. The trip allowed us to create lasting memories that we shall treasure for a lifetime."

Lisa is keen to hear from families from across the UK and says that it is a simple process. She said:- "The application is in two stages. Both must be completed in order for an application to go into the selection process. The child must be aged between 3 and 18 at the time of the trip and they must be legal residents of, and currently living within, the UK. The family must be earning less than £45,000 a year before tax, not including any benefits. Parents and siblings under the age of 18 are eligible for the trip; however, in the event of a single parent family being chosen a second adult must accompany the group on the holiday."

Parents who are unsure if their child's diagnosis meets the criteria for the trip, or who want further information and an application pack, are urged to call Caudwell Children's Applications team on:- 0345 300 1348.

Alternatively you can apply online.
Taxi fare rise agreed
AN increase in Liverpool's Hackney cab fares has been agreed. The rise, the 1st in 4 years, followed a request from Unite the trade union which represents a number of Taxi Drivers in the City. They argued that fares in Liverpool are, on average below other major Cities. They also said that if fares were not increased now it would lead to a larger hike in fares at a later date. Objections to the proposed increase were considered, but it has been agreed that the increase should go ahead with immediate effect.

The new fares are as follows:-

► Tariff One or D (Day) rate...

For journeys beginning after 06:00 hours and ending before 23:00 hours (other than when Tariffs 2 or 3 apply). £2.40 (instead of £2.20 currently) for the 1st 330 yards (or less) Then 20p each succeeding 232 yards (or less) up to 14080 (instead of 11002 currently) yards. Then 20p each succeeding 300 (instead of 330 currently) yards (or less) And 20p each 60 seconds waiting charge or (or less).

► Tariff 2 or N (Night) rate...

For journeys beginning after 23:00 hours and ending before 06:00 hours or at any times on Easter Sunday and all bank holidays (other than the Xmas and New Year periods when the Tariff 3 (or X) rate should be charged; see below). £3.00 (instead of £2.75 currently) for the 1st 330 yards (or less). Then 25p each succeeding 232 yards (or less) up to 14080 (instead of 11002 currently) yards. Then 25p each succeeding 300 (instead of 330 currently) yards (or less). And 25p each 60 seconds waiting charge or (or less).

► Tariff 3 or X (Extra) rate...

For journeys beginning (1) after 6.00pm on December 24 to 6.00am on 27 December and (2) after 6.00pm on 31 December to 6.00am on 2 January. This rate can also be charged if the journey taken is over four miles beyond the City of Liverpool boundary AND THE USE OF THIS RATE HAS BEEN AGREED IN ADVANCE. £3.60 (instead of £3.30 currently) for the 1st 330 yards (or less). Then 30p each succeeding 232 yards (or less) up to 14080 (instead of 11002 currently) yards. Then 30p each succeeding 300 (instead of 330 currently) yards (or less). And 30p each 60 seconds waiting charge or (or less).

Councillor Steve Munby, cabinet member for neighbourhoods, said:- "We have a responsibility to be fair to both the taxi trade and to passengers. Nobody likes price increases, but this is the 1st rise in 4 years and it has been kept as low as possible. Experience has shown that if you keep the fares down too long you end up with having to impose a very big increase. In the 1980's the fares were frozen for 6 years, but this was followed by a rise of nearly 30%. There were objections from some taxi drivers and passengers and these were carefully considered, but on balance, it has been decided that an increase in fares at this time is justified."
Appeal for information about the whereabouts of Thomas Cole
MERSEYSIDE Police are appealing for information about the whereabouts of a Liverpool man who they need to speak to as part of an investigation into an allegation of rape in the Southport area. Detectives from the force's specialist Unity team are keen to hear from anyone who can help them trace 20 year old Thomas John Cole from Tuebrook. They are investigating an allegation of rape following an incident at a property on Leyland Street in Southport, on 20 November 2013, which was reported to Merseyside Police a year later in 2014. Extensive enquiries have been made by Officers to progress the investigation and they are now asking for the public's help in tracing Mr Cole, so they can speak to him as part of their enquiries. Anyone who has seen Thomas Cole recently or knows where he is now is urged to call officers at the Unity team on:- 0151 777 1382 or alternatively leave information anonymously with Crimestoppers by calling:- 0800 555 111.