Local mental health organisations team up for moving educational video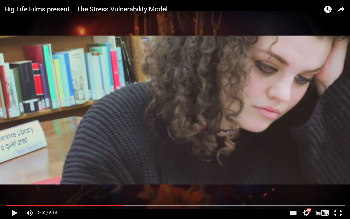 2 of Wirral's largest mental health support organisations, Cheshire and Wirral Partnership NHS Foundation Trust (CWP) and The Open Door Centre, have launched:- "The Big Life Film" project; a short video raising awareness and challenging stigma around the emotional difficulties faced by many young people.

The video; created collaboratively with a group of young people in Wirral currently receiving support from mental health services; offers an experience based insight into the common issues affecting the emotional wellbeing of young people in the local community and beyond. It also provides information about the different options available to those who are struggling to cope with mental health challenges.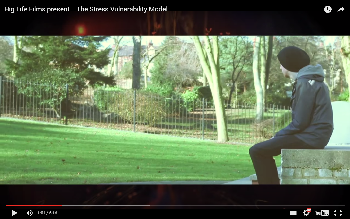 Alastair Pipkin, assistant psychologist in CWP's Wirral Early Intervention Team, said:- "The film represents a normalising view of the human condition incorporating a psychological approach with the 1st hand experiences of young people. It is part of our ongoing efforts to destigmatise mental health by challenging the longstanding sense that experiencing difficulties is unusual or something to be ashamed of and we are very proud to have been led by the young people who participated in the project."

The film is part of an ongoing awareness programme currently being delivered by CWP's Early Intervention Team in local schools across the Wirral. The programme is designed to educate school aged young people incorporating a peer-led approach.

Valerie Oldham, assistant head teacher at Woodchurch High School; 1 of the Wirral schools that CWP delivers its mental health awareness programme said:- "I really liked the film and thought it was very powerful. It gives pupils the opportunity to listen to some 1st hand experiences around a number of issues. I thought it gives lots of advice, emphasised the importance of talking to people and reinforced that there is support available."
The Big Life Film is available to see on CWP's Early Intervention website.
'Double' Date in 7 dials this Valentine's Day 2016..!
TO celebrate this year's Valentine's Day 2016, 7 Dials is offering 28 lucky singletons the chance to win a dream date in 7 Dials on Sunday, 14 February 2016. London's most original shopping and lifestyle destination 7 Dials has partnered up with the highly acclaimed new dating app 'Double'. The app enables shy singles to 'double up' with a friend and take on the dating scene together with the comfort and security of a friend. Users will find the dating experience more fun, less awkward and safer.

Seven Dials, the intriguing network of seven atmospheric streets that link Covent Garden to Soho will be giving away 7 perfect dates to be hosted in and around the area this Valentine's Day. Always buzzy, packed with independent boutiques, international fashion labels, traditional pubs, cool cocktail bars and restaurants, historic Seven Dials is modern London's most original shopping and lifestyle destination.

7 lucky love matches will be in with the chance of winning 1 of the following fantastic dates in Seven Dials with either a 3 course traditional Italian meal at VICO; brunch at award winning Kopapa; traditional Portuguese dinner at Canela; set lunch menu at Polpo at Ape and Bird; afternoon tea at the iconic Covent Garden Hotel; dinner at foodie favourite Homeslice with prosecco on tap or bottomless brunch at Flesh and Buns.

To be in with a chance of winning a Valentine's date for you and a friend with your dream match download Double and visit:- SevenDials.Co.UK for further information and terms and conditions. If you did not know, 7 Dials, is an intriguing network of 7 atmospheric streets that link Covent Garden to Soho, in London.

Did you witness a serious assault in Southport Town Centre in December 2015?
MERSEYSIDE Police Detectives, in Southport, are appealing for witnesses to a serious assault, which happened in the Town, to come forward. Several people rushed to the aid of the victim after he was punched to the floor and kicked repeatedly by his attacker. The 'good Samaritans' were sat on a bench on Lord Street, close to the junction with Seabank Road and the old Grand Casino, when the assault occurred at around 1am, 16 December 2016. The 57 year old victim suffered a broken jaw, cuts to his face and several of his teeth were knocked out during the assault.

Following the attack the offender fled in a silver coloured car with several other people inside. The people sat on the bench then went to the victim's aid. They called an Ambulance and stayed with him until Paramedics arrived. Officers from the force have made enquiries in the area and arrested a 41 year old local man at his home address on suspicion of assault and affray. He was interviewed by detectives the following day and released on Police Bail pending further enquiries.

Officers are keen for the 2 people who were sat on the bench and went to the victim's aid to come forward as they may have information that could help Police progress the investigation. If you can help, please call Sefton CID on:- 0151 777 3059 or phone Crimestoppers anonymously on:- 0800 555 111.
Last Shadow Puppetes Announce Live Dates
Photograph by Zackery Michael.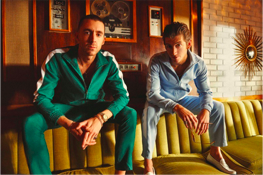 THE Last Shadow Puppetes will be releasing their forthcoming album 'Everything You've Come To Expect', on 1 April 2016. As a result, the Last Shadow Puppets will be returning to the UK, Europe and US for their 1st live dates since 2008. Dates are as follows:-

► 26 March 2016, the band will be at Edinburgh's Usher Hall.

► 29 March 2016, the band will be popping over the channel to France, to perform in Paris, at the Olympia.

► They will be back in the UK, on 1 April 2016, to play at London's Hackney Empire.

► Then heading to our fantastic City, on 2 April 2016, to perform at Liverpool's Olympia.

► On 3 April, you will be able to see them at Sheffield's City Hall...

► The band will then head back over the English Channel, the band will play on 7 April 2016, in Amsterdam's Paradiso, in the Netherlands.

► Following that they will then jet off to the US. 1st stop will be on 11 April 2016, in New York Cities' - Webster Hall.

► Followed on 17 April, in San Francisco's amazing building, The Fillmore.

► The last date in the US will be the 20 April 2016, when Los Angeles's will host the band at The Theatre, Ace Hotel, marking the end of the Tour as well!

Tickets for all of these shows will be available online. You can also order 'Everything You've Come To Expect' via The Last Shadow Puppets store online, plus via Dom Mart or via iTines.
Brand new TV game show wants you!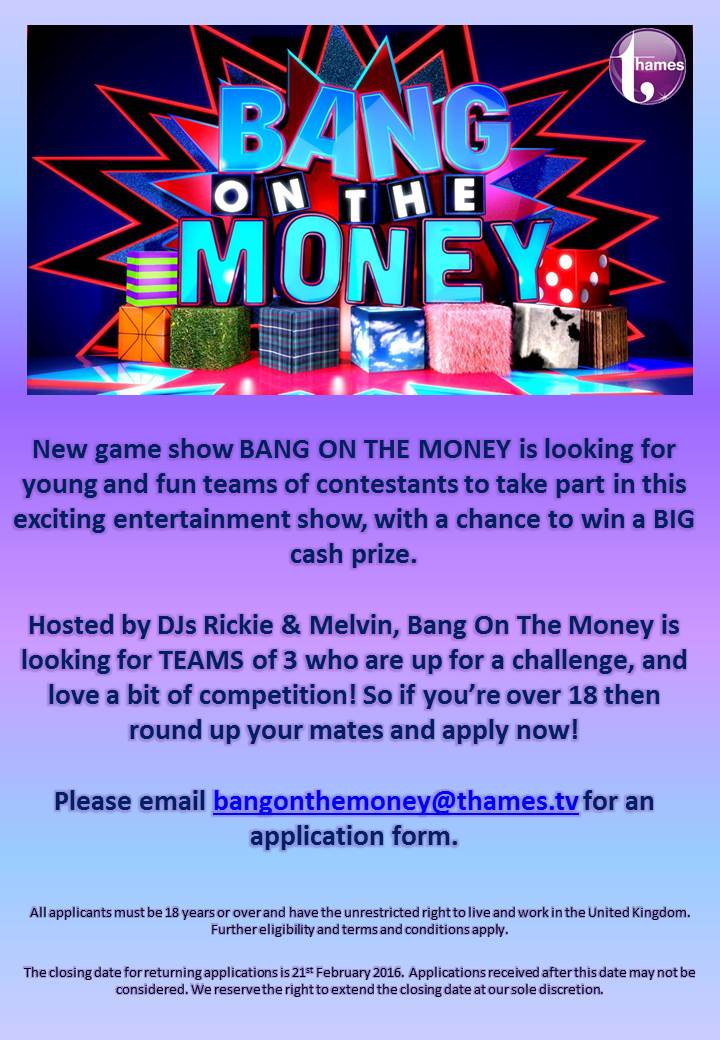 CASTING call for contestants to take part in an exciting new game show, from Thames Television called:- "Band On The Money" that offers teams a chance to win big cash prizes. The show will be hosted by DJ's Rickie and Melvin, that will see teams of 3 taking parts in challenges. Additionally you may have family members or friends who might be interested in winning 'big cash prizes' then you should tell them to apply now! Anyone can apply, as long as they are 18+. It's easy to grab an application form by simply emailing:- BangonTheMoney@Thames.TV.