DONG Energy secures construction base for latest Liverpool Bay Wind Farm
Photographs by Patrick Trollope.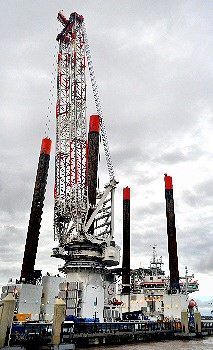 DONG Energy has signed a lease for construction base facilities at the Cammell Laird site in Birkenhead from Peel Land and Property.

The base will serve as the focal point for the construction of the Burbo Bank Extension, DONG Energy's latest offshore wind farm, in Liverpool Bay.

It is expected that the site will employ up to 50 people, with the UK supply chain further boosted by contracts for production of key components. This will include turbine blades manufactured on the Isle of Wight, production of foundation transition pieces in Teesside, and onshore substation work being carried out by UK companies Balfour Beatty and Jones Brothers.

DONG Energy is leasing the construction facility from Cammell Laird, who in turn leased the 6.5 acres site from Peel Land and Property. The process of staffing the site will begin immediately, in preparation for the beginning of offshore construction for the wind farm due in the summer. Onshore construction got underway in 2015.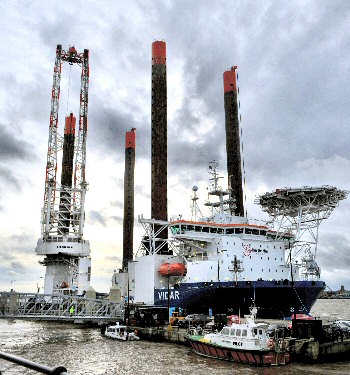 Burbo Bank Extension Project Director, Claus Bøjle Møller, said:- "This is another step forward for both Burbo Bank Extension and UK offshore wind. The facilities in Cammell Laird are of the highest quality, and having been used for similar purposes before, will allow us to efficiently handle the construction of the wind farm as we move towards offshore work. We are pleased to be located in Birkenhead and look forward to working within the community."

Liza Marco, Asset Manager for Peel Land and Property, also added:- "Peel is at the forefront of delivering low carbon energy across the UK and we are therefore delighted to work with the renewable energy sector through Cammell Laird, who continue to grow their business in the sector, and DONG Energy, a leader in UK offshore wind."

The construction base will initially service the installation of offshore elements of the Burbo bank Extension project. Burbo Bank Extension offshore wind farm will be located in Liverpool Bay, 7km from the shore. Once completed, the wind farm will have a capacity of 258 megawatts, enough electricity to power 230,000 UK homes.

The specially designed heavy lift jack up vessel Vidar, is 1 of the craft that will be used on the Mersey to do this work. Pictured hear you can see the long, lattice legs it will use to jack up with when installing the wind farm turbine towers. The ship VIDAR was built in 2013 and was formerly operating for the German company Hochtief. VIDAR has an overall length of 140m a width of 41m. Her gross tonnage is 18,886 tons. She has a a main crane around one leg that has a lifting capacity 1,200t at a maximum radius of 27.5m. We are told that its working load limit is about 1,500t. The maximum wind speed for operating the crane is 18m/s. The vessel also has a helicopter deck with a diameter of 20.88m, that can land a Sikorsky S92 with a maximum take off weight of 12.8t. The triangular lattice legs on the vessel use a rack and pinion system to go up and down, with a jacking speed of about 0.83m per minute. this system lets the vessel work safely in rough seas.

Do Councils tell tenants to wait for bailiffs before moving out?
ALEX Brent from National Landlords Association (NLA) has said that an alarming number of private tenants are being told by their local Council to ignore eviction notices served by their landlords; and to wait for bailiffs to turn up before moving out; in order to qualify for re-housing support, according to new findings.

The findings have been published within the NLA Quarterly Tenants Research Panel; Q4 2015, that had 950 respondents. The NLA who work with 65,000 landlords said:- "49% of tenants who've been served with a section 21 notice by their private landlord say they have been told to ignore it by their local Council or an advice agency such as Shelter or the Citizen's Advice Bureau (CAB)."

If true, these figures shine a light on the scale of the issue, which was recently highlighted by the UK's Telegraph newspaper and has been exacerbated by the increasing use of private landlords, by local authorities, to discharge their housing duties.

"The advice is increasingly being offered because Councils are refusing to accept tenants' housing applications before an order for possession has been granted by a Court, despite guidance from Central Government that confirms all housing applications should be accepted from the time notice is served on the tenant." says the NLA.

NLA Chairman Carolyn Uphill also commented:- "We've always known that tenants receive this kind of advice and it's a huge problem because it damages the confidence of landlords who work in the community to home those who aren't able to access social housing. There is no justification for prolonging the stress and uncertainty brought by a possession case. Advice like this creates unnecessary strain on tenants, landlords, and the Courts Service, which must first hear the case and order possession before Councils are prepared to carry out their statutory duties. Nobody should ever be told to wait until the bailiffs turn up; it makes an already unpleasant situation much worse for everyone and creates a vicious cycle of misery and spiralling costs for all involved."

Please let us know your views on this, via emailing us to:- News24@southportReporter.com, as we would like to know if the claims are correct!
Game over for football fan fraudster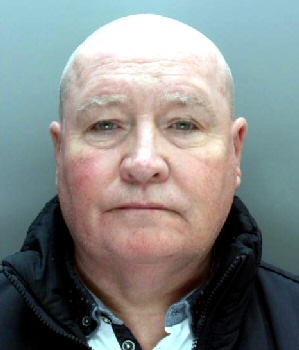 A Liverpool man who evaded over £91,700 of VAT and then fled to Benidorm to hide from the taxman, has been jailed after returning to the UK to attend an Everton home game.

Routine checks by HM Revenue and Customs (HMRC) revealed that Damian O'Hagan, 60, of Norris Green, the director of Foodservice Interim Management Limited, had kept the VAT he had charged one client between 2009 and 2014, even though his business wasn't VAT registered.

When he realised his fraud had been discovered O'Hagan tried to register his company for VAT to cover up his crime. Before the application was processed, he moved to Benidorm to run a bar but couldn't resist returning to watch his favourite team play in August 2015. He was arrested at the turnstile as he tried to enter the ground.

Sandra Smith, Assistant Director, Fraud Investigation Service, HMRC, said:- "O'Hagan knew his business transactions were under scrutiny and the game was up. This was one match he wasn't going to win. He chose to pocket the VAT he had collected from his client, at the expense of UK taxpayers and because of his dishonesty he has been jailed today. He now faces a full confiscation hearing to recover the money he stole from the public purse. If you know of anyone who is committing Tax Fraud, you can report them by calling our 24 hour Hotline on:- 0800 59 5000."

On 27 January 2015, O'Hagan was sentenced to 18 months jail after pleading guilty to VAT fraud at Liverpool Crown Court during an earlier hearing in December 2016.