UMM QASIR FALLS AS AMERICAN TROOPS ADVANCE ON BASRA

Report by Dominic Bonner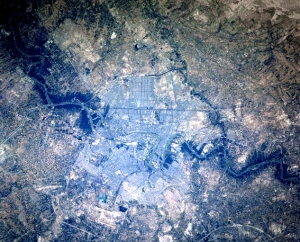 CONFUSION of war reigned supreme as the world observed the invasion of Iraq unfold into its third day of conflict as American and UK troops closed in on Iraqi troops dug in on the oilfields of Basra.

Several fronts of Iraqi territory were attacked by coalition forces by air and sea as the ground operation to oust the regime in which America looks set to obtain its prime objective in the coming weeks. As the north and south of the country was subject to the massive ground operation by coalition forces. Dozens of cruise missiles continue to rain down on the capital Baghdad with each night fall.

Reports of Turkish troops gaining a military presence into the country under cover of darkness of Saturday morning, arriving from the northwest to halt any possible refugees fleeing the war into their country and what it called 'prevention of terrorist activity' seems to have shaken coalition tactics. Furthermore, the undermining diplomatic relations between Turkey and America despite the Turkish parliament giving the go ahead for their NATO allies to use its airspace - ironically the Turkish Ambassador denied any such presence of troops on Iraqi soil. Click on to Read on...
Crime Tips.
AS their was a slight increase in conmen and women Police suggest that every one should remember to take these simple steps...
Always ask for ID and remember to ask for your password, if you have one.
If you are not expecting a caller who says they are from a company or charity etc. remember to check with the office or charity, before you let them in to see if they are who they say they are.
Keep the chain on the door, before you open it.
If suspicious and verification can not be obtained ask them to call back and check with the police. Do not let them in. If they are genuine, they will understand.