Warning - Fake 'Court' notice emails

YET another email phishing scam is being sent out that uses a hoax message designed to try and get you to open a zip file. DO NOT open it! Often look exactly like you would expect a legitimate message from your bank but some pretend to be from other businesses or official bodies. This latest one we are aware of and it pretends to be sent from and carries the subject header:- "State Court." It is also signed:- "Wallace Blair, Court Secretary." In this case, this email it clearly is not, but sadly it can still trick some gullible employees or individuals.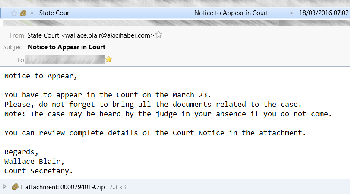 It can also be accidently opened when rushing through your email messages. Always take your time and check all files before opening any files. This one has not set off anti-virus programs and filters, but the zip contains a virus!

This emails states:- "Notice to Appear, You have to appear in the Court on the March 23. Please, do not forget to bring all the documents related to the case. Note: The case may be heard by the judge in your absence if you do not come. You can review complete details of the Court Notice in the attachment. Regards, Wallace Blair, Court Secretary."

It appears to have been sent via a Turkish email address connected to:- akicihaber.com

If you get this email, please report it to the Police. In the UK you can do this via emailing it to:- Phishing@CityOfLondon.Police.UK. Your reports will then be passed on to the National Fraud Intelligence Bureau and analysed to see if they can be used as a part of Police investigations.

You can find out more about how to report fake emails and other scams, as well as how to protect yourself, family and business via visiting:-
ActionFraud.Police.UK.

Shotgun found on disused railway in Litherland!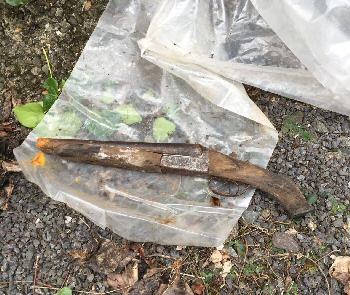 MERSEYSIDE Police have confirmed to us that a shotgun was found at a section of a disused railway close to Akenside Street in Litherland. The discovery was made on Friday, 18 March 2016 at around 10.40am by Police Officers. The shotgun has was then recovered and is being forensically examined.

Detective Chief Inspector Tom Keaton said:- "The latest recovery means there are one less firearm on our streets that could be used to caused fear, harm or even worse in our communities. We are relentless in our pursuit of those involved in gun crime and will continue to carry out searches such as this to make our streets safer. This firearm will be taken away and examined by crime scene investigators. I'd urge anyone who has any information about firearms in their community, to get in contact with officers from the Matrix Serious and Organised Crime Gun Crime Hotline, on:- 0800 230 0600 or Crimestoppers anonymously on:- 0800 555 111."
Michael Jackson jailed for rape in Southport
MERSEYSIDE Police have confirmed that Michael Jackson, aged 31, from London, on Monday, 21 March 2016, was jailed for 11 years, following the rape of a woman, in Southport. Jackson was found guilty, on Thursday, 17 March 2016, of the rape of a 30 year old woman, at Pontins, in Southport in the early hours of 13 April 2014. Jackson must also sign the Sex Offender's Register for life and is disqualified from working with children and vulnerable adults for life.

Following the sentencing hearing at Liverpool Crown Court, Detective Constable Michelle Wilson, who investigated the incident, said:- "Michael Jackson subjected his victim to a vicious sexual assault for his own sexual gratification. I would like to praise the bravery and courage of the woman for telling the Police in the 1st instance and for the strength she showed during the court process. It is testament to her and the account she gave that we have been able to bring him to justice. Hopefully her bravery will encourage other victims to come forward and have the confidence in us to do the right thing and support them throughout their ordeal. Rape is a very personal crime, which many victims, understandably, struggle to come to terms with and it can have a devastating effect for the rest of their lives. There is no doubt that this has had a significant impact on his young victim, who will now have to live with this for her life. Her support of the Police investigation has led to a dangerous sexual predator being sent to jail and to other women being protected from him. If anybody else is out there suffering in silence I want you to know that there is help and support available to you, both from Merseyside Police, where we have specially trained officers who will listen to you and treat you with sensitivity and compassion, and from reliable and trusted support groups who will support you from your initial report and for as long as you need. There is a great deal of support and advice out there and we can put measures in place to help victims from the point they make a report to the Police right through to the court hearing. I would urge anyone who has been sexually assaulted or raped to find it within themselves to tell someone what has happened to them so that they do not continue to suffer in silence."