Karen Potter Craven Minor JFL
Results Week Ending 3 April 2016
Under 11 Trisconi Cup Final
Southport Trinity 0-1 Redgate Rovers White
Under 12 John Disley Cup Final
Southport & Ainsdale Amateurs Red 8-2 Redgate Rovers
Under 12 Joseph Jackson Cup
S&A Red 7-1 Formby JSC Black
Crosby Stuart 0-9 Trinity White
Under 12
Hesketh Colts 2-9 Phoenix
Redgate Rovers 0-3 S&A Blue
Under 13 Catherine Oldfield Cup
Formby JSC United 5-1 Churchtown Athletic
Tarleton Corinthians 2-4 Southport Trinity
Under 13 Premiership
Formby JSC Black 3-2 Redgate Yellow
Southport Trinity 4-2 Churchtown Athletic
Under 13 Championship
Redgate Black 1-5 Southport FC
Phoenix 0-5 Maghull Youth
Under 14 Maric Trophy
Ormskirk 0-9 Birkdale Black
Southport FC 6-3 Formby JSC
(aet)
Under 14
Hesketh Colts 0-8 Southport Trinity
Crosby Stuart 3-1 Birkdale SAC
Under 15
Birkdale United 4-3 North Sefton
S&AAmateurs 1-6 Southport Trinity
Southport FC 4-6 Birkdale Black
Under 16
The Hares 1-1 Birkdale United
Under 18 Gordon Hyde-Price Cup
Southport Trinity 9-0 Hesketh Colts
Hudson 4-3 Churchtown Athletic
(aet)
Under 18 Championship
Dynamo Rangers 5-1 Trinity Blue
Police ask for local residents help over the Grand National Festival
MERSEYSIDE Police are encouraging residents in Aintree and Maghull, to contact their Neighbourhood Policing Team, with any issues or concerns they have ahead of the Aintree Grand National Festival which gets underway, on Thursday, 7 April 2016. With more than 150,000 race goers set to attend the event, across 3 days, from Thursday, 7 April to Saturday, 9 April 2016, the community's dedicated neighbourhood officers want to make sure residents experience minimal disruption. Despite the large crowds attending the festival, the vast majority of race goers have a safe and enjoyable day and a multi agency operation involving Police Officers, from across the Force, will once again aim to ensure this year's event is no different. Neighbourhood officers will speak to residents living in some of the busiest streets around the racecourse to let them know who they can contact if they experience any problems with issues such as car parking, litter and anti social behaviour during the event. Neighbourhood Inspector Phil Hatton said:- "The Aintree Festival puts Merseyside on the sporting map and the world stage. Thousands of visitors have a great time and we are very grateful to local residents for their patience and co-operation in helping us successfully police the event every year. We recognise that large numbers of people can have an impact on the local community and I want to reassure people that, as well as the policing operation for the event itself, my neighbourhood team will be there to address any concerns residents may have. Not only will these officers be dedicated to responding to any calls about issues such as anti social behaviour and disorder outside the racecourse, they will also be looking to speak to anyone living locally who may have experienced problems in previous years. We are particularly keen to hear from these people so we can talk to them and make sure those problems don't crop up again so the event is a winner for all."

Aintree and Maghull residents can contact their neighbourhood team by sending an email or call the non emergency number:- 101.

Liverpool Charity Champion helps launch £150k dementia research partnership with 'World Duty Free'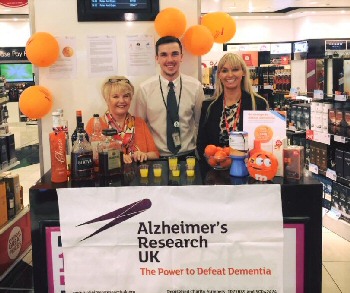 ALZHEIMER'S Research UK Champion Paula Muldoon, from Waterloo in Merseyside, has visited:- 'World Duty Free' staff at Liverpool Airport to help raise awareness of the charity's work. Staff at:- 'World Duty Free' stores nationwide have kick started a £150,000 partnership with the UK's leading dementia charity by hosting an 'Orange Day' launch.

The launch centred on the statistic that a brain affected by Alzheimer's can weigh 140g less than a normal brain; about the weight of an orange. Staff at each World Duty Free store in airports nationwide donated the equivalent of this weight in pennies; £1.40 each and hosted raffles and bake sales to kick start the 3 year partnership, raising thousands of pounds in just 1 day.

The partnership will last three years with World Duty Free pledging to raise at least £150,000 to help fund Alzheimer's Research UK's Dementia Research Infoline, an essential information service for members of the public who have questions about dementia and research into the condition. The Infoline also helps people sign up for a dementia research register called Join Dementia Research that matches volunteers with appropriate studies in their area.

Paula, who is an actress best known for her role in the soap opera Brookside and runs her own fitness business, spent the afternoon talking to staff at Liverpool Airport and sharing her personal experience of losing her dad to frontotemporal dementia. She said:- "It was so encouraging to see all the World Duty Free staff really enthusiastic about fundraising and putting so much effort into the launch. When you speak to groups of people at events like this you realise how many people lose a loved one to dementia. I found many people with stories which were sadly similar to mine. My dad lost his battle with frontotemporal dementia in 2012, he was only 64. Alzheimer's Research UK are a charity very close to my heart and I know the money raised by World Duty Free will give other people support to cope with a loved ones dementia diagnosis and sign up participants to research programmes to defeat dementia."

Dementia affects 850,000 people in the UK and is caused by brain diseases, most commonly Alzheimer's, which result in the loss of brain cells and impair the brain's ability to function properly. Early symptoms can include problems with memory and thinking, but as brain cell death becomes more widespread, physical functions such as walking and even swallowing can be affected. Currently there are no treatments able to stop or slow Alzheimer's disease or other dementias in their tracks.

Sarah Branquinho, Corporate Communications & External Affairs Director at World Duty Free, said:- "Alzheimer's Research UK was chosen as our appointed charity by all our staff, many of whom have family and friends affected by this devastating illness. Everyone is committed to raising vital funds and generating much needed support for the charity, to help us better understand and fight dementia."

Steve Frost, Head of Corporate Partnerships at Alzheimer's Research UK, said:- "Each year 225,000 people develop dementia, that's one every three minutes. The Dementia Research Infoline is an invaluable service for the public offering information to people who have questions about dementia and research. It's a way in which Alzheimer's Research UK can make sure people affected by dementia and their families can understand the latest scientific advancements and to sign ost services that can help people. The Infoline also offers people the opportunity to be matched with appropriate research studies if they would like to play their own part in research to help defeat dementia sooner. There are currently around 5,000 people living with dementia in Liverpool and with this number on the rise, the need for research has never been greater. Alzheimer's Research UK scientists are making real progress but we rely on public support to be able to fund our research."

Staff at the 33 nationwide World Duty Free stores will continue to fundraise throughout the year with a variety of events planned including more bake sales, obstacle races and marathons. To learn more about research going on in your area visit, JoinDementiareSearch.NIHR.AC.UK or call the Dementia Research Info line on:- 0300 111 5 111.