Snow White and Prince Charming's Royal Visit to ZoŽ's Place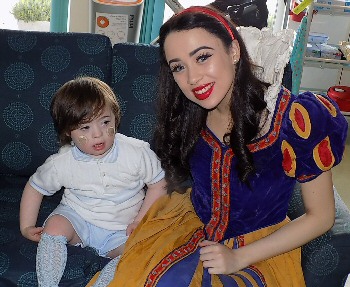 MEMBERS of LHK Productions' Easter pantomime cast, Snow White, at the Epstein Liverpool, have recently took some time out from their busy production schedule to spread a little happiness. The Apprentice star James Hill, who is playing Prince Charming in the panto at The Epstein Theatre and his co-star Georgia Austin, who plays Snow White, visited ZoŽ's Place Baby Hospice in West Derby.

During their visit, James and Georgia played with the children and chatted to the parents and staff about the amazing work that they do.

Meeting Snow White and Prince Charming certainly put a smile on the faces of the children at ZoŽ's Place who were thrilled to meet the colourful characters from the famous fairytale.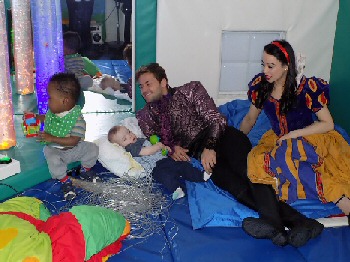 The performers also enjoyed a tour of the fantastic facility which provides specialist palliative, respite and end of life care for babies and small children from birth through to 5 years old.

27 year old, John McCormack, Grants and Trusts Fundraising Officer at ZoŽ's Place explained:- "ZoŽ's Place Baby Hospice is a very special charity. Our bespoke 1 to 1 care is for babies who suffer with terminal life threatening or life limiting conditions and this is provided by registered nurses, play leaders, physiotherapists and other care specialists 24 hours a day, 7 days a week. Our facilities are designed provide a 'home from home' for our special babies and through the use of multi sensory environments and learning through play, our nursing staff can ensure that our special babies live life to the full."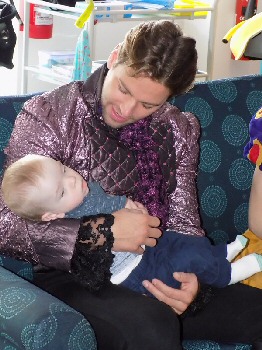 Staff showed James and Georgia around ZoŽ's Place's fantastic facilities which include a sensory room, soft play area, beautiful gardens, hydrotherapy pool, family accommodation and a homely living room where families receive counselling and benefits advice.

James, the Sheffield lad who won the hearts of the public when he entered the Big Brother House in 2015 and appeared on The Apprentice in 2014, is planning to open his own care home for people with dementia. He enjoyed spending time with the children and was very impressed with the Baby Hospice in West Derby. "This is an example of lovely people doing something they're passionate about. Visiting places like this makes us realise how lucky we are. I think more people need that reality check! This is a great cause. We were really delighted to welcome Snow White and Prince Charming to our hospice today to meet our children. Visits such as these really help to make days spent at ZoŽ's Place extra special and some of our children have already been to see the show at the Epstein Theatre and had a magical time! Thank you so much for visiting ZoŽ's Place Baby Hospice!"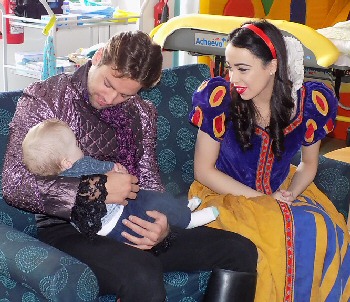 James and Georgia then whizzed back to the Epstein Theatre to join the rest of the cast of Snow White which includes Liverpool actor and comedian Ricky Tomlinson in the role of The Magic Mirror in the guise of Jim Royle, Lewis Pryor as Muddles, TV and Radio presenter, Debi Jones, as the Wicked Queen and Liverpool favourite, Michael Chapman, as the hilarious panto dame!

Running until 6 April 2016, Snow White and the Seven Dwarfs promises to deliver the same mix of fun and traditional pantomime with a fresh and current twist which LHK Productions are famous for. Complete with sensational songs, stunning choreography, the panto will feature poisoned apples, magical mirrors, a brilliant cast and, of course, a sprinkling of panto magicÖ

This timeless tale, and one of the nation's favourite pantomimes, Snow White and the Seven Dwarfs tells the story of a beautiful princess whose vain and jealous stepmother is hell bent on getting rid of her and becoming:- "the fairest of them all."

After fleeing the kingdom to escape the Wicked Queen's evil plans, Snow White seeks refuge with 7 dwarfs in their cottage in the forest. Taking pity on poor Snow White, the dwarfs allow her to stay with them until a wicked spell is cast which only true love can conquer.
Clipper Round The World Yacht Race competitor has died
OUR thoughts go out to the family and friends of Sarah Young, along with all those of the crew aboard the Clipper Round The World Yacht Race vessel, IchorCoal. The clipper was sailing through rough weather in the Mid North Pacific on its way from China to Seattle when a wave washed Sarah Young, aged 40, overboard, on 1 April 2016. Her crewmates committed her body to the sea, on Sunday, 3 April 2016. Her death has shocked the close knit racing community.

National Band Concert held in Ince Blundell Village Hall
Photographs by Major Roy Bevan MBE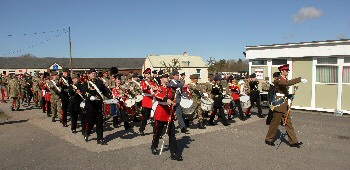 OVER 300 musical Army Cadets from all over the UK have been at Altcar Training Camp, in Hightown, last week. They had been auditioning to join the National Army Cadet Band and Corps of Drums. Over the intensive week of drills, musical instruction, training and assessment, those taking part performed in a fantastic public concert. This year it was held at Ince Blundell Village Hall, on Wednesday, 30 March 2016 and Major Roy Bevan MBE took these photos for us, as the cadets got ready. He also snapped this fantastic photo of a lady who was celebrating her 103 Birthday. We are told that the some of the band played:- "Happy Birthday" to her at the Tithebarn Residential Home as well as letting her have a go. The tickets sales from the event will go to help service and ex-service personnel, the other half goes to provide the instruments for the band. If you attended please let us know what you thought of the event via emailing us to:- News24@SouthportReporter.com.