Is the rubbish on Southport's roads destroying our Town's reputation?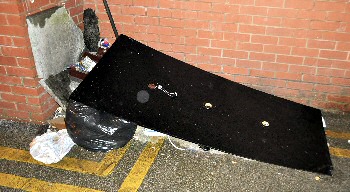 AS our readers know, Southport and Merseyside as a whole is a fantastic place to visit and also to live, but as of late a few things are beginning to slip in Southport. Sadly they are being brought to our attention and we have felt we should now publish these issues. A few weeks back we had reports of rubbish being dumped in side streets around the Town Centre and then we kept being told of more and more issues. Last week, as tourists visited our fantastic Town, some stayed over in our many fantastic hotels and B&B's, many of them had been attending the Crabbie's Grand National Festival others had kids off for the Easter Holidays. Unfortunately not all of them had been impressed by what Southport had put on for them. We were told by a few tourists about rotting seafood being left in side roads and worse! So we popped out and took a look, as this was quite shocking to hear. We did take a photo, but we are not putting it on here, as it is not a pleasant photo! These photos are from just 1 of the locations flagged to us... What does this say about our Town? In our 28 March 2016 issue, we ran a letter from Jane, from Llandudno. She had labelled the area and Southport as:- "Grotty Town" after her Easter visit left her with a poor impression of the area. We were asked by a few of the tourists last week:- "Why are the roads so unclean? Is this the fault of the Council or local businesses...?" 1 of them even complained about the:- "mountain of bin bags" that had been left overnight, on Lord Street, after the shops had closed. So who do you think is to blame? What are your views about this situation? Please do send us your views and thoughts on this topic to:- News24@SouthportReporter.com and let us know. We would also be interested in any ideas about how we can tackle the gowning amount of rubbish that is being dropped in and around our Town's gardens, pavements and roads.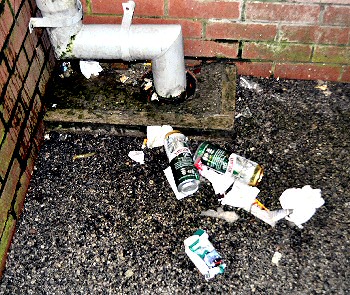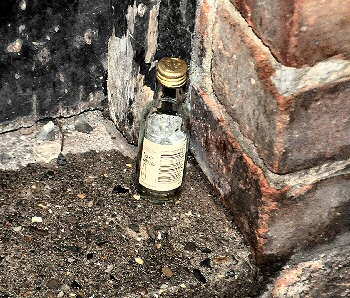 Michael Williams has been sentenced for the murder
MERSEYSIDE Police, on Tuesday 5 April 2016, said that they:- "welcomed the sentencing of Michael Williams for the murder of Maxine Showers." Williams, on 5 April 2016, was sentenced to life with a minimum of 22 years imprisonment at Liverpool Crown Court. Williams had pleaded guilty to manslaughter in January, but the plea was not accepted by the prosecution and he was sent for trial to face the charge of murder. The body of Maxine was discovered in an alleyway between Hinton Street and Parton Street, in Fairfield, on Monday, 28 September 2015. A post mortem examination had found that she died as a result of blunt force trauma to the head. Detective Chief Inspector Mark Tivendale said:- "We welcome the verdict of the court and hope that it will give some closure to Maxine's family, but ultimately nothing can bring her back. Maxine was just 42 years old, a mother, and will tragically now not see her children grow up. This has been a devastating ordeal for her family and friends, and our thoughts are with them as they continue to come to terms with Maxine's death and this verdict. Maxine was subjected to a brutal attack by Williams, who then despicably tried to justify his violent actions by accusing her of theft and provocation. Following the murder, we liaised closely with partners in Liverpool Community Health NHS Trust to ensure that sex workers were provided with the specialist support and safety advice they needed. However, this work continues daily as we recognise that sex workers continue to face threats and violence, so it is important to highlight those services on offer." Martin Fenerty, Operational Manager of the Armistead Centre which provides support and outreach services to Street Sex Workers in Liverpool, said:- "Our service offers support and advice to Sex Workers for any issues that affect them, including sexual health and personal safety. Our links with Merseyside Police means that our clients have access to justice and effective support when they most need it. We can offer support to anyone involved in sex work via our helpline on:- 0151 247 6560 or in person at 56 to 58 Hanover Street." Shelly Stoops, Service Manager for SAFE Place Merseyside Sexual Assault Referral Centre, said:- "Our NHS service provides confidential treatment and support to anyone affected by sexual assault or violence; 24 hours a day, 365 days a year. We would encourage anyone who may themselves have been a victim of sexual violence to come forward and talk to one of our specialist team. You can access SAFE Place on:- 0151 295 3550 or visit them online."

Gang jailed for supplying class A and B drugs
A North West gang has been jailed on 11 April 2016, for 51 years, for distributing multi million pound quantities of drugs to South Wales.

Officers from 'Titan', the regional organised crime unit, seized cocaine, amphetamines, cash, cars and even a jet ski during drugs raids in Merseyside, Manchester, Cheshire and Wales, in July 2015..

11 men were arrested in Liverpool, Wirral, St Helens, Widnes, Swinton and Bridgend by Titan detectives working alongside officers from several local Police Forces and the National Crime Agency. 7 were later charged and put before the courts.

Investigators were able to prove that the gang distributed 200 kilogrammes of amphetamines in a series of drug runs between Merseyside and South Wales.

Andrew Steven Rogers, aged 45, of Wesley Street in Maesteg, Brigend received the drugs, but denied conspiring to supply Class B drugs. He stood trial, but was found guilty by a jury and was today jailed for 12 years.

James Bush, aged 34, from Ash Grove, Wallsey was jailed for 12 years for playing a leading role in both the supply of cocaine to criminals in Merseyside and the amphetamines to South Wales.

Carl Currie, aged 37, from Newstead Road, Liverpool was imprisoned for 4 years and 8 months after Police found 4 kilogrammes of amphetamines in his house and 20 kilogrammes in his car when he visited the Maestag area.

Peter McCaffrey, aged 32, of Sandy Road, Sefton was sent to prison for 5 years and 8 months, after 9 kilogrammes of amphetamines were found in his Subaru which was stopped by patrols in Seaforth, in 2015. A search of his house lead to £24,000 in cash being seized under Proceeds of Crime Act powers, as well as a large amount of cannabis bush.

Adam Parkes, aged 34, of Sorrell Way in Clock Face, St Helens was jailed for 5 years and 8 month for being involved in the distribution of cocaine.

Joseph Poulson, aged 27, of Davenham Court in Wavertree, Liverpool was imprisoned for 4 years for conspiring to supply cocaine. And Louis Myles, aged 35, from Milton Avenue in Widnes, Cheshire was given 7 years for his role in the amphetamine conspiracy.

Detective Superintendent Jason Hudson, head of operations at Titan said:- "This gang were responsible for moving large quantities of Class A and B drugs around the country, mainly from Merseyside to South Wales. They made dozens of trips to Bridend to supply criminal contacts there, returning to the North West with the cash which they then spent on luxury items like nice cars and even a jet ski. The drugs this gang were trading in will have damaged a great many lives and sparked violence between criminals further down the food chain who sold them on the street. Yet this group will not have cared about that. They just cared about lining their pockets, despite the misery their actions have caused. Titan exists to take out gangs of this kind who commit serious, highly organised crime such as drugs supply. In this case we used new, improved Proceeds of Crime Act powers to strip them of their assets at the time we carried out the raids and a process is on going right now to sell those luxury vehicles; which were bought with drug money; and reinvest that money into fighting crime. Serious organised crime causes massive problems in Towns, Cities and Villages across the North West and beyond and Titan will keep working hard alongside local Police Forces and the National Crime Agency, to put the criminals responsible behind bars."
Society's Spring Fundraising Blooms £25,000 for Marie Curie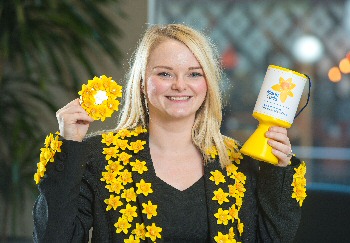 THE Yorkshire Building Society have had a successful spring fundraiser to help it near its fundraising target of £1 million for its:- 'Hour of Need' campaign, in aid of Marie Curie. Yorkshire Building Society branches and customers around the country including Southport's:- 'got behind the daffodil' in February 2016, raising an impressive £25,000 in support of Marie Curie.

The money has been raised by selling the charity's iconic daffodil pin badges, donating clothes for sale in Marie Curie shops after colleagues and customers spring cleaned their wardrobes and holding Easter themed raffles. Every £20 raised during the Society's Hour of Need campaign will help fund 1 hour of Marie Curie nursing care. The Society is aiming to raise £1million by December 2016, which equates to funding 2 hours of care by a Marie Curie Nurse for every hour of the campaign.

Sasha Pauley, charity partnership manager at Yorkshire Building Society, said:- "We have been overwhelmed by the level of support people in our communities across the UK have shown for the Hour of Need campaign. The money raised in March will help provide 1,250 hours of nursing care for people living with any terminal illness in their hour of need."

Jude Bridge, Executive Director of Marketing, Fundraising and Public Affairs at Marie Curie, said:- "We're really grateful to Yorkshire Building Society staff and customers who helped to support this year's Great Daffodil Appeal, as part of the Society's Hour of Need campaign to raise £1million for Marie Curie. Their amazing fundraising efforts throughout March will enable Marie Curie Nurses to provide vital hands on care and support to people with a terminal illness and their loved ones at a time when they need us the most."

The Society's Hour of Need campaign was launched in 2014 with the aim of raising £500,000 by December 2016. Thanks to the strength of support this was reached a year early with the current total standing at £870,000, the Society has now set its sights on reaching £1million.