Travellers move into Formby Village!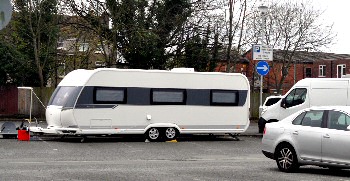 FOR the very 1st time that we know of, a group of travellers, reported to be from Ireland, have set up camp in Formby's only free car park, taking up many car park spaces. 2 local businesses, who do not want to be named, have told us:- "This is all we need. Our businesses are being pushed to the brink by ever falling trade and now this. They are taking around 10 spaces, if not more. Ok, they have to go somewhere, but the area already has a site for them." Another added:- "The Village is, as many know, at breaking point, thanks to lack of free parking facilities. Already elderly people find it hard to park in the area and this is not helping. That car park has already lost spaces due to building work, now this! We hope they are not going to be a regular feature, as our Village just can't take it!"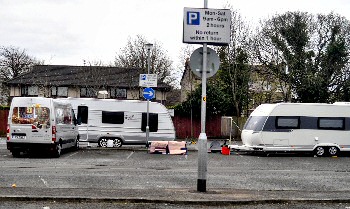 Others have questioned why they have taken up so many spaces and some have also questioned if they will be fined. We have put a request in to Sefton MBC for more information on this and Chris Owen, from Sefton Council's Corporate Communications has said that:- "We are unaware of it in this office. If we do get any information we will issue it, as normal, via our Council website. We will allow you then to copy it from our website, should we issue any statement." What are your views on this? Please email us your thoughts to:- News24@SouthportReporter.Com and let us know what you really think...
Merseyside Police Women's Football Team to host National Police Tournament
MERSEYSIDE Police's women's football team are getting ready to pull their boots on for the Police Sport UK Women's Football Tournament 2016 this month. The tournament is being hosted by Merseyside Police Women's Football team in Aigburth and all proceeds will go to Liverpool Homeless FC. Nine police forces from around the country will battle it out for the title and the force's team should be among the favourites having won the tournament in 2014. This year's event will feature children's fairground rides, face painting, bouncy castles and refreshments. Following the football on Saturday, a ticket only private function will take place presented by Watchdog presenter Michelle Ackerley and X Factor star Craig Colton. Constable Carla Heyes is helping to organise the event. She said:- "This tournament should be a great way of promoting fitness, friendship and most of all fun, while also raising money for Liverpool Homeless FC who do a great job engaging with homeless people in the City. It should be a good natured, but fiercely competitive day and hopefully Merseyside Police will come out on top! Come and join us on both Saturday and especially Sunday for the big final which will also be a great family fun day with lots going on."

Urgent work to make Futurist Cinema structure safe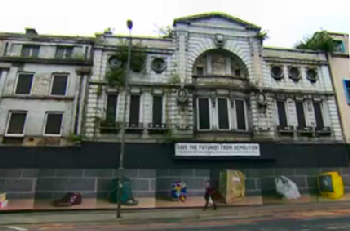 URGENT work is to be carried out to make the derelict former Futurist Cinema in Liverpool safe; after an inspection showed it is in danger of collapse. Building safety inspectors have found that the condition of the structure on Lime Street has deteriorated, with internal collapse, leaning walls and a high risk that cladding tiles may fall off. They have served the City Council with a Section 77 legal notice giving 5 days to make the structure; due to be demolished as part of the £35 million Lime Street regeneration scheme; completely safe. A cordon will be placed around the site from 7pm, Friday, 15 April 2016, with the public footpath outside the former cinema closed off and access for traffic on part of Lime Street reduced to a single lane in each direction. Assistant Director of Regeneration, Mark Kitts, said:- "The Futurist has been deteriorating for a very long time and when we bought the site a couple of years ago it was already pretty much beyond repair. Sadly we were unable to find a way of saving it as part of the regeneration proposals for Lime Street, and we are now at the stage where it has become a danger to public safety. The legal notice requires us to take action within 5 days, which is why we are moving quickly to make the area around it safe before starting to deconstruct the parts of the structure that are unsafe."
DAB Upgrade will mean you have to retune!
IF you live in Liverpool or in and around the Merseyside and parts of West Lancashire, from Wednesday, 20 April 2016, you will have to re-tune your DAB digital radios to pick up local radio stations. This change comes into effect sue to an upgrade being rolled out across the UK, to boost coverage of local radio stations on DAB. This part of the upgrade a programme of essential work will immediately switch on 1 new digital transmitter at Moel-y-Parc, Wales, expanding local DAB digital radio coverage in Liverpool for over 160,000 listeners towards the South West of Liverpool, followed by a 2nd transmitter in May at Winter Hill that will add a further 200,000 listeners towards the North West of Liverpool. In total it is hoped that the 2 new digital radio transmitters are expand and improve DAB digital radio coverage for 360,000 listeners in the area. This will mean, should all go to plan, coverage will increase from 82% to 98% of households in the area. To mark the swap over to the new local DAB multiplex, The Lord Mayor of Liverpool has been urging all digital listeners in Liverpool to retune to ensure that they could continue to listen to all of the 11 local BBC and commercial stations on DAB. The stations affected will be:- BBC Radio Merseyside, Radio City, Radio City 2, Radio City 3, Radio City Talk, Smooth North West, Capital Liverpool, Heart North West, heat, Kisstory and Absolute 90's. Listeners simply press the auto tune or auto scan button on their DAB digital radio or go into the radio's menu and press auto tune. More information can be found online.

► The current frequency - VHF Block 11B, at 218.640 MHz, we are told will be turned off late on Tuesday, 19 April 2016.

► The new frequency from 6am Wednesday, 20 April 206, marked as VHF Block 10C, at 213.360 MHz.

Fact File:- Did you know that the UK Government, BBC and commercial radio have agreed plans to build a further 182 local DAB transmitters to extend local DAB coverage to more than 90% of the population which will bring 8 million listeners across the UK into coverage and will add over 4,160 miles of roads?