LightNight Liverpool 2016 announces commissions programme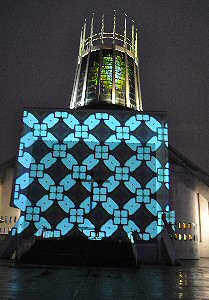 LIGHTNIGHT, Liverpool's 1 night arts festival, returns, at 5pm, on Friday, 13 May 2016. This year the festival will feature 13 new commissions alongside its packed programme of projections, performances, science demonstrations, live music and hands on art workshops. These new works have been commissioned by festival producers Open Culture and partners including Ad Hoc Creative, Physical Fest and the Albert Dock and feature local and regional artists, producers and organisations responding to this year's theme of:- 'Experiment'.

Details of individual commissions can be found below:-

Illumaphonium:- a dynamic large scale, multisensory installation created by musician and inventor Michael Davis. Everyone is invited to the LJMU John Lennon Art and Design Building to play this semi acoustic, semi-automatic music making sculpture. A beautifully tuned array of 250 illuminated aluminium chrome bars respond to touch with constantly evolving patterns of light and sound that spread out in ripples over the surface. Info.

OP POP Matrix:- Artist Andy McKeown is creating a multi user projection environment also at LJMU John Lennon Art and Design Building. This interactive immersive light installation uses a series of individual control stations which are under the control of the audience. Each layer of the Matrix contains 7 pattern forms, meshes, grids, discs, spots, lines and shapes. The audience creates the work by controlling the towers with both the projection and themselves. Co-operation or chaos? Info.

The Cage of Experiments:- an eclectic mix of music, theatre and performance from Liverpool's alternative creative community. Curated by Katy-Anne Bellis of Caustic Widows, a giant birdcage in the Bluecoat courtyard will be filled with a feast of visual and musical experiments. Take part in a mass group waltz, discover acrobatic parrots and enjoy ambient sounds throughout the night. Info.

disSociation:- a space to absorb and reflect on the LightNight experience by local production group Deep Hedonia, consisting of a responsive video installation and discussion lab also at the Bluecoat. Participants will be invited to look at the nature of accelerated communication during a large art event like LightNight, with the aim of exploring the relationship between artist and audience. Info.

Neu Collective Consciousness:- Artists Logan and Wilcox invite audience to Everyman Theatre to create a bio-cybernetic system. Using a number of sensory technologies which monitor brain waves and heart rate, the installation explores different possibilities of creating a co-authored AV environment made up directly from reactions of the human body and a cybernetic machine. Info.

City Sites:- The Mindset Ensemble, founded by composer Mark Jones, present a new piece of music inspired by the recent loss of some of Liverpool's music venues. This 10min UK premiere considers the sadness felt by the community of people around these venues and asks: do future sites offer a solution, a solid creative future? The performance at the Nordic Church will be accompanied by a new video from artist Laura Spark and followed by a performance from the Sweet Jam Band. Info.

Afterglow:- Artists Carlos Bernal's immersive light and sound installation will be at the Black-E. With mapped light projections onto 6 consecutive screens it will create a new dimension, a space time tunnel where the energy of light is transferred and transformed. Info.

Afloat, in Land:- a new AV performance by Friend or Foe 'Afloat, In Land' transforms the VGandM's historic Leggate Theatre into a multi channel video and sound environment as they present new musical works, written during their 3 month residency in a remote town on the north coast of Iceland. Exploring themes, memories, myths and dreams connected with the people and places they encountered. Info.

Gizzago's Pop Up Playground:- Unlocking the City's playful potential Gizzago create three pop up playgrounds that encourage you to play with public spaces in awesome new ways. Mixing digital, social and physical game play, Gizzago provide a glimpse of the future of experimental street game culture. Choose from Turtle Wushu at Steble Fountain or Johann Sebastian Joust and Maypole Mayhem at the Anglican Cathedral Plateau and remember how good it feels to play outside! Info.

Flock:- You'll find this unusual tribe of birdlike bikers on Church Street, LJMU Aldham Robarts Library and William Brown Street. Boisterous and playful they ruffle their feathers and flaunt their leathers bringing you strange customs and dazzling displays of prowess. Perhaps you'll find yourself a winner in one of their rituals or being swept away in a saddle of their noisy gleaming cavalcade. Dare to join in and it'll give you something to Tweet about. Created and performed by Foolsize Theatre and commissioned by Physical Fest. Info.

Love Without Sound:- Pixophtyoflora: Artist David Badger creates a visually sparkling experimental video with a live ambient electronic soundtrack at the Liverpool Medical Institution. Come and relax as you peacefully reflect on how computer imaging technology can be used to grow and 'simulate' simple living creatures and soak up the electronica. Info.

No Worst, There Is None:- some of Liverpool's leading creative lights come together for this very special one off performance at the Anglican Cathedral. Bill Ryder Jones has composed a sweeping orchestral response to the Gerard Manley Hopkins poem from which this project takes its name, with the piece arranged for a unique musical collective featuring the Liverpool Anglican Cathedral Choir by IMMIX Ensemble founder Daniel Thorne. Presented within an immersive light and AV environment created live by visual artists Sam and Damien Wiehl. No Worst, There Is None is commissioned by Ad Hoc Creative. Info.

Météo-Dock:- An experimental weather-ship; this promenade performance sees an 8 strong crew of dancers and musicians create an unfolding, processional conveyor belt with responses to meteorological conditions on the Albert Dock. Surprising and delighting audiences of all ages, engaging you musically and visually as you follow the weather ship. Commissioned for LightNight by Albert Dock Liverpool and created by TiLT. Info.

Clare Rawlinson, marketing manager, Albert Dock Liverpool, said:- "Celebrating the ever changing weather conditions we experience here down at the Dock, Météo Dock promises spectators a wonderful spring evening of dance and music, set against the beautiful backdrop of Albert Dock's Grade I listed warehouses. LightNight is a magical evening on the City's event calendar, and we are delighted to be working closely with Open Culture and TiLT in bringing this exciting commission to life."

Charlotte Corrie, Director of Open Culture the LightNight festival producers, said:- 'It's important for us to commission new work, keeping the LightNight programme fresh and unique. It also guarantees that audiences will experience something new and different, which fits with our theme this year of 'Experiment'. As an organisation one of our key aims is to give a platform to the incredible creative talent in the City and the region, and we want visitors to LightNight to have an incredible night, plus being inspired to engage in the regions arts year round.'

Produced by social enterprise Open Culture since 2009, LightNight Liverpool sees tens of thousands of visitors explore, experiment and celebrate the City's world class cultural offer across galleries, museums and City's streets late into the night with a programme of over 100 free events. LightNight festival guides can be ordered online or pick one up for just £1 from guide stockists:- Liverpool Everyman, St George's Hall, 92 Degrees Coffee, Tate Liverpool, Open Eye Gallery, St John's Beacon, The Bluecoat, Anglican Cathedral, News from Nowhere, Victoria Gallery and Museum, FACT, Central Library, Tourist Information at the Albert Dock, Baltic Bakehouse and Furrow café on Allerton Road.

Ultra High Definition operating theatre opens at the Royal
THE Royal Liverpool University Hospital has unveiled a state of the art operating theatre which uses 3D maps for highly skilled surgery to repair veins and arteries.

The £3.7million hybrid theatre gives surgeons access to ultra high definition imaging during surgery on serious conditions such as abdominal aortic aneurysms (AAA).

An AAA is a swelling of the aorta, which is the largest blood vessel in the body that provides blood to the lower body. If an aneurysm bursts, it causes huge internal bleeding, 80% of people who suffer a ruptured AAA die before reaching hospital.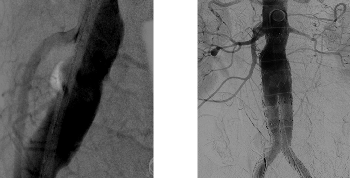 The theatre has been built on a temporary platform at the Royal so the innovative technology can be transferred to the new Royal when it opens in 2017. The surrounding structure will be transferred to Broadgreen Hospital to provide further operating space.

Using an electronic arm; known as a 'C arm' - which moves in tandem with a carbon fibre operating table, the advanced technology provides ultra clear images to guide the surgeon through the complex network of arteries.

Ultra clear high quality visuals provide less fatigue for the operating team and uses lower doses of radiation and contrast material, making it safer for patients and staff.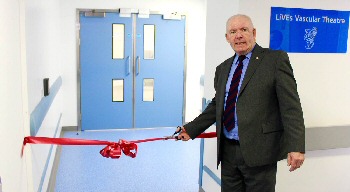 George Hasset, 74, cut the ribbon on the new theatre, having been one of the first patients to benefit from the new theatre when he underwent surgery on a complex aortic aneurysm.

George, from Broadgreen, said:- "As with most procedures, you're not aware of your surroundings. When I found out my procedure took place in this high tech theatre, I was blown away. These surgeons saved my life and without them I wouldn't be here to cut this ribbon. I just want to say thank you. It's an honour to be able to open this theatre and thank the whole team for what they did for me."

Professor Rao Vallabhaneni, consultant vascular and endovascular surgeon at the Royal, said:- "The new hybrid theatre is one the most modern of medical environments. With this we will stay at the forefront of vascular surgery and can continue to offer our patients some of the most advanced treatments with the very best in safety and accuracy. Building a temporary structure for a state of the art facility that can be transferred to our other site was challenging. This shows that, while we are investing in the future of healthcare with the new Royal, we remain committed to excellence in today's healthcare too."

The Royal provides vascular services as part of the Liverpool Vascular and Endovascular Services (LiVES) which connects the Trust with neighbouring hospitals across Merseyside.

To find out more about the Royal Liverpool and Broadgreen University Hospital NHS Trust's AAA Screening Programme, call:- 0151 706 4767 or go online to find out more about AAA screening programmes near you.
Aintree's Golf Centre officially opens UK FootGolf Course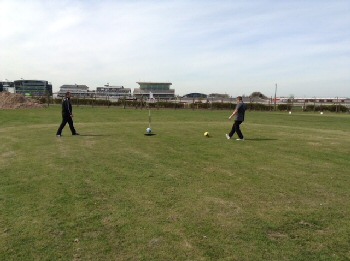 AINTREE'S Golf Centre situated on the grounds of Aintree Racecourse is officially opening a UK FootGolf Course to the general public. UK FootGolf is an exciting new sport combining the best of football and golf, 2 of the most popular sports in the world.
FootGolf is played using a size 5 football, with the object of the game to get the ball into the hole using only your feet in the fewest number of shots possible. The course offers a 9 hole circuit with ball hire available at the Golf Centre.

Aintree is 1 of 2 UK FootGolf Courses now open in Liverpool; two more courses will be opening soon in Birkenhead and Wallasey.

Nick Percy, Manager of Aintree Golf Centre said:- "I am really excited to open the UK FootGolf course. It will be a popular attraction for all ages and a great way to encourage people to take gentle exercise whilst having fun. We would like to encourage local schools to come and try FootGolf as part of their school curriculum to educate and involve children in 2 of the most popular sports, football and golf."

John Baker, Managing Director of Aintree Racecourse, said:- "It is superb to now host a FootGolf Course at the Golf Centre. We are always looking for new, innovative ways to attract customers and FootGolf will most definitely do this at a great value. Our Community Programme is going from strength to strength and FootGolf will be a perfect way to boost our community engagement and education of Aintree Racecourse."

Prices for FootGolf include:-

► Adult - 18 Holes £10.00 / 9 Holes £6.00

► Concessions - 18 Holes £8.00 / 9 Holes £5.00

► Ball Hire is £1.00 with a refundable £5.00 deposit

► For more information and opening times, please head to the website.