Talented Trio Unite for an 'Evening of magical Music' at the Epstein Theatre
3 of Britain's finest musicians and interpreters of songs and tunes will come together for an evening of magical music at, The Epstein Theatre, on Wednesday, 8 June, 2016.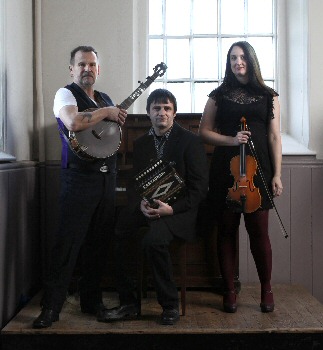 Martin Simpson, Andy Cutting and Nancy Kerr will unite for the joy of playing and exploring the possibilities of music together.

Each musician an acknowledged virtuoso in their own right, the talented trio have appeared together on stages in various combinations during recent years and have enjoyed it so much, they are coming back for more.

Nancy Kerr has been a major part of the acoustic music scene since she was a teenager and has always been a distinctive and impressive talent, turning heads everywhere she's played or sung.

She is currently part of an award winning duo with her husband, James Fagan, and is also 1 quarter of the Melrose Quartet and a key member of the Full English Band, both nominated for BBC Radio 2 Folks Awards in 2014.

Nancy has previously been nominated for the BBC radio 2 Folk Award for Best Original Song, acknowledging her superb song writing skills. She is a multi instrumentalist of rare and astonishing talent, as well as a beautiful and joyful singer. She is 1 of the shining stars in the British music firmament and is going from strength to strength with every new challenge she takes on.

Andy Cutting is an extraordinary musician. A master of the diatonic accordion and most other squeezeboxes, he is a superbly sensitive accompanist, a writer of beautiful and thrilling tunes, a highly in demand band member and a sublime solo performer.

His list of recording credits and sessions reads like a Who's Who of acoustic music both in the UK and abroad and he has played live with The Who, Roger Daltry and Sting, amongst others. His work in a duo with Chris Wood and as a member of the mighty Blowzabella, helped popularise French Canadian and European music. Andy has toured extensively in the past with Martin Simpson, who always says that playing music with Andy Cutting is his favourite thing to do.

Martin Simpson is a multi award winning musician, singer and songwriter who has worked with Bonnie Raitt, Richard Hawley and many more, as well as being a world renowned performer in his own right. He was a notable virtuoso in his early teens and his partnership with June Tabor in the 70's and 80's brought him to the attention of a much wider audience and led to him being courted by the world of rock and roll, which he side stepped.

Twenty years living in the UK and he has gone from strength to strength. He has often said that playing music with the likes of Andy and Nancy makes him a better player and in this trio he will mainly be playing guitars and banjos, singing and grinning from ear to ear.

The trio's debut album Murmurs, which is currently available to purchase, was released on Topic Records, on 8 June 2015, to critical acclaim.

For more details check out the Epstein Liverpool's website to book tickets or follow them on Facebook and twitter @EpsteinTheatre for latest news and information.
Celebrating the Queen's Birthday in Formby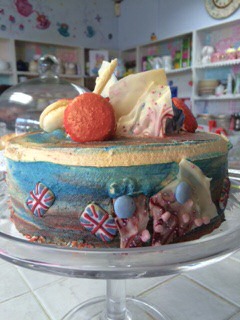 A small, local Formby coffee shop, located in Derbyshire's, Cathy's Tea Rooms, has baked a fantastic cake to celebrate the Queen's Birthday. Those lucky enough to have popped in on 21 April 2016, had a chance to take a nibble of it. The camera shy Cathy is well known to her regulars for making amazing cakes and this was just the excuse she required to do it again. We hope you saved us a few slices as it looks amazing. Let us know if, like Cathy, you celebrated the Queen's 90th Birthday in any way; if so let us know how via emailing us to:- News24@SouthportReporter.com.

Digital radio listeners in Liverpool have improved DAB digital radio coverage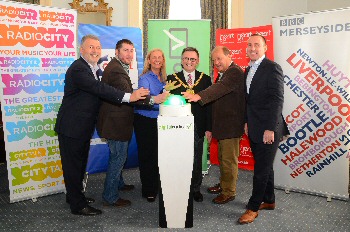 LIVERPOOL'S DAB radio coverage has been improved, when 2 new digital radio transmitters went live. The Lord Mayor of Liverpool, Councillor Tony Concepcion, pressed the big green retune switch at 9.30am, in the Lady Mayoress' Parlour, Liverpool Town Hall, on Wednesday, 20 April 2016, mark this historic moment. Also with the Lord Mayor was Ford Ennals, Digital Radio UK; Chris Rick, Radio City Network; Vicki Allison, Radio City; Andy Ball, BBC Radio Merseyside; Graham Sarath, Capital Liverpool, who are all in the photo kindly sent to us via Digital Radio UK.

The Lord Mayor of Liverpool, Councillor Tony Concepcion, said:- "The Liverpool community is served by a great variety of local DAB radio stations. I'm delighted that now even more listeners in Liverpool will be able to hear these important and well loved stations on digital radio."

The new digital transmitters being switched on sadly meant local radio users had to retune in order to continue to listen to all of the current 11 local BBC and commercial stations available on DAB. These stations are:- BBC Radio Merseyside, Radio City, Radio City 2, Radio City 3, Radio City Talk, Smooth North West, Capital Liverpool, Heart North West, Heat, Kisstory and Absolute 90's. But it is not a hard thing to do, unlike with analogue, as it just takes a push of a button! Listeners simply press the auto tune or auto scan button on their DAB digital radio or go into the radio's menu and press auto tune. More information can be found online.
Interestingly even though, in the UK, the DVB-T system (Digital Video Broadcasting; Terrestrial) was mostly successful, when the analogue terrestrial television system was switched off in 2012, it's still unlikely that radio will be as easy to do. The push is now on in the UK, as our Government has proposed a new deadline of 2020 to go all DAB or they will then look at abandoning the idea altogether. Oddly as the EU vote looms, Norway who are not members of the European Union (EU) have announced the end of analogue radio in Norway. They plan to be the 1st country to turn off 1 of 5 FM transmitters, on 11 January 2017! But many are pointing out that radio is going more and more online, so will radio as we know it stay by the time the UK goes fully DAB? Your views please, to:- News24@SouthportReporter.com.

Fact File:- Did you know that DAB stands for Digital Audio Broadcasting?
► The old frequency was - VHF Block 11B, at 218.640 MHz, that was turned off late on Tuesday, 19 April 2016.

► The new frequency since Wednesday, 20 April 206, is marked as VHF Block 10C, at 213.360 MHz.
Celebrating the Queen's Birthday in Formby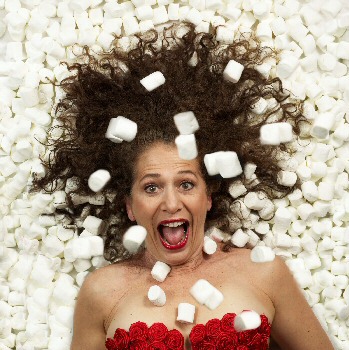 PHYSICAL Fest, in collaboration with Bluecoat and PANDA, are holding an international symposium on comedy in art, What's there to laugh about? at Bluecoat, on Wednesday, 25 May 2016. Aimed at artists, programmers, academics, comics, and anyone interested in the art of laughter, this lively daylong symposium will question how humour is currently used in performance making, presenting and programming.

It will feature provocations from leading artists, comics and industry professionals, including:-

► Sam Avery (Artistic Director of The Comedy Trust)
► Hilary Chaplain (USA physical comedienne)
► Robin Graham (founder of Feelgood Communities CIC and He is co-founder of the Laughter Network)
► Sean Kempton (Cirque Du Soleil)
► Kerry Leigh (professional comedian, MC and compere)
► Hazel O'Keefe (founder of Dulcet Sounds, Laughing Cows Comedy, Comix Live, and The Women in Comedy Festival)
The key speaker is John Wright, the internationally renowned teacher, director and author of acclaimed book Why is that so funny? Wright is founder member of the acclaimed theatre companies, Trestle and Told by an Idiot.

This participatory symposium offers the chance to explore and discuss a range of subjects and questions, including:- the use of comedy in programming, training and education; what are the boundaries of comedy in art and how are they being pushed?; what is the value and use of comedy in creating theatre or art?; and what are the methods, styles and influences in the creation of comedic work?

This event has been organised in collaboration with Bluecoat's exhibition:- Double Act - Art and Comedy (running until Sunday, 19 June 2016) which explores how comedy helps us to shape meaning and negotiate the complexities of everyday life.
Book before 1 May 2016, to receive a £10 discount for organisations, artists and freelancers. Conference price includes lunch and refreshments.
To book your place go to the Blue Coat's website.

► £40 for organisations.
► £20 for artists and freelancers.
► £10 for PANDA Members and Physical Fest attendees.