Debt worries affecting the mental health of more students in the North West than anywhere else in UK
ACCORDING to research by NUS Insight; on behalf of and commissioned by Future Finance, the UK's 1st specialist student lender, 44% of students in the North West are worrying about their finances to such an extent that it is affecting their mental health, raising huge concerns about the pressure students face. This compares to the South East, where under of 3rd of students (32%) feel the same way. Scotland and the South East both have the most students (46%), who disagree that worries about debt affect their mental health.

The research, which questioned over 2,000 students across the UK, finds that the North West has the greatest level of students in the regions (74%), who worry about finances all the time or very often, while Scotland has the lowest proportion of students who worry about these matters at 52%. 59% of students in the neighbouring North East worry often or all the time.

These levels of financial worry are now driving students to consider work that could affect their wellbeing, the North West has the 2nd highest number of students (45%) who say that a lack of funding for their studies had led them to do this, compared to 38% nationally. Wales tops the tables, only slightly above the North West, at 46%.

A quarter of this subgroup, students across the UK[1] mention various types of jobs. A quarter of this subgroup cite shift or night work as the most common type of work which affects their wellbeing, followed by 13% who mentioned medical trails. 10% of students from the same group reported considering work in the sex industry, including:- pornographic webcam shows, nude modelling, being an escort, stripper or working on chat lines.

Commenting on the findings, Brian Norton, Chief Executive of Future Finance, said:- "These statistics are truly shocking. Everyone deserves the chance to fulfil their dreams through higher education. And every student should have a sensible financial platform to help them do just that. But sadly, credit cards and payday loans, with their extortionate rates, are being used as the get out solution all too often by students today. And it's not just hitting their wallets, it's now also damaging their health. Students are unaware of the full range of finance solutions available to them. Many are in meltdown simply because they don't know there is another way. We urgently need the British government and the universities to help inform students about their lending options, and give them the support framework they so desperately need through their education journey."

Despite these challenges, students in the region are a resilient bunch. When asked if they are likely to drop out of university due to a lack of funding, the majority (68%) disagreed, highlighting their resilience and the value they place on education. 54% of students in the North West agreed with the statement that a good education is worth the cost and sets you up for life. This is reinforced by government statistics. A university education is a valuable investment with graduates making them more employable, more likely to work in high skill jobs and earning more than non-graduates, according to the Graduate Labour Market Statistics. The research highlights the graduate premium; the increase in earnings enjoyed by graduates over non-graduates. Working age graduates and postgraduates can expect a £10,500 and £16,500 earnings premium on average compared to non-graduates of working age.

If you are a student worried about your finances, your university's student services or Students' Union advice service will be able to give you advice. Students can also find out more about mental health support at:- StudentMinds.Org.UK.
Art by the Lake art and craft market returns to Crosby Lakeside Adventure Centre
WITH tumbling dunes, vast stretches of sandy beach and Anthony Gormley's enigmatic sea gazing figures, Waterloo and Crosby have long attracted people fascinated by both natural beauty and the artistic impulse. And on Sunday, 22 May 2016, there'll be yet another artistic reason to visit as the second Art by the Lake event arrives at Crosby Lakeside Adventure Centre. Running from 10am until 4pm, this popular art and craft market will host local independent artists and makers selling a huge range of unique and inspiring pieces.
Items on sale will include original art, prints, jewellery, ceramics, textiles, glass, preserves and artisan coffees, and because everything is carefully crafted by hand and made with love, visitors can be sure of finding things that are that bit out of the ordinary. From great gifts to that extra special something for the home, Art by the Lake makes it easy to pick up the kind of art and crafts that you never find on the high street!
Art by the Lake is organised by Tracey Nichols, who explains just what makes the event so special. "The 1st Art by the Lake was a great success and so we just had to return to this amazing venue as soon as we could. Once again we've got some really wonderful artists and makers lined up, including the colourful creations of Mollycat Craft Co., stunning handmade pieces by Dee Wood Jewellery, a first visit by 10 Magnolia Lane who make exquisite baby bedding, delicate ceramics from Martha's Grandad, Coffeebean and Tealeaf with their fabulous roasted coffee beans and organic teas… the list goes on! And don't forget that we're right by the marine lake and there's a bistro next door, so a visit to Art by the Lake makes a wonderful afternoon out for anyone who loves a little art in their lives."

As well as offering a great opportunity to buy stunning arts and crafts, Art by the Lake will also be raising money for the Campaign Against Living Miserably. Suicide is the biggest killer of men under 45, and with Tracey herself suffering the loss of her husband to suicide in 2014, she is keen to raise as much as possible through donations and raffles at the event. So not only is it a chance to browse, buy and chat with makers from around the region, it's all in a good cause too.

3 men rescued from River Mersey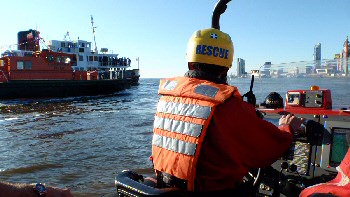 FIREFIGHTERS were called to the River Mersey, close to Jericho Lane, on Otterspool, on Thursday, 5 May 2016, following reports of a person in the water. 2 fire engines, the Search and Rescue Team and the Marine Fire 1 rescue boat were tasked to the incident.

Prior to the attendance of Merseyside Fire and Rescue Service, an off duty Merseyside firefighter and a member of the public had entered the river to assist an unconscious male casualty by keeping him afloat and maintaining an airway.
The man was rescued from the water by crews from the MF&RS Marine Rescue Unit, who brought him aboard the Marine Fire One rescue boat and gave him CPR and oxygen. He was taken by boat to the Marine Rescue Unit at Pier Head and handed in to the care of paramedics, before being taken to Royal Liverpool University Hospital.

Both men who assisted the casualty were also taken by boat to the Marine Rescue Unit and assessed at the scene by paramedics. 1 of the men was taken to Royal Liverpool University Hospital for further checks.

Marine Rescue Unit Team Leader, Iain Holgate, said:- "We were tasked by HM Coastguard to reports of a person in the water at Jericho Lane area of Otterspool Promenade. We mobilised quickly and found 3 people in the water; 1 unconscious casualty and 2 members of the public who had jumped in to the water to assist. 1 of the men was a Merseyside firefighter who was off duty. We rescued all 3 men on to our lifeboat and made best speed back to the Pier Head while administering CPR and oxygen to the unconscious casualty. Ambulance service personnel met us at the Pier Head and took over care of the casualties, together with Merseyside Fire and Rescue Service appliances and HM Coastguard mobile teams. The unconscious casualty was transferred to hospital with ambulance crews and one of the members of the public who assisted was also taken to hospital for further checks."

Station Manager Franny Hill, who served as incident commander at the scene, said:- "This was a heroic deed by an off duty firefighter along and a member of the public who risked their own lives in very cold water to save a man's life today. It should be noted that all MF&RS operational personnel receive water training. We would like to remind people of the inherent dangers of being in or around the water and to stay safe as the warmer weather approaches."
RSPCA reminds pet owners to keep their animals safe over the warm months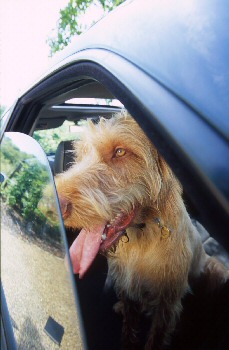 WITH temperatures set to soar to 20C this week, the RSPCA is issuing advice to pet owners to ensure their animals are comfortable and happy in the heat. Just as cold, wintry weather can pose a risk to animals, hot temperatures in the summer months can also be hazardous to our furry friends.

Every year we receive thousands of reports of animals suffering from heat exposure. The most common calls the RSPCA's emergency 24 hour line receives is on dogs in hot cars. But it's important to remember not to leave any animal in a car or caravan, or in a conservatory or outbuilding, where temperatures can quickly rise to 47C which can result in death.
Last month, RSPCA inspector Anthony Joynes left a thermometer in his van in 15C heat and left it for an hour to see what temperature it would reach inside his vehicle. Within just 60 minutes, the temperature had climbed to 43.5C.

Inspector Joynes said:- "In an emergency, it is best to dial:- 999 and report a dog in a hot car to Police. The RSPCA may not be able to attend quickly enough and, with no powers of entry, we'd need police assistance at such an incident. If the animal is displaying any sign of heatstroke; such as panting heavily, drooling excessively, is lethargic or uncoordinated, or collapsed and vomiting; call:- 999 immediately."