St. Modwen launches "Making Places" national school photography competition to mark 30th Anniversary
ST. MODWEN, the UK's leading regeneration specialist, has launched a national schools photography competition to mark the Company's 30th anniversary. The competition is supported by a number of organisations and experts in urban design, architecture, education and photography, including:- 'The Princes Foundation for Building Communities.'

Entitled:- 'Making Places', the competition is open to 30 secondary schools across England and Wales and asks GCSE art students to capture the theme of place making through the medium of photography. In doing so, students will explore what community, architecture or urban design means to them.

Between now and June 2016, students from each participating school will attend workshops hosted by Stephen Burke, photographer for the Telegraph and the Financial Times, and a member of award winning, contemporary art organisation 'WERK'. He will provide them with insightful guidance on how to encapsulate the theme of place making and a sense of community through photography, in addition to offering careers advice in this field.

Each of the 30 participating schools will put forward their best entry, from which a shortlist of seven will be selected by a panel of judges. The national final will take place in September where the winner will be announced and awarded with a state of the art camera and £3,000 towards the school's art department.

Steven Knowles, North West regional director, St. Modwen says:- "For the last 30 years, St. Modwen has been relentless in its mission to bring new life to areas in need of regeneration and create places for people to live, work, learn, shop and enjoy. In our 30th year, we wanted to capture what we do as a business and to share this with local communities. The photography competition enables us to document what regeneration looks like in Liverpool in 2016, but more importantly, has been designed to inspire the next generation to explore what it is that gives a true sense of place to any community as well educating them on urban design and providing valuable photography skills from industry experts."

Ben Bolgar, Senior Director, The Princes Foundation for Building Communities and competition judge says:- "Placemaking, in creating better places to live, is fundamental to the work of The Prince's Foundation for Building Community. We welcome this competition from St Modwen to encourage future generations to think about what it means and how architecture and urban design can improve quality of life. I am very much looking forward to judging the entries and wish all the entrants the best of luck."

Tom Stubbs, a spokesperson for Notre Dame Catholic College, added:- "We are really excited about the competition and participating in the workshops. It is a great opportunity for the students to learn more about their immediate area and the urban environment as well as have access to important insight from a national photographer. Most importantly, the initiative links strongly with the curriculum through 'professional practice' and will go a long way in assisting students with their respective GCSE projects."

The 30 schools are located in 1 of the 7 regions in which St. Modwen is actively developing across the UK. In June, Notre Dame, students will put their photography skills to the test at the workshop and capture images that they feel sum up place making.

Notre Dame College in Great Homer Street falls within the regeneration of St. Modwen's Great Homer Street scheme, aka Project Jennifer, which will transform 1 of the most deprived parts of North Liverpool, with a new supermarket, new shops and improved public spaces and new homes.

For more information on St. Modwen's 30th Anniversary and the national schools competition, please visit:- StModwen.Co.UK.
Competition timeline of events still to take place:-
► July to August 2016 - work from participating schools to be displayed at St. Modwen development sites across the UK.
► Mid to July 2016 - Schools put forward their best entry.
► August 2016 - Shortlisting of 30 entries to 7 finalists.
► 27 September 2016 (morning) - 7 finalists to attend a workshop. given by Max Farrell of Sir Terry Farrell's architecture practice and author of:- "The Farrell Review".
► 27 September 2016 afternoon) - Prize giving.
Judging panel:-
► Ben Bolgar, director, Princes Foundation for Building Communities.
► Emma Bowkett, director of photography, Financial Times.
► Stephen Burke, photographer for the Financial Times and the Telegraph.
► Professor Iwan Davies, Senior Pro-Vice Chancellor, Swansea University.
► Lord Lingfield, Conservative peer and committed educationalist.
► Bill Oliver, Chief Executive, St. Modwen.

Napthens' Southport expansion continues with new appointments
Photograph by Clive Lawrence.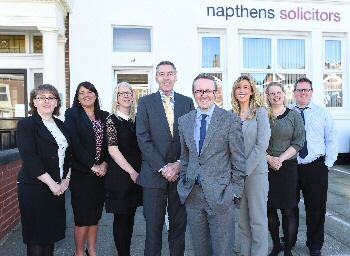 NAPTHENS solicitors has welcomed residential conveyancing executive Debbie Robinson to its Southport team as it continues its expansion in the area. Her appointment follows the firm's acquisition of local solicitors Richard Jacklin and Co of Hoghton Street, which has been re-branded to become part of Napthens. Debbie, who lives in Southport, will advise clients on issues relating to the buying, selling and investment in residential property. She brings with her 18 years' experience in residential conveyancing, including dealing with freehold and leasehold sales and purchases, re-mortgages, shared ownership and transfer of equity transactions. In addition, Napthens has swelled the Southport office ranks with the appointment of legal assistant, Robert MacGregor and reception staff, Adele Ruane and Victoria Molloy to the team. The firm's growth in the area is being led by Simon Ainsworth, head of Napthens' Private Client Division.
Simon said:- "The acquisition of our Southport office is a key milestone in our plans to grow our presence in Sefton and West Lancashire. An essential part of this is building an experienced team who will provide the highest level of support and expertise to the many clients we have locally. Demand for our services in the area is high and we'll be looking to add more experts to the Southport office. We're looking forward to welcoming more people to the team in the coming weeks and months."

Debbie added:- "Napthens is a well recognised and respected legal brand in the region and I'm proud that I'll be part of a team that is helping to deliver an unrivalled legal service from the firm's newest office in Southport."
Fundraisers support for "quiet room"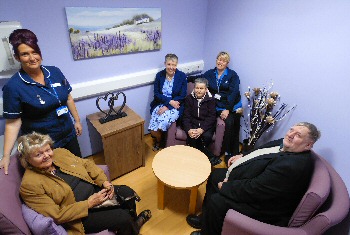 A 'quiet room' has opened at Ormskirk Hospital to allow doctors and cancer patients to talk in confidence. The new space, in the Treatment Centre, offers a tranquil area to discuss personal health matters. The hospital has a busy lung cancer clinic and patients said it lacked an area for private discussions. Southport and Ormskirk Hospital NHS Trust acted on this feedback with help from the League of Friends charity which donated £300 to the new room.
Janet Thompson, Lung Cancer Specialist Nurse, said:- "This new quiet room will make such a big difference. It is really important for patients to have a room set apart from the clinic to discuss important health matters."

Kate Sutcliffe, Treatment Centre sister, added:- "Without the League of Friends we wouldn't have been able to have done this, we are really grateful for their support."

Also commenting on this was Janet who said:- "People who have cancer are living longer if their cancer is diagnosed early. Early diagnosis saves lives. If you have any concerns about your health do not put off seeing your GP."

The League of Friends has supported Ormskirk Hospital for more than half a century.