WLLR's Teddy Bears' Outing this Sunday
Report by Philip Pacey.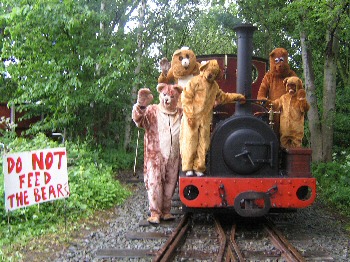 THE West Lancashire Light Railway (WLLR) will be holding its Annual Teddy Bears' Outing, from Station Road, Hesketh Bank (PR4 6SP). The railway is Lancashire's only working narrow gauge track and if you go down to see it, on Sunday, 22 May 2016, you're sure of a big surprise. The event runs from 11.30am to 4.30pm, with 2 locomotives in steam, on certain days, along with the bare necessities, other attractions including model railways will keep visitors of all ages amused. Also keep a look out for the teddy bear train spotters! The railway is located in the village of Hesketh Bank, between Southport and Preston and runs steam trains on Sundays and Bank Holidays between April and October. Admission is free to most events and there is free car parking on site. If travelling by bus, the Stagecoach No. 2 to Preston from Southport stops at the entrance to the Railway, near Booths and also collects at that location as well. If you ride on 1 of the trains, and go into the woods, as it's the Teddy Bears' Outing on Sunday, the WLLR will have a:- "Bring a bear – travel ½ price" offer taking place. The normal costs are:- adult tickets are:- £4.00. Child's tickets are:- £3.00 and Senior tickets are just:- £3.50. You can also get a Family Ticket for £12.00. But do not forget that its half price for all persons accompanied by a bear for this event! It's worth noting that they also hold many other special event days, including:- galas, Halloween Trips and Santa Specials, throughout the year. Hot and cold snacks are available on and off site, should you require sustenance when on your excursion. Plus the grounds have picnic tables that will let you sit and watch the trains go by, but beware of bears this Sunday! Yogi Bear has been spotted on holiday from Jellystone Park, in the USA... Unlike Yogi, we are told that Boo-Boo will be staying out of trouble, as normal. If you see Yogi Bear, please let Ranger John Francis Smith. For more information please call:- 01772 815881.

Fact file:- Did you know that the soft toy, known as a teddy bear, derived its name from that of President Theodore "Teddy" Roosevelt in the early 20th century, by toymakers Morris Michtom in the US? Oddly a similar toy was being developed at the same time by a designer Richard Steiff, in Germany!
Local Café - Little Lilac is ready for summer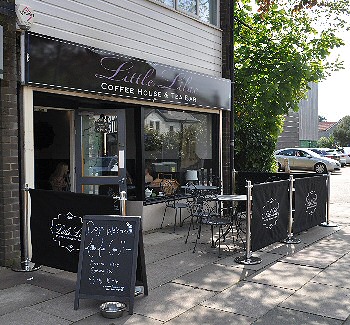 IF you are in Formby and you require a break from the daily grind or if you are passing through the Village to or from the beach, pop in to this amazing Café. With homemade food, cakes and also their very own blended coffee, this venue provides a fantastic place to put your feet up and relax. Also, as an added bonus, after a lot of hard work by the owners, who have now been able to put seating outside, for you to relax in the Sun and watch the world go by. The venue is ideal for parents who have kids at the Pool next door as well. But the thing that makes them even more special is the fact the staff are always friendly and helpful, no matter the age of the client, be it a kid or an OAP, they will always have a smile. This is one of the hidden gems of Formby Village and one of many local shops that are worth exploring this summer. Please remember, if you visit the beach, pop in and help support the local businesses in the Village as well. You never know who you might meet as many famous people use these cafés and shops as well!

Letters to the Editor:- "difference in fares on Merseyrail" follow up
Report by Patrick Trollope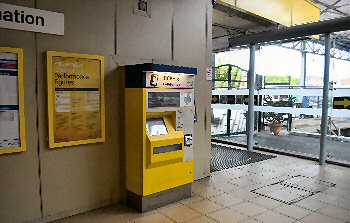 A few weeks back we received a request from Mr Macrae asking us to look into a problem he had found when purchasing return tickets from the ticket machine, located in Southport Station. He and his family had been in Southport for a weekend visit and had decided to take a day out visiting Liverpool by rail, on the Saturday. He told us that:- "Purchasing return tickets from the ticket machine at Southport Station cost £6.45 each." He went on to add:- "Before going through the ticket barrier, we spoke to customer service staff with reference to train times, Station nearest Albert Docks etc. They asked if we wanted to purchase our tickets and mentioned that the return fare on Saturday or Sunday was £5. We said that we had purchased our tickets at the machine which charged £6.45. The staff said 'we should have come to the ticket desk because the machine is not intelligent enough to work out the correct fare for a Saturday!' Attempts to get a refund were unproductive." That is when Mr Macrae decided to contact us saying:- "Although the amounts are small I was wondering if the local residents of Southport are aware of the difference in fares and if others are being short changed."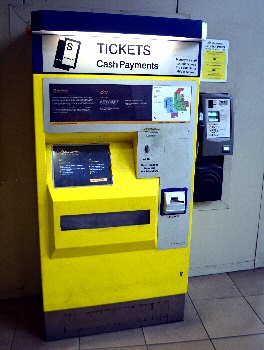 We (our newsroom team) then contacted Merseyrail to find out why this is happening. Merseyrail quickly got back to us. We then put both parties in touch with each other. Merseyrail's Head of Customer Experience, Mr Suligowski, has since been in contact with Mr Macrae saying:- "Your recent letter to the editor of the Southport Reporter has been passed to me as Head of Customer Experience at Merseyrail. I was disappointed to learn of your recent experience when travelling from Southport Station. I've been speaking with the Station Manager, who is going to spend some time looking at the exact circumstances and make sure we learn from the issues you have raised. As a gesture of goodwill, I'd like to offer you a £20 voucher that can be used for use on the Merseyrail Network. We really appreciate feedback from customers and I want to offer my sincere thank you for taking the time to bring this to our attention."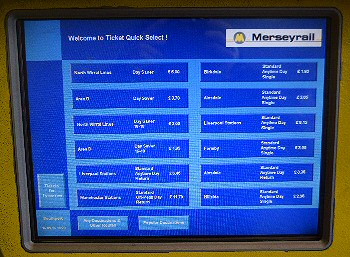 Our Editor has since been in contact again with Merseytravel and we are pleased that we could help you. We would also like to say thank you to Merseytravel for their quick response and for helping us on this matter. We would like to know if any of our other readers have had problems like this. If you have please contact us, but you must have kept the ticket and also have proof of purchase. Email us to:- News24@SouthportReporter.com.