Eco-van donation to Trust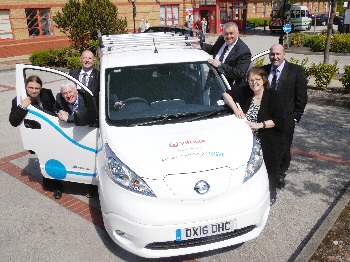 A hospital trust has taken delivery of an eco-vehicle to help reduce fuel emissions around its estate. The van has been loaned to Southport and Ormskirk Hospital NHS Trust by Veolia, for a period of 4 years. MP Rosie Cooper joined Trust staff and Veolia officials as the new van was unveiled on Friday, 13 May 2016.
The Trust has a long standing partnership with Veolia; the global resource management company; which runs combined heat and power (CHP) plants that deliver low carbon electricity and heat at both Southport and Ormskirk Hospital sites.

The Trust generates its own power using CHP and can even sell any surplus electricity back into the National Grid.

Last year (2015) this was enough power to supply 850 3 bedroom houses for a whole year, and annually saves over 3,000 tonnes of CO2 emissions; equivalent to 2,200 cars.

The eco-van is a new step in making hospital day to day work more environmentally friendly and will be recharged using the low carbon electricity generated by the Hospital CHP plants.

Rosie Cooper, MP, said:- "It was a real pleasure to join Southport and Ormskirk Hospital NHS Trust and Veolia at the unveiling of their new eco-van. Their joint approach to generating energy from the hospitals existing activities highlights how innovative and creative solutions can be harnessed to avoid waste and ensure organisations are as environmentally friendly as possible. Large organisations, such as the hospital trust and Veolia, taking a forward thinking and responsible attitude to lowering their carbon emissions is an essential contribution to tackling the threats we and future generations face from climate change."

Graham Turton, Trust Energy Manager, said:- "We are delighted that Veolia has donated such an environmentally van to our Trust fleet. We had been using a diesel vehicle, but this van means we will have minimal impact on the environment when we travel between sites and around the area to clinics. 7 years ago the Trust gained the environmental benefits from its own purpose built Energy Centre and CHP to enable it to generate its own power. Veolia has helped us reduce our carbon footprint over the years and its loan of this vehicle is another green boost."

Pat Gilroy, COO Industrial Customers UK from Veolia, added:- "The introduction of this eco van demonstrates a way of further reducing CO2 emissions in the NHS. Using low carbon power to recharge the vehicle also helps to reduce climate change and increases sustainability."

The Trust also has 2 new electric car charging points at Southport Hospital which can be used by the public.
Please email us your views on this eco-van project to our newsroom.

City Council announce potential victory parade plan
PLANS are in place for a potential Victory Parade should Liverpool Football Club win the UEFA Europa League. The title holders will not be confirmed until Wednesday, 18 May 2016, however due to the major logistics behind an event of this scale, the City Council is announcing its intentions to ensure residents and businesses in the city can prepare for the potential event. Should Liverpool FC win the title, the City Council will then formally invite them to hold a victory parade in the city the following day, Thursday 19 May 2016. It will start at 5pm and is expected to last for a couple of hours, with rolling road closures on the route which will inevitably cause disruption. The City Council has been working to plan out the event, which will see the Liverpool Team Parade and the Europa League Trophy on an open top bus. The route starts on West Derby Road, at the Junction of Green Lane, and will head towards the City Centre travelling along:-

► Islington.
► Churchill Way.
► Dale Street.
► Water Street.
► The Strand.
► Wapping/Chaloner Street (junction of Parliament Street), where it will end.

Mayor of Liverpool Joe Anderson said:- "We know many people are superstitious and don't want to think about a victory parade until the title is in the bag, but unfortunately that isn't an option for those involved in organising an event of this scale. Whether we have a parade depends on the results on Wednesday, but due to the number of roads being closed and the impact this has on businesses and residents, it makes sense that we are as prepared as we can be. We need the information to be made public in order to cause as little disruption as possible."

If it takes place, the parade is expected attract hundreds and thousands of people, so the City Council has key advice for fans:-

► Utilise the full length of the route.
► There will be no central focal point to the parade and the bus will not be stopping along the way.
► Decide which part of the route you want to wait at and arrive in plenty of time.
► Be patient; it is impossible to predict how long it will take the team bus to travel along the route.
► Due to the number of people coming in to and out of the city, there is expected to be significant demands on public transport, with queuing likely.
► Merseyside Police will be supporting the City Council to ensure members of the public can enjoy the parade safely.

Chief Superintendent Jon Ward said:- "Should the parade take place we would expect a large number of people to gather along the route and we will be supporting Liverpool City Council, who are the organisers of the event. There will be large number of police officers on the streets throughout the area, who will be providing a reassuring presence and making sure that fans can enjoy the parade in safety. An extensive road closure programme will be put in place and some disruption to traffic is unfortunately inevitable, but a route has been planned to give thousands of residents the chance to celebrate Liverpool's success. I would ask people to make themselves aware of which roads are affected so they are fully prepared and make use of public transport wherever possible, though appreciating there may be some changes to services."

Travel advice and information will be available from:- MerseyTravel.Gov.UK or Traveline on:- 0151 236 7676.