The walk to school needs to be safer to improve our children's happiness
OVER ½ of parents in the North West see a noticeable improvement in their children's happiness after they walk to school, new research has found. National charity Living Streets conducted research with parents of primary school children in the North West and found that half see an improvement in their child's mood (58%) and behaviour (48%) after they've done physical activity (60 minutes a day). Yet, just 21% of boys and 16% of girls get the recommended daily amount of physical exercise and a 33% of children are overweight or obese by the time they leave primary school. Schoolchildren in the UK are some of the unhealthiest and unhappiest in the world and walking is one of the easiest and most accessible ways of maintaining a healthy weight and reducing stress levels. Walking to school has been shown to improve children's concentration, help them feel more alert and achieve better grades than those who are driven; now parents are highlighting that it can improve mood too. 56% said that they saw an improvement in their child's happiness after the walk to school.

As Living Streets' Walk to School Week, that runs until 20 May 2016, gets underway, Jenny Wiles, Living Streets Director (North), says:- "Not only are we experiencing a childhood obesity crisis, we're also facing a rise in mental health and wellbeing problems. We know that keeping active is a major part of the solution. We must prioritise ways of encouraging physical activity if we want today's children to become healthy adults. The walk to school is a free, easy and accessible way for parents and their children to achieve this. Sadly, just 46% of primary school children walk to school compared to 70% of their parents' generation. We must reverse this decline."

Living Streets' research shows that parents in the North West also feel the benefits of the walk to school along with their children. 57% said they feel healthier for walking their kids to school and 37% said they feel happier after walking in. 36% also said it helps them to feel less stressed and 70% said that it's a great time to spend with their children. Of the North West parents surveyed whose children don't walk to school, 47% said that they would like them to walk to school. However, congestion and unsafe driving outside the school gates overwhelmingly deter parents. A huge 58% said that vehicles driving too quickly was their greatest worry when it came to the school run and 34% cited overcrowding and unsafe parking (42%). Wiles continues:- "Something needs to change so that more children and parents feel safe walking to school. This is one sure way of increasing the amount of exercise youngsters are getting and is vitally important if we want to improve their health, and cut congestion and pollution."

Living Streets is the UK charity for everyday walking. Last year 400,000 children took part in Walk to School Week. Living Streets wants to see the government fulfil a previous commitment to getting 55% of primary school children walking to school by 2025. Walk to School Week also plays host to:- 'Happy Shoesday', on Tuesday, 17 May 2016. Children and staff at schools around the country will be wearing the shoes which make them the happiest, each donating £1 to Living Streets. The money raised will go to the charity's work with schools and local communities, and their campaign work to make UK streets safer for everyone.
North West carer in the running for a national award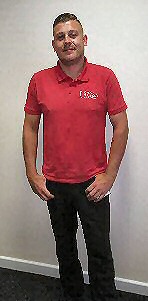 A Knowsley care worker is in the running for a national award after beating off stiff competition in the regional finals of a competition.

Karl Lamb, 29, was the North West winner in the Great British Care Awards and will now compete for the national title later this month (May). Karl works for CASA; Care and Share Associates; Knowsley, an award winning, employee owned social enterprise, which delivers a range of services which allows people to remain independent and live in their own homes. But it was Karl's efforts to go the extra mile for his clients which made him stand out from the crowd and helped him take the regional crown. Helen Haney, Deputy Manager at CASA Knowsley said everyone was delighted at Karl's success. "He has done some amazing work and really helped some of our clients. He's gone that extra mile and made a real difference to people's lives."

In his role as a support worker, Karl works with a range of clients and has found a number of ways to help them get more out of life. This includes helping a young man who wanted to be a DJ to get some gigs which has led to him getting a radio show and helping another client who wasn't integrated into the community get a job in a charity shop.

"Karl has really gone out of his way to find out what his clients are interested in and what they needed and used his initiative to help them. He really does deserve this award and we'll be keeping our fingers crossed for the national final in Birmingham." said Helen.

CASA Knowsley is 1 of 5 CASAs around the country which provide homecare services. All employees are strongly invested in the company and are given free shares, a profit share scheme, and other employee benefits. The company is always looking for new staff across all of their sites and no previous experience is necessary for some of the posts, with full training given. Anyone wanting further information should call the CASA Recruitment Hotline at:- 0300 355 1155, you can also send an email to them or visit the CASA website and look at the vacancies section where full job descriptions and application forms are available.

BBC Hairy Bikers to join the Crosby Road Street Party, 12 June 2016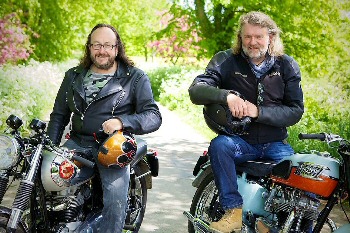 THE BBC will film the Crosby Road Queens 90th Birthday Celebration Street Party, on 12 June 2016. As part of their 2016 Hairy Biker Series the famous duo will be exploring the relationship people have with our well loved eggs and chickens. They will follow a global journey of culinary discovery with the final programme of the series concluding in Crosby Road as part of one of the most Royal Streets in the UK. Crosby Road has been proudly chosen due to its reputation of delivering possibly the best street party in the land. Its YouTube and social media presence encouraged the BBC researchers to shortlist their options to include Crosby Road. The site meeting, on Thursday, secured the Hairy Bikers into the Birkdale based street party on the 12 June 2016.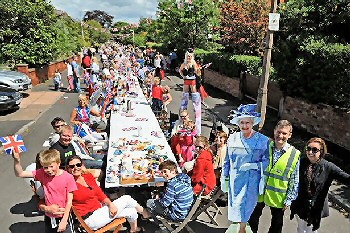 The BBC will film the build of this amazing community event, tables, bunting, flags etc. Then the plan is that the Hairy Bikers on their bikes will arrive mid afternoon and take an active part in this iconic UK Royal Street Party. They will relax with families, soak up this typically British tradition and of course sample peoples' cake and food and chicken sandwiches! The episode will end their inspiring global journey of 'eggs and chicken' and provide a suitable heart warming 'feel good' conclusion to their programme series.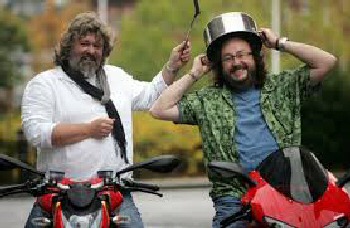 Joanne and Jonathan Cunningham Street Party organiser said:- 'We are delighted, we love watching the Hairy Bikers. The BBC Production Team couldn't believe how passionate this event is to Crosby Road. The fact that this will be our 4th large scale event has established Crosby Road as one of the most Royal Roads and communities in the UK!!!'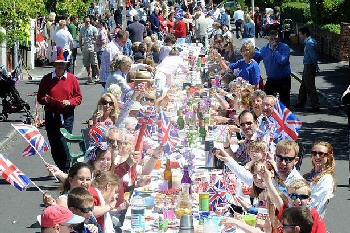 The event hosted by Sandgrounder Radio with Neil Newton and Andrew Hibert will be raising vital funds for Southport's Independent Lifeboat Trust. Adults £5, children FREE. If you would like to be involved with this event then you must pre-book your tickets to obtain your wrist bands. It is highly unlikely you will be able to turn up on the day due to the numbers expected. If you would like to attend please contact dawn on:- 01704 320 008 or email dawn@stormconsultancyuk.com. God save the Queen!