Ofsted Chief Inspector visits Liverpool Schools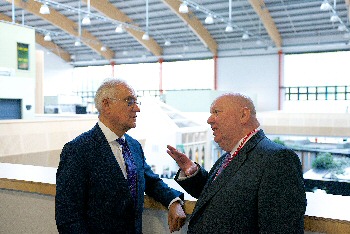 OFSTED Chief Inspector Sir Michael Wilshaw has been in Liverpool to see the work that is going on to raise educational standards in the City. During his visit he spent time at Notre Dame Catholic College in Everton and Abbots Lea Special School in Woolton, meeting staff and pupils.

Notre Dame Catholic College was the first School to be rebuilt under the Mayor's £169 million Liverpool Schools Investment Programme funded partly through Liverpool's City Deal with the Government, and opened in 2013.

Abbots Lea Special School caters for more than 200 pupils with Autism and other related difficulties aged between 5 and 19, and was ranked outstanding by Ofsted during its most recent inspection in January 2016.

Sir Michael Wilshaw has been in Liverpool at the invitation of Mayor Joe Anderson and Assistant Mayor and Cabinet member for education, employment and skills, Councillor Nick Small.

The invitation followed comments the Chief Inspector made earlier this year about the importance of education to the success of the Northern Powerhouse.

During his time in the City, they talked to him about the work done in recent years including the establishment of the Liverpool Learning Partnership which is made up of education leaders who support and challenge each other, the Liverpool Challenge chaired by former education minister Stephen Twigg MP and initiatives to raise standards in literacy and maths. Sir Michael Wilshaw said:- "I am grateful to the Mayor and Assistant Mayor for inviting me to Liverpool to see 1st hand what is being done to improve the City's Schools. During my visit I witnessed an enthusiasm for learning from staff and pupils alike, and I am pleased to see leaders from across the City working together to raise standards in education. Making sure our youngsters regularly attend School is vital to improving their life chances, so it is reassuring to see that initiatives like tackling poor attendance have been made a top priority. Liverpool is an iconic City; known throughout the world for its contributions to industry and culture. It is only right that we strive to ensure that future generations receive a standard of education that is fitting of the City's name."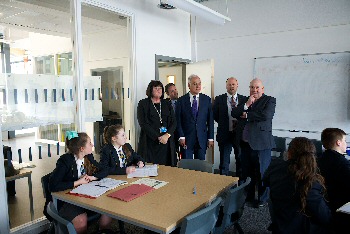 Mayor Joe Anderson said:- "I was delighted to welcome Sir Michael Wilshaw to Liverpool to show him the work that we are doing in partnership with our Schools to make sure our young people leave School with the skills necessary to go on to lead successful lives. There is no doubt that education standards in Liverpool are much improved compared to a decade or more ago, and the 17 much needed new and refurbished Schools being delivered as part of my Mayoral pledges will make a significant difference to teaching and learning. But we are absolutely not complacent and need to do more, so I was pleased to show the Chief Inspector what is happening on the ground and talk to him about the Liverpool Challenge and other projects we have launched to drive up standards."

Assistant Mayor and Cabinet member for education, employment and skills, Councillor Nick Small, added:- "Liverpool Schools have lots to be proud of, but we agree with Sir Michael Wilshaw that local political leaders must stand up and be counted and support and challenge our education system when necessary. The visit has been a great opportunity to show him what we are doing in Liverpool to make sure pupils get the best possible start in life, and reiterate that we will not shy away from having an honest debate with our education partners, locally and nationally, about the issues we face."

Merseyside trust is national leader in clinical trial of pioneering lung cancer treatment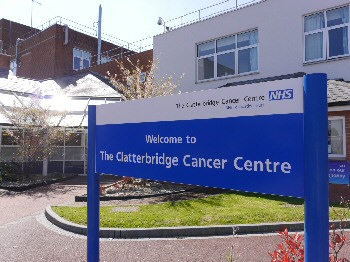 MORE people from Merseyside and Cheshire than anywhere else in the UK are taking part in a trial of a pioneering drug that could teach their immune system to attack and kill lung cancer cells.
The Clatterbridge Cancer Centre NHS Foundation Trust, which provides specialist cancer treatment and carries out groundbreaking research, has recruited more patients than any other UK site for the 'Checkmate' lung cancer trial. It's a trial of a new type of treatment called immunotherapy. Unlike chemotherapy drugs, which focus on killing cancer cells directly, immunotherapy works by helping the body's immune system to recognise cancer and then attack it in the same way as an infection. As well as causing fewer side effects than chemotherapy in most people, immunotherapies seem to be extremely effective in some patients, leaving them in remission for significantly longer than might otherwise be expected.

Although the concept has been around for a while, previous attempts at immunotherapy were largely unsuccessful because cancer cells are normal body cells gone 'wrong' and they can 'hide' by producing a protein called PDL1 which deactivates the immune system. The CheckMate trial involves a drug called nivolumab that works by blocking PDL1 so the cancer cells can't 'hide'; the immune system is then triggered to attack them. While the CheckMate trial is using nivolumab to treat squamous cell lung cancer, the drug has also shown good effects in patients with kidney cancer and melanoma and is now licensed for use in all three tumour sites.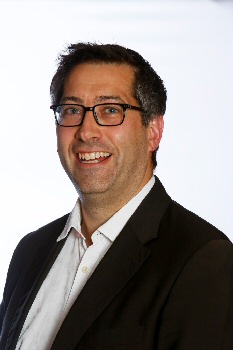 Consultant Medical Oncologist Dr Richard Griffiths, The Clatterbridge Cancer Centre's site lead for the CheckMate trial, said:- "It's too early to start talking about a cure for advanced cancer, but those patients who do see benefits have a much longer remission than we would usually expect. This final phase of the trial started in August 2015 and we have 23 patients now taking part here at The Clatterbridge Cancer Centre, more than any other UK site and we believe the 2nd highest in the world. Patients on the drug have nearly a 50% higher chance of being alive 12 months later compared to standard chemotherapy. They come every 2 weeks for an infusion that takes about an hour, instead of having chemotherapy."

The Clatterbridge Cancer Centre is also taking part in the IMMotion 51 clinical trial for kidney cancer. This involves an immunotherapy drug called Atezolizumab, which also blocks the PDL1 protein emitted by cancer cells, being used alongside Avastin. 8 patients are currently on this trial and the results so far have been positive. "We are moving to a new era for the treatment of some advanced cancers. Cancer drugs have traditionally suppressed the immune system. These new drugs stimulate the immune system to attack cancer. The hope is that they will enable patients with advanced cancer to bring the disease under control for a much longer time and with fewer side effects than chemotherapy." said Dr Griffiths.

The Clatterbridge Cancer Centre NHS Foundation Trust is active in the development and trial of new cancer treatments with an extensive portfolio of studies at any 1 time.