Liverpool runner heads to Paris to raise money for hospice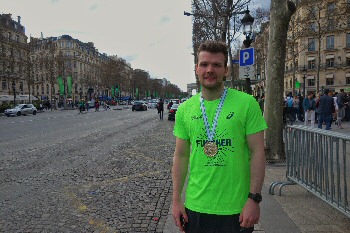 LIVERPOOL lad, Sam Heague (28), travelled to France to run the Paris Marathon last month and raised a fantastic £650 for St. Joseph's Hospice (Jospice). Sam took on the challenge following a tragic summer in 2015, when he lost both his granddad, William Heague, and his cousin, Charlotte Chee, within the space of a week.

Sam ran the marathon to raise money for St. Joseph's Hospice and The Walton Centre in their memory. It was his second marathon, following last year's London Marathon, and he successfully completed the course in 5 hours, despite an injury.

Sam said:- "My grandad Bill was a gentle and loving family man. He was diagnosed with latter stage pancreatic cancer around two months before he died and was initially cared for in Fazakerley Hospital before being moved to Jospice. During his time at Jospice he received exceptional, specialist care, as well as an unwavering kindness. In his own darkest hour he was treated wonderfully and my dad and his brothers were able to stay there with him at the hospice. From diagnosis he grew very weak, very quickly, but never lost his sense of humour and was courageous until the very end. My cousin, however, was 24 when she died. She was receiving treatment for colitis, which sadly caused a seizure and a brain haemorrhage. She too was treated wonderfully at the Walton Centre."

Mike Parr, Chief Executive of St. Joseph's Hospice, said:- "Sam has taken on a real challenge following such a devastating loss and has raised a fantastic amount of money in memory of his granddad and cousin. We would like to congratulate Sam on this wonderful achievement and we are very grateful for his support in helping us to continue providing specialist care for our patients and their families for as long as they need us."

Merseyside projects need votes from local community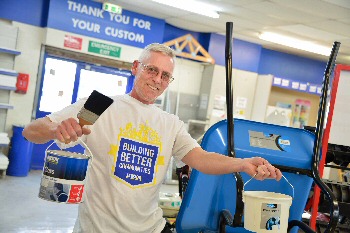 CLEARVIEW 2nd Allerton Scout Group, Kirkby C of E Primary School and Maggie May's Community Café in Merseyside have been announced as finalists in the 2016 Jewson Building Better Communities competition. After beating 1,800 nominated projects they have made it to this stage, and now need your help to secure a share of the £250,000 prize fund.

The projects are calling on members of the local community to get behind them and cast their vote on the Jewson Facebook Page. Winners will be awarded building materials from Jewson to help transform buildings up and down the UK into warm, inviting and efficient spaces for the whole community to enjoy.

This year, applicants had the choice to nominate a project for either the main prize of a £150,000 transformation, using the Saint-Gobain 'My Comfort' building principles, or a share of a £100,000 regional prize fund, where they could ask for anything from £500 to £10,000 to spend on building materials.

People have time to vote for their local project until 19 June 2016. Votes can be cast via the Jewson Facebook Page. View the shortlist can be seen via clicking on here.

David Fenton, Marketing Director at Jewson, said:- "Supporting the communities where we live and work is so important to us, and hearing the heart warming tales of some of last year's projects motivated us to do even more to help boost community spirit up and down the UK. By more than doubling the prize fund to a quarter of a million pounds, we're giving people the chance to transform the community projects and initiatives that are close to their hearts. Now people have the opportunity to vote online via Facebook for their favourite causes, and make a difference to local communities."