Future Chef 2017 Introduces New Resources, Activities and Awards
AIMING to address the skills shortage in the hospitality industry, Springboard's Future Chef involves over 8,000 students annually nationwide. After a successful 2015/16, Future Chef is looking to promote greater culinary education and encourage more young students to consider and pursue careers in the hospitality sector. Springboard's Future Chef was delivered in over 700 schools nationwide for 2015/16. Future Chef aims to teach young school pupils aged 12 to 16 the vital life skills of cooking and the value of nutrition. It seeks to provide invaluable insight into careers in the hospitality industry and looks to inspire more young people to build careers in the sector. In 2016 / 2017 new video resources, class activities and student recognition awards will be introduced. These are designed to develop students' technical skills and ability to produce amazing dishes, introducing them to the fantastic opportunities the wider hospitality industry has to offer. Springboard's FutureChef offers a portfolio of resources and activities mapped to core curriculum areas. These are backed by industry professionals and are designed to help teachers deliver outstanding food technology lessons which inspire young people to develop their cooking skills and understand nutrition. Celebrated Chef Brian Turner CBE said:- "The country is short of chefs and good eating is necessary to keep the nation healthy. Future Chef is the 1st step to the answer, we need all our teachers and young people to get behind FutureChef 2017. Have fun and start your career!"

Anne Pierce, Springboard's CEO, said:- "We're looking forward to another year where Future Chef will inspire more 12 to 16 year olds to pursue culinary careers. We've seen so much talent pass through Future Chef and lead fantastic careers in hospitality. We know opportunities are available for talented, hardworking young individuals and through Future Chef 2017 we want to meet even more success across the UK."

Watch the video, find out more and register as a school or mentor by clicking via this link.
Sentencing of Peter Fox for manslaughter of Mother an Sister
MERSEYSIDE Police can confirm that a 27 year old man has been sentenced to life (with a 12 year and 7 month tariff) after pleading guilty to the manslaughter of his 57 year old mother, Bernadette, and 27 year old sister, Sarah, in Bootle in April 2015. The Judge also imposed a restriction under Section 45a of the Mental Health Act (1983), which means he will be treated at Ashworth Hospital until he is deemed fit to be transferred to prison. Detectives launched an investigation, on Friday, 17 April 2015, following the discovery of the bodies of Bernadette and Sarah Fox at 2 separate addresses in Bootle (Bernadette was found at her home in Brookhill Road and her daughter, Sarah, was found at her home in Worcester Road). Post mortem examinations carried out at the time established that Bernadette Fox died as a result of asphyxiation, whilst Sarah Fox died from multiple stab wounds. Following the discovery of the bodies it was established that Peter Fox had left the region and detectives issued an appeal to the public with a description of Fox and CCTV images of him in a bid to find him. He was arrested, on 20 April 2015, by British Transport Police, at Euston Station, after being spotted by a member of the public who had seen the media appeals, which had also been distributed on behalf of Merseyside Police by the Metropolitan Police in London.

The Officer in charge of the investigation, Detective Chief Inspector Dave Rooney said:- "There is no doubt that Peter Fox was mentally ill at the time he took the lives of his Mother and Sister. However, we will never be able to comprehend why he undertook the course of action he did, and it must be remembered that a family is still trying to come to terms with the tragic and untimely loss of their loved ones. Our thoughts today are rightly with Bernadette and Sarah's family, who have shown great strength and dignity throughout the investigation and trial process. I would like take this opportunity to thank the investigation team for their commitment and tenacity throughout the investigation and the Crown Prosecution Service for preparing this case for court. I would also like to thank the Metropolitan Police, British Transport Police, the media and the public who called us with information about the whereabouts of Peter Fox following our media appeals, for their support which lead to the arrest of Peter Fox."

In a victim impact statement prepared on behalf of the family of Bernadette and Sarah, the family said:- "It is absolutely unbelievable that we all find ourselves in this horrendous situation. Never in a million years could any of us have foreseen such an awful act would happen in our family. Our lives have been ripped apart and we have lost 2 beautiful people at the hands of someone who should have protected them, yet their own flesh and blood did the opposite. Words cannot express the pain and anguish have endured since their murders. Peter's decision to take the lives of his own mum and sister with no regard for the effects it may have on others is unimaginable. The loss of Berna and Sarah is beyond words. There will be no more birthdays, parties, celebrations or any other family activities. The laughter, hugs, conversations, phone calls, texts, random knocks at the door and seeing two smiling faces and those opportunities to say I love you are forever gone and our family is forever broken. He has taken the lives of 2 special people and in doing so destroyed the lives of so many others. We will probably never know the reasons why he did this awful thing, but he needs to realise what he's done and serve time for taking the lives of his mother and sister."

New company to help meet housing needs
A new housing company which could help thousands of people on to the property ladder is set to be established by Liverpool City Council. A report to the Cabinet, on Friday, 24 June 2016, is asking permission for the City Council establish a local authority owned, commercially driven 'for profit' company which, over the next few years, would develop houses on land owned by the Council and the public and private sector across the City for sale and rent. The aim is to provide new routes into home ownership for people by developing new starter homes, rent to buy properties and shared ownership schemes. The company would also act as a high quality, commercial, private landlord. Under rent to buy, tenants purchase the property at a discount after a period of time funded by the increased value and an equity contribution built up through the rental. The City Council would maximise construction employment opportunities for local firms and apprentices, and profits made by the company would be recycled back into supporting wider council services. Mayor of Liverpool Joe Anderson said:- "We have done an awful lot to increase the range and choice of housing in the City over the last few years by working with housing associations and developers, as well as through our innovative Homes for a Pound scheme. Our success in creating more than 5,000 new homes with private and public sector partners has improved life for thousands of residents and is generating valuable council tax income to help offset cuts in our funding from Central Government. However, despite this work, I am acutely aware that there are still far too many people simply can't get a foot on to the housing ladder in the areas where they want to live. This is an opportunity to use our knowledge and land to build properties which boosts employment, while at the same time helping people into their 1st home."

The company would not rent properties out on a social housing basis or seek to compete with housing associations. Councillor Frank Hont, Cabinet member for housing, said:- "This is not a return to the days of the council being a social landlord providing mass housing. The company will operate commercially, but be very focused on social value and social responsibility and won't compete with Housing Associations. This is not about competing with other sectors, but about filling gaps in the market which the private sector is not doing, and increasing the quality of the housing market."

The company could also buy up and refurbish vacant property to support parts of the City where the housing market is struggling. Over the last 5 years a number of local authorities including Thurrock, Gateshead and Brentwood have entered the housing market on a commercial basis, and research suggests over 50 Councils in England are in the process of developing housing companies.
Manchester Sea Life Center teams up with Disney-Pixar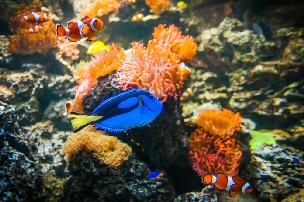 SEA Life Manchester has teamed up with Disney-Pixar to enable its visitors this summer to share the excitement of Finding Dory! A special Disney•Pixar Finding Dory event will be hosted from Saturday, 16 July 2016, until Sunday, 11 September 2016, at the Manchester based attraction, as well as 11 other Sea Life centres in the UK and Ireland. Visitors will be led on an interactive trail by 1 of the new Disney-Pixar movie's star sea creatures Hank (voice of Ed O'Neill), a cantankerous Octopus. "Hank will appear in displays right through each centre, revealing amazing fishy facts and providing collectible 'letters' which will need unscrambling at the end of the journey to earn a reward. Like Finding Nemo before it, the new film is likely to inspire an interest in marine life among millions of children, which is why we're delighted to be associated with it." said event organiser Jamie Turner.

Disney-Pixar's Finding Dory tells the story of Dory's quest to find her own family, with the help of Nemo and Marlin and new characters like Hank that she meets at a Californian marine rehabilitation centre and aquarium. "We have many of the real sea creatures in our displays that the film's characters are based on. With their help we think we can reinforce the messages which are at the heart of the film, about the importance of looking after our seas and of sharing experiences with family and friends." added Jamie.

Sea Life Manchester transports visitors to an amazing underwater world, where they get to see incredible sea life from all over the planet. It is home to a whole host of sea creatures including Ernie, the Giant Green Sea Turtle, who neverfails to delight visitors, a shiver of different shark species, such as Black Tip Reef Sharks and an incredible bay of rays, which is home to beautiful Blue Spotted Stingrays. The Centres hosting the event are at London, Birmingham, Blackpool, Brighton, Great Yarmouth, Hunstanton, Loch Lomond, Manchester, Scarborough, Weymouth, Cornish Seal Sanctuary and Bray (Ireland).