Emerging Artists kick off with:- "Tent!"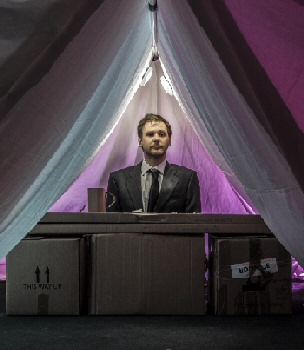 PARTICIPANTS of Hope Street Ltd's Emerging Artists Programme 2016 have set up camp in a city centre office block and invite you to come and join them around the camp fire to discuss important issues.

Responding to current crises around immigration and homelessness, the project, entitled TENT! is a multimedia interactive artwork. It will be part of Festival 31, a month long festival celebrating arts and culture from refugee communities which runs until 20 July 2016.

Part installation, part performance and part discussion, this immersive experience lasts four hours during which time the audience can drop in at any time, creating some individual and intimate experiences, as well as group conversations "around the camp fire", in this unusual Tent City pitched within an Office block.

TENT! Is the Emerging Artist's first project; a challenge in itself; as this will be their first performance in front of an audience as a group, after just 2 weeks together and with only 3 days to develop their own production.

This project was originally created for Light Night by three former EAP artists who met on the programme in 2014. The artists, director Roisin Fletcher, designer Laura Lomax, and musical director Luke Thomas will task the new company to create their interpretation of Tent! Developing new installations and performances.

Liverpool Asylum Seekers and Refugees Association (LARA) will be joining EAP artists again for:- 'conversations around the camp fire.'

Delivered by Hope Street Limited, the Emerging Artists Programme is now established and well respected within the industry. It's a great opportunity for people to develop and grow their skills and experience across a number of creative platforms and to kick start a professional career in the arts

Hope Street Limited is a registered charity which has been supporting emerging artists in Liverpool for 27 years. It is a National Portfolio Organisation of Arts Council England, and is funded by Liverpool City Council through the Culture Liverpool Investment Programme.
This year's successful intake of creatives has a wealth of talent and experience and consists of a director, movement director, musical director/composer, 2 designers/makers, 12 performers, producer, stage manager and a production manager.

The full time intensive programme gives participants the opportunity to create their own work alongside professional artists of international calibre; as well as networking and meeting key personnel in other major creative organisations in Liverpool.

Other key projects for EAP2016 include The Many Faces Of Francis Bacon; a masked invasion of Tate Liverpool's hidden spaces; The Last Utopian; an immersive theatrical game in Liverpool City Centre set in a dystopian sci-fi world; and The extraordinary journey of the Fakir who got trapped in an Ikea wardrobe, a devised play at the Everyman Studio inspired by the best seller of the same title.
TENT! will be a free durational performance with audiences invited to drop in at any time between 5:30pm to 9:30pm, on Thursday, 23 June 2016, at Hope Street Ltd's premises at 76 to 78 Lord Street, Liverpool L2 1TL. For more information visit:- Hope-Street.Org.

Merseyside cancer centre selected to provide advanced brain tumour treatment in new national programme
THE Clatterbridge Cancer Centre NHS Foundation Trust has been chosen as one of 16 centres across the country to deliver stereotactic radiosurgery and radiotherapy (SRS/SRT) – specialist forms of radiotherapy that can be used to treat patients with brain tumours.

The decision has been announced by NHS England and marks an expansion of this pioneering treatment, following a national review.

The Clatterbridge Cancer Centre already provides SRS/SRT in partnership with The Walton Centre. Now the number of patients receiving this innovative treatment in Merseyside and Cheshire is set to more than double. Nationally, 6,200 patients a year are expected to benefit from these services by 2018/19, compared to just over 2,400 in 2014/15. In Merseyside and Cheshire, the number is expected to increase from 94 in 2015/16 to 306 by 2018/19.

The new SRS/SRT services are spread across all regions of England, improving access to services and making it possible to treat more people closer to home. Increasing access to these advanced forms of radiotherapy means fewer people will have to undergo more invasive treatments such as surgery.

The Clatterbridge Cancer Centre NHS Foundation Trust has been selected to provide the service for patients in Merseyside and Cheshire. The service will continue to be provided in partnership with The Walton Centre. Patients will be treated at Clatterbridge Cancer Centre; Aintree, the Trust's specialist radiotherapy unit in Fazakerley next to The Walton Centre.

Dr Peter Kirkbride, Medical Director of The Clatterbridge Cancer Centre, said:- "This is truly fantastic news for patients in Merseyside and Cheshire. Stereotactic radiosurgery and radiotherapy are exceptionally precise and deliver a high dose of radiation to a small, focused area. This makes it ideal for treating tumours in particularly complex or vulnerable parts of the body such as the brain, because it substantially reduces the risk of damage to surrounding tissue. This investment in the expansion of SRS/SRT will enable even more patients to benefit from this advanced and effective cancer treatment, significantly improving their quality of life and prognosis."

Andy Shute from Prenton in Merseyside, whose wife Julie had SRT for glioblastoma multiforme, said:- "It is incredible that you can have SRT to destroy a brain tumour and 90 minutes later be in a restaurant enjoying spaghetti carbonara, like Julie was, when the alternative is a lengthy stay in hospital for brain surgery. Having witnessed the benefits SRT had for Julie, and how simple it was, this expansion in services really is fantastic news. It means more patients will have access to non-invasive SRT instead of surgery."

The boost is described by NHS England as a concrete step towards the implementation of its Cancer Strategy. Dr Jonathan Fielden, NHS England's Director of Specialised Services, said:- "As a result of this procurement thousands more patients will benefit from this very precise and effective form of treatment. This is another example of how NHS England is working hard to achieve better services and outcomes for patients at the same time as better value for the health service."

Angela Collett of the patient charity the Brain and Spine Foundation, said:- "The Brain and Spine Foundation welcome this important step from NHS England to increase access to specialist stereotactic radiosurgery and stereotactic radiotherapy, which will make a major difference for thousands of patients diagnosed with life changing brain illnesses."

SRS/SRT are specialised services delivered by a highly skilled team of neurosurgeons and oncologists, working together with specialist radiographers, physicists and other professionals as part of multi disciplinary teams. This means they need to be provided in a limited number of Hospitals across the Country with the expert teams and aligned to existing networks.

Services are delivered on a specially configured linear accelerator. The technology delivers precisely directed beams of radiation to the target site, meaning that there is less of risk of damage to surrounding healthy tissue and thus fewer side effects for patients.

The services are arranged to ensure that patients in all areas of the country have access to SRS/SRT for more common illnesses (largely for brain tumours and metastases), while three national centres of excellence will provide specialist care and support for children and patients with rare and complex conditions (such as vascular and other non-tumour conditions). As part of the Cancer Strategy, further improvements to radiotherapy access and quality will be the subject of a separate Radiotherapy Services Review.
The Review will produce a plan for a modern national radiotherapy network by September, with a revised radiotherapy service specification by the end of 2016.