Hospice ropes people in to fundraising challenge
ST. Joseph's Hospice (Jospice) is on the lookout for anyone with a head for heights to join them for a very special abseil down one of Liverpool's most famous landmarks. On Saturday, 6 August 2016, supporters of the hospice, including their two new community fundraisers Clare Maher and Laura Smith, will abseil 150ft down Liverpool's Anglican Cathedral to raise money for the hospice, which provides long-term, specialised end of life care for patients with a wide range of life-limiting conditions.

The abseil starts at 7pm and 2 ropes will be available so that friends and family members can even abseil together.

Penny Hamer, Director of Income Generation at St Joseph's Hospice, said:- "This is a jaw dropping challenge that will give you the best imaginable view of the world famous Liverpool skyline. We need to raise £6,500 every day to keep our services running and what better way to spend a summers evening than taking on this amazing challenge while raising vital funds for the Hospice."

Registration costs £25 and the minimum sponsorship required is £100. Places are extremely limited so early booking is advised.

To book your place, please call Clare on 0151 932 6035 or email or you can book on Facebook.
Jam fans asked to donate memorabilia
AN exhibition dedicated to 1 of the most influential bands of the last 40 years is opening in Liverpool; and curators want fans' memorabilia to be part of it. About 'The Young Idea' is the most comprehensive exploration of the music, background, political and social impact of 'The Jam.' The new exhibition, which opens to the public on Friday, 1 July 2016, combines the latest interactive technology with incredible, never before seen archives which chart the rise and success of the band often described as:- 'the voice of a generation.' Curated by frontman Paul Weller's sister Nicky, Russell Reader and Den Davis, the team are currently on site at the iconic Cunard Building coordinating the build of the experience. They are asking fans of The Jam to temporarily donate any memorabilia they have for a special section of the exhibition dedicated to the commitment and loyalty of the mods and rockers.

The team are after donations such as items of clothing, guitars, posters and even a Jam related scooter. Nicky said:- "We obviously have huge and varied archives which are going on display, but our previous exhibition at Somerset House last year really highlighted the fact that the passion and love for The Jam is still strong today and fans want to find a way of sharing their loyalty to the band. Loads of people tell me all the time about different items of clothing or unique merchandise that they have kept for decades and would never dream of throwing out, so this is a chance for them to put their dedication on show and let other fans admire the gems they have been storing over the years."

Den added:- "In my opinion, the Jam fans are like no other and we think it will be a nice nod to them to include them in Liverpool's showcase. There are many items we would love to see; in particular, I want to know if anyone out there has the black and white suit Paul wore for a Manchester Apollo gig in 1979; I'd be very pleased to see that once again in the flesh."

Anyone who would like to loan a piece of memorabilia should email. The items are required by 29 June 2016, but alternatively they can be added throughout the run of the showcase. The exhibition in the Cunard Building will run until Sunday, 25 September 2016 and this will be the last time it will be on view in the UK. Tickets for the show will cost up to £9.50, with discounts at off-peak times, and are limited each day to ensure the best possible experience for audiences. For more information, or to buy tickets, visit:- NiceTimeInc.com.

HMS Duncan to help Liverpool celebrate Armed Forces Day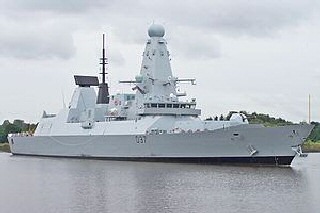 HMS Duncan has welcome members of the public onboard as it helped Liverpool celebrate Armed Forces Day. The Type 45 Destroyer was berthed alongside Liverpool Cruise Terminal, from 22 June 2016, until 27 June 2016. It was open to visitors on both Saturday and Sunday. During its visit it will also hosted students from Christ the King College, Academy of St Francis of Assisi, Priestly College.

1 of the sailors, Engineering Technician (Communications Information Systems) Amanda Davies, aged 23, from Huyton is a former Sea Cadet with Huyton with Roby Sea Cadets; TS Iron Duke. The former Knowsley Community College Roby Campus pupil was looking forward to showing current members and loved ones around HMS Duncan. She said:- "It was very a proud moment for me to show of the latest and best Type 45 Destroyer to friends and family in my home Town."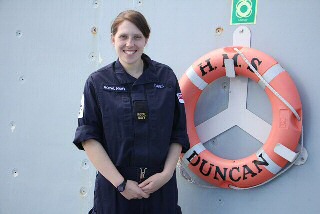 Members of the crew will attend the opening of Hugh Baird College's Port Academy in Bootle tomorrow and play golf at West Lancashire Golf Club, while the Commanding Officer Commander Charles Guy, will be among guests at the Arnold Palmer Cup opening ceremony and dinner at Formby Golf Club, that evening.

Commander Guy said:- "I am delighted to be able to bring the Navy's newest operational warship into Liverpool for Armed Forces Day 2016. I have 10 members of my ship's company that hail from Merseyside and even for the rest of us, a warship coming up the Mersey feels like something of a homecoming. For the Battle of the Atlantic, Liverpool was on the front line and I will make sure I personally pay my respects at the statue of Captain Frederic 'Johnnie' Walker, RN at the Pier Head. On Saturday, Armed Forces Day, we will be representing the Royal Navy alongside at the Cruise Terminal. Members of the public will have the chance to come and see HMS Duncan and to meet some of my sailors in person."

For more information about the Royal Navy please visit their website at:- RoyalNavy.MOD.UK.