Mental Health and Me – Faces, Places and Spaces, Creative Writing Competition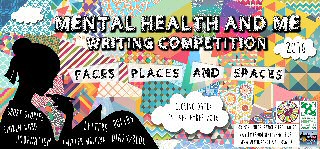 WRITTING on the Wall and the Liverpool Mental Health Consortium are proud to announce that Mental Health and Me is back for the third year running with 2016 bringing a fresh new twist to the prolific writing competition introducing Faces, Places and Spaces as the theme for its third publication. Faces, Places and Spaces will always have a major impact on anyone's mental health and often these 3 elements are a centre point for any writer or great piece of fiction.

This competition is open to anyone who has an experience or interest in mental health, whether this is based on a true story or entirely fictionalised:-

► Entrants can submit an original piece of creative writing based around the theme:- 'Mental Health and Me'.

► There are 3 categories to enter:- 'Faces', 'Places' or 'Spaces.'

► Entrants can submit their piece of writing as a poem, short story, blog or diary entry, a journalism piece, spoken word piece or a tweet.

2 Free Creative Writing Workshops

► The group is offering 2 free creative writing workshops aimed at anyone who is considering submitting a competition entry.

► The workshops will offer tips, exercises and discussions to help get entrants creative juices flowing.

► Dates of Workshops:- Wednesday, 20 July and Wednesday, 17 August 2016. See website for more details.

Prizes

► The overall winner will receive the special WoW and LMHC trophy, and book tokens from Liverpool's independent book store, News from Nowhere. All shortlisted entries will be included in an anthology published by Liverpool Mental Health Consortium and Writing on the Wall.

Celebration Event

► Evening of World Mental Health Day, Monday, 10 October 2016, all entrants will be invited to a celebratory event at Liverpool Central Library.

► All entrants will be issued with a certificate. Winners and runners up will be invited to read out their work and accept their certificate/prize.

► A special guest (TBC) will be announced to judge the winner... watch this space! Previous special guests have been Ruby Wax and the rapper Professor Green.

Rules and Guidelines

To find out more information on rules and guidelines or how to enter, please click on here.

Luciana Berger, MP for Liverpool Wavertree and Shadow Cabinet Minister for Mental Health, says:- 'I'm delighted to be supporting the Mental Health and Me writing competition, which is now in its third year. This hugely successful initiative highlights some of the best creative talent our region has to offer, and has rightly been recognised by mental health campaigner and comedian Ruby Wax. For many people, creative support forms a vital part of their treatment for their mental health problem. 'I would encourage anybody in our region who is thinking of making a submission to do so; whether you have experienced mental health issues yourself, helped a friend or family member with theirs, or have an interest in the area more generally, this competition is an excellent way to raise awareness, reduce stigma, and showcase talent.'

Claire Stevens, Development Manager of the Liverpool Mental Health Consortium says:- 'Mental Health is a major issue in Merseyside, where 1 in 3 GP appointments in Liverpool are mental health related. The 'Mental Health and Me' writing competition has been one of the highlights of the Liverpool Mental Health Festival for the past two years and Liverpool Mental Health Consortium is delighted to be working with Writing on the Wall again this year to encourage local writers to share their thoughts on the Spaces, Places and Faces which have an impact on their mental health; for better or for worse. I'm really looking forward to reading, and hearing, what everyone has to say.'

Chanel Scott – Jeffers, Writing on the Wall's Project Coordinator for Mental Health and Me, says:- 'Writing on the Wall are delighted to continue this fantastic partnership with the Liverpool Mental Health Consortium and proud to work together to provide a creative outlet for entrants to share their own very real stories and experiences with mental health – a subject which still unfortunately remains very much taboo. The high numbers of entries that we have received over the past 2 years proves that there is a demand for this type of competition and a desire among people suffering with poor mental health to use creativity as way of expressing themselves and highlighting the difficulties faced by many within our communities.'

Mental Health and Me 2015 Winner, Pat Fearon says:- 'So pleased to hear you are doing Mental Health and Me again. I thought last year's book of the contributions to this competition was most moving and honest. I so admired the effort so many had made to open up this subject to creating public awareness and understanding and sympathy; all needed! Keep up the good work, all you potential writers out there who can create so much insight as to the suffering involved. The world needs to know!'
The Liverpool Mental Health Consortium will be holding a festival from the 1 October to 14 October 2016. More information on Liverpool Mental Health Festival can be found online.

Local MP visits Dale Park care home for open day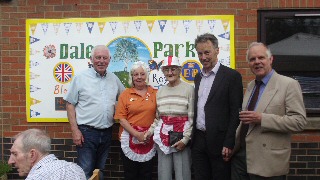 RESIDENTS and relatives at HC-One's Dale Park Care Home in Meols Cop, Southport were joined by local MP John Pugh to celebrate the 4th annual:- 'Care Home Open Day.'

John Pugh MP joined in with the fun activities taking place at Dale Park Care Home, as it opened its doors to the local community for the international open day, complementing the home on the lively atmosphere and great music.

Dale Park Care Home hosted a range of exciting activities in line with this year's theme of:- 'Right Royal Blooming Great Tea Party', including:- music, provided by Jon Frankland, a true rock and roller playing in the resident band at the Star Club in Hamburg in the 60's, he was good friends with the Beatles and has played with Chuck Berry, Fats Domino and the Everley brothers. Jon's wife Joan lives at Dale Park and Jon loves singing for Joan and all the Residents and staff.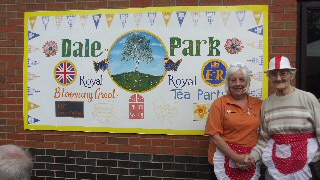 A local charity shop (Debra charity) set up in the garden so Residents could shop and browse. A few ladies bought handbags and games. We also had Ian Mitchell a Dementia Support Worker from the Alzheimer's society come to talk to relatives and residents. After music from Jon we all enjoyed a wonderful Royal buffet including canopies, sandwiches, scones with clotted cream and French fancy cakes, with an endless supply of tea, wine, beer and lemonade.
The garden was decorated with bunting that residents had helped to make and there was a tombola and plant/herb sale (plants grown from seed by Residents as part of a fortnightly horticulture group)

It was a day filled with fun and excitement, and a great opportunity for Residents, their loved ones, and members of the local community to get together and get creative, whilst recognising the important work that care teams do, day in day out, to care for vulnerable members of our society. As part of the celebrations HC-One homes across the country were also raising money for HC-One's charity partner Marie Curie. Dale Park Care Home raised £50 for the charity.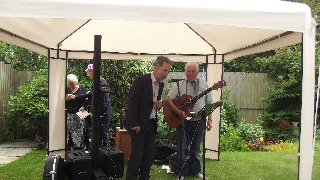 Care Home Open Day is an international initiative aimed at all care homes in the UK and beyond, both big and small, private providers and those run by local authorities. Thousands of care homes take part each year, holding special activities that create strong and meaningful link across the generations, between Residents and their local communities.

HC-One Dale Park Care Home Manager, Carla Middleton, said:- "Everyone had a wonderful day. We were delighted that MP John Pugh was able to visit the home, meet with Residents and their families and enjoy the lively entertainment and activities during the day."
HC-One Managing Director, Glen Mason, said:- "It is wonderful to see so many Residents, staff and their families enjoying themselves at events like this and welcoming the community into our care homes to see the kind care we provide to Residents."
Big Co-Op clean to "sweep" into Southport
THE Big Co-op Clean is set to "sweep" into Southport, on Thursday, 30 June 2016, as part of a community campaign to tackle litter and improve the local environment together. Forming part of a national campaign, colleagues from:- The Co-op, the Southport Co-op Local Forum and Salvation Army, have joined forces and are encouraging the community to help to make a difference locally by arriving at the Salvation Army centre on Shakespeare Street, at 9:30am and taking part. The Southport litter pick is taking place during Co-operative Fortnight, which this year runs until 2 July 2016 to highlight the benefits of co-operation.

Frank Hanley, Member Pioneer at the Co-op Local Forum in Southport, said:- "As a community retailer the Co-op is committed to making a positive difference to local life. The Big Co-op Clean is a chance for members, customers, local organisations and groups and, the community as a whole to come together to improve the local environment for the benefit of everyone; and the more people that join in, the bigger the difference we can make. The Big Co-op Clean is also a way of demonstrating how co-ops are different to other types of business. Because they are owned by their members local issues and concerns are more of a priority; that's just one of the reasons why the Southport community is co-operating to tackle local litter together."

To find out more about Big Co-op Clean events click on here.