Wirral to honour those who fell at the Battle of the Somme
WIRRAL is to mark the centenary of the Battle of the Somme with a poignant early morning vigil at the War Memorial, Grange Hill, West Kirby. The War Memorial, which stands high above the peninsula looking out to Wales and across Liverpool Bay, is a fitting site for the vigil. It was designed by Charles Sergeant Jagger, the son of a miner, who gave up a scholarship in Rome and Venice to join the Army when war broke out in 1914. His experience of war, including service on both on the Western Front and Gallipoli, along with being wounded 3 times and receiving the Military Cross for gallantry, has influenced much of his work. The Mayor of Wirral, Cllr Pat Hackett, will lead the vigil which starts at 7.30am, on Friday, 1 July 2016. This is exactly the time that soldiers begin going 'over the top' at the Battle of the Somme 100 years ago. In total, more than 1 million men were wounded or killed, including many from Wirral. The Service will be taken by the Bishop of Birkenhead, the Right Reverend Keith Sinclair, and will include a reading by Nicola Chavasse, the great great niece of Captain Noel Chavasse; 1 of only 3 men to have twice received the Victoria Cross, the highest award for gallantry, and the most decorated soldier in WW1.
Cllr Pat Hackett, Mayor of Wirral, said:- "On Friday morning we will join people across the UK to remember the terrible events that took place at the Somme exactly a century ago. We will remember the young men from Wirral and across the country who fought and too often died together, the terrible injuries and trauma they suffered, and the families that were torn apart. You are very welcome to join us at West Kirby or visit your local memorial and take a moment to reflect on the sacrifice they made and the bravery they showed in the face of unimaginable conditions."

As well as the Civic Vigil, at Grange Hill, whistles will also be blown at 7.30am by Cadets at a number of Wirral's war memorials including (depending on availability) the following:-

► Hamilton Square, Birkenhead.
► Christ Church, Kings Road, Bebington.
► St Bernard's Church, Bromborough.
► St Oswald's Church, Bidston.
► St Peter's Church, Lower Heswall.
► Pasture Road and Maryland Lane (Junction), Moreton.
► Magazines Promenade, New Brighton.
► Osmaston Road/Prenton Lane (Junction), Prenton.
► The Library, Ford Road, Upton.
► Port Sunlight Village.
► Thornton Hough.
Young male arrested in connection to firearm offences in Southport
A 22 year old man has been arrested on suspicion of possession of a firearm in Southport; on Sunday, 26 June 2016. At about 5.10pm, Police received a report claiming that a man had been seen threatening another man with a gun on Stanley Street, Southport. Armed response officers attended and a containment was placed on a house in Stanley Street. A 22 year old man from Southport was arrested by Officers nearby on suspicion of possession of a firearm and he was then taken to a Police Station. Anyone who may have information which could help the Police with their inquiries into this incident is asked to contact Sefton CID on:- 0151 777 3835, or Crimestoppers on:- 0800 555 111.
Armed robbery in Melling
MERSEYSIDE Police are currently appealing for information following an armed robbery, in Melling, on Wednesday, 22 June 2016. At around 5.15pm, a call was made to Police stating that 2 men had entered Melling Hair Studio on Waddicar Lane, in possession of 2 bladed weapons. The men are believed to have stolen money from the till before leaving the shop and making off in a white car, possibly a Vauxhall Zafira. The men are described as white, in their early 20s, with scarves covering their faces, hoods up and wearing dark clothes. Detective Sergeant John Fitzgerald from Sefton CID said:- "This was a shocking incident carried out during broad daylight. Although it was extremely distressing for staff, thankfully nobody was injured, and extensive enquiries are underway to identify the offenders. Given the time of day, we are hopeful that passing members of the public may have seen 2 men acting suspiciously around 5.15pm on Waddicar Lane, or may have noticed a large white car speeding away from the area. Any details, however small, may be vital to our investigation." Anyone with information on this incident is asked to call Sefton CID on:- 0151 777 3835, call:- 101, or Crimestoppers anonymously on:- 0800 555 111.

Partnership formed to tackle growing mental health and wellbeing issues faced by educators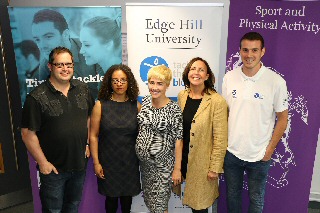 LAST week Edge Hill University in partnership with the Association of Teachers and Lecturers (ATL) union held the 1st of 6 workshops designed to address the growing mental health challenges facing education staff and students across the North West.

The Mental Health for Education workshops have been developed in partnership by Edge Hill, the ATL and Everton in the Community in response to the increasing stress placed on educators to address mental health issues being experienced by students, often without any professional training or appropriate qualification to do so.

A recent report co-commissioned by the ATL identified the expectations placed on teachers to meet the:- 'time bomb of mental health problems' (NSPCC, 2015) among pupils as the most common and concerning issue currently facing educational professionals across the UK.

The pressure on teachers to manage student wellbeing is staggering, with the ATL report highlighting that 1 in 10 young people aged between 5 to 16 experience a clinically diagnosable mental illness, with 50% of all adult mental illnesses (excluding dementia) being first experienced during school years at the age 14, and 75%k by age 18.

Jon Jones, Partnership Development and Engagement Manager and member of Edge Hill's Faculty of Education and Department of Sport and Physical Activity said the workshops are the first step in improving the wellbeing of staff and students across the North West. "There is a growing concern regarding the mental health and wellbeing of children and young people, but also of the educational professionals who are often viewed as responsible for dealing with their pupil's mental health and wellbeing, as well as their own. The 6 consultation events we have developed as a result of the partnership between Edge Hill University, ATL and Everton in the Community offer a great opportunity for us to gather evidence on the day to day real world challenges currently being faced by educational professionals. Understanding the needs and challenges related to mental health, wellbeing and education will provide us with an opportunity to not only inform policy and practice, but to work with schools to provide support and training to develop school approaches to mental health and wellbeing and professionals understanding and skills to deal with mental health issues." Jon said.

ATL general secretary, Dr Mary Bousted, said the North West conferences will lead the Union's initiatives and actions across the UK. "ATL is delighted to be a partner in such an important project training and giving education staff the confidence to speak out about mental health issues whether it's in the classroom or the staff room. We are determined to stamp out the stigma around mental ill health that is preventing young people and education professionals from tackling this crisis. ATL's crucial work in the North West will be rolled out across the country to ensure that our members can support each other and the young people in their classrooms to improve discussions and take action on mental ill health."

Once the workshops are completed, the Mental Health for Education partnership hopes to have identified common experiences and best practice to inform future school approaches to the mental health and wellbeing of staff and pupils. The working group also hopes to inform the current and future policy landscape for mental health and education by producing research data on educational professionals' needs, and the impact of workplace pressures on their mental health and work life.
Somme 100 in Formby
THERE is going to be a short service of commemoration of the 100th Anniversary of the Battle of the Somme, at Formby War Memorial, on Sunday, 3 July, at 4:15pm. This will include the last post, silence, reveille a short homily, readings and prayers and laying of crosses.