Cunard 100 – A Centenary Celebration
1 of Liverpool's 3 Graces is celebrating a very special birthday on Saturday, 2 July 2016, as it marks the centenary of the Cunard Building, and there are plans in place to make sure it is a very happy birthday for the iconic venue. To kick start Saturday's celebrations, Cunard's Queen Elizabeth will sail in to the city at around 7.15am, and will remain berthed at Liverpool's Cruise Terminal until around 10.15pm when she will depart against a backdrop of stunning fireworks.

Earlier in the day, the Lord Mayor of Liverpool, Councillor Roz Gladden will join Captain of Queen Elizabeth, Inger Klein Olsen (1st ever female captain of Cunard ship) to unveil an impressive, 50metre long stone seat which stretches the full length of the Cunard Building. The granite bench, located on the Strand side of the building, features a specially designed piece of artwork called The Journey which uses bronze illustrations and writing to chart the history of Cunard, from 1839 to the present day.

2 free concerts are then set to take place on the Pier Head in the afternoon and then once again in the evening. Visitors are encouraged to come along and bring their flags and singing voices as they are entertained with performances from the Royal Marines Band, Liverpool Welsh Choral and opera singer Danielle Thomas who will be singing classics such as:- 'Rule Britannia' and 'Land of Hope and Glory' alongside contemporary numbers such as:- 'Proud Mary' and 'All You Need is Love'. And of course, because of the occasion, each concert will feature Happy Birthday as the finale.

The 1st concert will take place at 2.30pm until around 3.15pm, and then will be repeated 9.30pm to 10.15pm, finishing just before Queen Elizabeth departs. There is also the opportunity to be 1 of the 1st visitors to the Cunard Building's brand new exhibition dedicated to 'The Jam.' This is the 1st weekend About The Young Idea opens to the public and is packed full with never before seen archives and memorabilia. The exhibition is being described as a must visit not only for fans of 'The Jam.' , but for music lovers everywhere.

Lord Mayor of Liverpool, Councillor Roz Gladden, said:- "This is a very special day in the history of both the City and of Cunard. I am delighted to be joining Cunard's first ever female captain to unveil The Journey which will be a striking addition to the area around the building, befitting of the heritage and grandeur of the Grade II* listed building. The seat recounts some of the defining moments in the epic Cunard journey and it's the perfect birthday present for 1 of the most recognisable buildings in the world."
Assistant Mayor and Cabinet Member for culture, tourism and events, Councillor Wendy Simon, said:- "Liverpool loves a party, and we couldn't let this centenary pass without a fitting celebration. The arrival of Queen Elizabeth once again on the Mersey will, as always, be a spectacular sight and the significance of the date is a real nod to the role Liverpool, and the Cunard Building itself, has played in Cunard's history. The arrival of a Cunard vessel in to the City always draws a crowd, so we wanted to make sure that we put on an event so people can feel part of the celebrations. We always get a fantastic reaction to any live music, so what better than to organise a free concert which encourages a good old sing along and makes it a great day out for all the family; with a fireworks finale topping off the fun. At the heart of this, it's a celebration of a centenary of the Cunard Building and I think it's important we think differently about how we use our historic venues. This weekend will see Cunard opening its doors to a brand new exhibition charting the rise and success of The Jam. With more plans in the pipeline, there is a real sense that we are opening up the building once again for the public, and hopefully can attract a raft of new audiences who can make the most of this waterfront gem."

Cunard Director Angus Struthers, said:- "Queen Elizabeth will lead Cunard's celebrations for the centenary of the famous building bearing our name. It promises to be another great day on the Mersey and at the Pier Head. Cunard Building embodies the bond we have with the City of Liverpool. As the centrepiece of the famous waterfront it provides our guests on board with a unique sense of arrival in 1 of the world's great Cities. We can't wait to be back in our spiritual home."

For all the latest information, visit:- CultureLiverpool.Co.UK, or follow @culturelpool on Twitter or Culture Liverpool on Facebook. Tickets for The Jam exhibition will cost up to £9.50, with discounts at off peak times, and are limited each day to ensure the best possible experience for audiences. For more information, or to buy tickets, click on here.

Liverpool John Moores student fights UK hunger with 52 mile fundraising challenge
STEPHEN Lea, an IT student at Liverpool John Moores University and intern at global animal health company, Elanco, is running 52 miles across Merseyside to raise funds for surplus food redistribution charity, FareShare.

Starting on Sunday, 3 July 2016, Stephen will take on 6 races, over 7 days, including the Southport ½ Marathon, the Thurstaston Multi Terrain 10k, and Sustrans Cycle Trail 10 Miler. The last leg of the Tour of Merseyside challenge is a 12 mile coastal run from New Brighton to Hoylake, and back again.

Stephen is hoping that his fundraising challenge will raise at least £300 for FareShare, to help the charity redistribute more good quality food that might otherwise go to waste, to charities and community groups that support vulnerable people across the UK.

Claudine Piggott, Corporate Development Manager at FareShare, said:- "We are delighted and grateful that Stephen is taking on this challenge to help FareShare tackle food waste and fight hunger across the UK. For every £1 that Stephen raises, FareShare is able to redistribute enough food for charities to serve up 4 nutritious meals, so we'd urge people to sponsor Stephen generously and wish him luck with all 6 events."

Mark Hall, Development Manager at FareShare Merseyside, added:- "Taking on the Southport ½ Marathon is quite something, let alone following that up with another 5 running events in the days that follow, so I'm full of admiration that Stephen is taking on this challenge to raise awareness and funds for FareShare's work, both here in Merseyside and across the UK."

Elanco, where Stephen is an intern, has been supporting FareShare since 2012. To date, the company's donations have enabled FareShare to redistribute enough food for more than 800,000 meals for people in need. The company's staff also volunteer regularly at FareShare's Regional Centres, where surplus from the food and drink industry is sorted and redistributed to local charities and community groups.

Stephen can be sponsored on his Just Giving page.
Find out more about volunteering opportunities at FareShare Merseyside and other regional centres across the UK online now.
Police Netball Team are celebrating European glory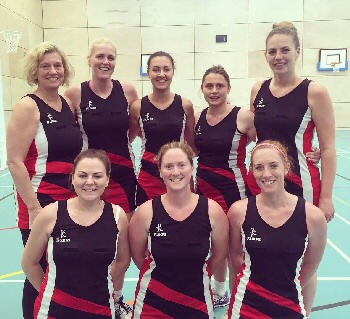 MERSEYSIDE Police Netball Team are celebrating European glory after winning this year's European Corporate Games, at Edge Hill University, in Liverpool. The team comfortably won the final, an all Police occasion against our counterparts from Staffordshire Police, after going unbeaten throughout the 2 day tournament. Companies taking part in the elite event included the NHS, Virgin Trains, Capital One, Asda, and the Chamber of Commerce. Joint team captain Leanne Lloyd said:- "This was a brilliant end to what has been another great season for the team, who have worked so hard all year."
Leanne's co-captain Victoria Williams said:- "The trophy cabinet is bursting with silverware, with the Liverpool League and Cup, Cheshire Elite, Lilly Cup and now the European Corporate games. We were also runners up in the Police Sport UK final, but you can't win them all… at least not this year!"