Help Us Buy (Working Title)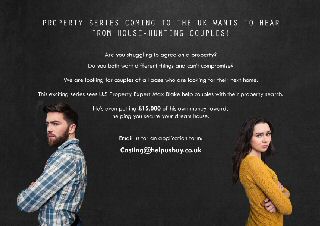 US Property expert, Max Blake, is coming to the UK with 1 goal... to help couples who are struggling to agree on their perfect home and to provide them with a whopping £15,000 towards their deposit! With over a decade's experience in real estate and specialising in helping people find a home, Max is now heading across the pond to help British couples who are in serious need of some help. Putting his money where his mouth is… Max is putting up a huge contribution to a few lucky couples' deposit by giving away £15,000 of his own money. With house prices on the rise faster than ever, this cash injection could make all the difference when it comes to making owning your own home a distant dream or a reality. If you both want different things and can't compromise on a property should send them an email to request an application form, as soon as possible.
88 year old robbed at home in Litherland
MERSEYSIDE Police Detectives are appealing for information after a robber stole money from the home of an 88 year old woman, in Litherland. The man entered the house, on Moss Lane, at about 9.50pm on Monday 4 July and pushed the pensioner to the floor while demanding cash. After a brief search of the property he took two £5 notes and fled the scene in the direction of Litherland Moss Primary School. Witnesses described the male as white, aged 35 40 years, unshaven and wearing a blue beanie type hat, blue waterproof jacket and blue trousers. CCTV and forensic opportunities have been undertaken together with house to house enquiries in the local area and an investigation is underway. The pensioner was taken to Hospital with suspected broken ribs and was kept in overnight.

Detective Inspector Robbie Moss said:- "Offenders like this deliberately target the most vulnerable in our community in their own homes, a place where they have a right to feel safe and secure. But I want to reassure the public that Merseyside Police takes the protection of the most vulnerable members of our communities very seriously and we will do everything we can to find the person responsible for this. A neighbour initially saw the man we want to speak to on Moss Lane and when they went to check on the pensioner the same male answered the door to the house before fleeing the scene. I would appeal to anyone who may have been in the area of Moss Lane and saw a male fitting the description or saw anyone acting suspiciously in the area last night to get in touch. I would also appeal to people to keep an eye on any elderly and vulnerable neighbours and family members. If you notice anyone suspicious in the area, always call the Police or contact your local neighbourhood policing team for more advice."

Anyone with information is asked to Merseyside Police on 0151 777 3835 or the confidential Crimestoppers line on:- 0800 555 111.

Parent Power Strikes Again To Support Young People And Their Dream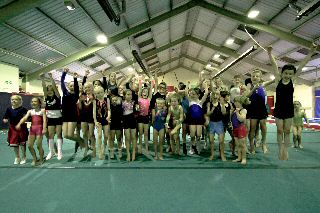 STAFF and gymnasts are celebrating after the announcement that the future of the Southport and Ainsdale Gymnastics Club has been secured. A charity set up by the Club's Parents Support Group will take over as new owners, from Southport YMCA, in September 2016.

The Gymnastics Club was formed in 1973 by parents inspired by the 1972 Munich Olympic Games. The club has grown in strength and numbers over the subsequent years and is now the biggest single sport provider in the surrounding three boroughs. It provides weekly cheerleading and artistic gymnastics sessions for approximately 1,300 young people and is the home training club for two current British team members in Daniel Purvis, Olympic, Commonwealth, European and World Medalist and Frank Baines, Commonwealth, British Senior and European Junior Medalist.

Matt Dodd, chairman of the charity, said:- "After an initial campaign aimed at securing the future of the club and a year of behind-the-scenes negotiations with Southport YMCA, we are delighted to finally be taking over the running of the club. We entered into this process with 2 key objectives in mind. Our first goal was to preserve the gym club facilities for the use of existing and all future members. Secondly, we wanted to safeguard the jobs of gymnastics coaches and staff who are the lifeblood of the club. Without them the club would not function and they have a vital role to play in its future. The club has a proud history and our role now is to build on this as we move into the next phase of the club's development. These developments will require fundraising and this will be one of our top priorities from September onwards and we will look to work with the community to achieve that. The club has an exciting future and we look forward to working with our coaches, parents and gymnasts to ensure that the gymnastics and Cheerleading provision at Segars Lane continues to be delivered to the highest standard. To support our future developments for the club we will be forging strong links with British Gymnastics, the national governing body for the sport. This will give gymnasts at all levels the opportunity to compete in competitions and ensure that high quality gymnastics provision continues to thrive at the heart of the community. We thank the Southport YMCA staff for their support in securing the transition of the club to the Southport and Ainsdale Gymnastics Club charity. None of this would have been possible without the legal advice we received and a special mention should also go to Vaqas Farooq, Managing Partner at Shoosmiths Manchester, and his team including James Skivington and James Brodie, who provided advice throughout the negotiations on a pro bono basis."

The Southport and Ainsdale Gymnastics Club is a Charitable Incorporated Organisation (CIO), a new legal format introduced to allow charities to trade as a legal body.