Catch the Bus Week – Wi-Fi most popular bus benefit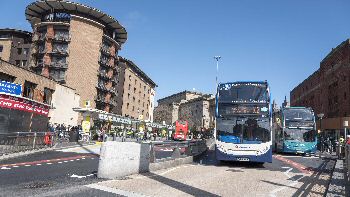 ON bus Wi-Fi is proving a hit, with it coming out top in a survey of what bus users like most about bus. Almost 1 in 4 (23%) of 106 people bus users, surveyed by Capital FM, in Williamson Square, Liverpool, on Tuesday, 5 July 2016, over 'Catch the Bus Week', that ran over 4 July to 10 July 2016, said being able to log online was the top benefit of getting the bus, with more than 1 in 5 (21%) saying comfort, cost or convenience were the biggest pluses. When asked what would encourage people to use the bus for leisure purposes, later running evening services and discounted group travel came out as firm favourites.

Discounted weekly and monthly tickets, frequent services and good connections to transport interchanges emerged as provisions that would encourage more people to catch the bus to work.

These survey results support the key priorities in the Liverpool City Region's new bus strategy which aims to make the bus a mode of choice, looking at what can be done to get new people using it and to get people who use it, making more journeys. The idea is that the more paying people there are using the bus, the more investment there is to further improve services.

The strategy is being delivered through a formal Bus Alliance between Merseytravel, Arriva and Stagecoach. The formal agreement is yet to be signed, but much has been achieved already through the alliance 'lite' giving people in the Liverpool City Region more reasons to try the bus than most:-

► Bus users in the LCR are some of the most satisfied of any major city region in the UK with an overall satisfaction rating of 89% according to the Transport Focus Bus Passenger Survey, autumn 2015 Report.

► The LCR has 1 of the best young people's ticketing offers outside London with all young people's tickets now available up to and including 18, including MyTicket; a £2 any bus, any operator ticket that can be used all day, every day.

► Frequent services; on the busiest routes the majority of daytime services operate every ten minutes or less with some as frequent as every few minutes.

► Free Wi-Fi and USB charging points are being rolled out on all new buses.

► The 'Quality Bus Network' is working to make bus travel more convenient and quicker on key routes, with more regular buses during the day, better information and routes where drivers can accept tickets from the other bus companies operating on that route.

► Walrus sales (tickets on the smartcard) hit the million mark in February 2016 making it the most active smartcard scheme in any City Region outside London. Tickets can be used on any buses and be bought at more than 800 PayPoint outlets.

The 1st 12 months of the Alliance will see a number of initiatives including an initial £19m investment in greener buses with free Wi-Fi and USB charging points; the introduction of one point of contact for customer service; new customer service training for drivers; improved links to John Lennon Airport and the rail network; the development of a trial 24 hour bus route and the start of a strategic review to create a simpler, clearer bus network.

Claire Haigh, Chief Executive of Greener Journeys; a campaign dedicated to encouraging people to make more sustainable travel choices, joined Merseytravel, Arriva and Stagecoach, in Williamson Square, on Tuesday, 5 July 2016, along with 2 double decker buses in an event to mark Catch the Bus Week and with staff on hand to answer questions and give journey planning advice.

Claire Haigh said:- "Catch the Bus Week is now in its 4th year, and once again we are delighted to see the entire bus sector coming together to promote the benefits of the bus. So much of our daily lives depend on the bus; from getting to school, to work, to the shops and to visiting family and friends and this week was the perfect time to show the whole of Merseyside the very best of what buses can offer."

You can read the Liverpool City Region Bus Strategy here here.
The Mersey Ferry 'Royal Iris of the Mersey' had to be rescued by dredger
ON Sunday, 10 July 2016, 69 passengers and 5 crew members were on the Mersey Ferry, Royal Iris, which ran aground off Eastham Locks, on the Wirral side of the River Mersey. The incident happened at around 1.20pm as the passenger ferry was setting off on a Manchester Ship Canal cruise. All the passengers were taken to safety and we are also told that there were no reported injuries. It's thought that the ferry had hit an underwater object as the vessel started to run aground. This object bored a hole in the hull which caused the ship to take on water. The RNLI's Hoylake lifeboat was tasked to assist a passenger ferry and was launched and proceeded to the stricken ferry. A short time later, HM Coastguard stood the local lifeboat down, as other vessels in the area were assisting. Hoylake Lifeboat returned to station. We are told that the Netherlands registered, Dredger, Deo Gloria, assisted in rescue, by pumping out the ferry and taking the passengers onboard. Merseyside Fire and Rescue Service then helped both vessels to move into the Queen Elizabeth Dock, which is located at the side of the Manchester Ship Canal, at Eastham. After the dock's gates had been closed, they then assisted the passengers to disembark from Deo Gloria. The Firefighters then, we are told, assisted in pumping out the sea water from the ferry, as they awaited the arrival of a further 2 tug boats. We are told that The Port of Liverpool Police, HM Coastguard and North West Ambulance Service also attended this incident. A Merseytravel spokesperson said:- "We can confirm that the Royal Iris ferry Manchester Ship Canal cruise was abandoned following reports of the ferry taking on water. The relevant emergency services were called immediately. At no time were passengers in danger and they were safely transferred to a dredger, the Deo Gloria. The Royal Iris was escorted into the Eastham lock system and we will investigate the cause of this incident. We apologise to our passengers and would like to thank them for their cooperation."

Fact File:- Did you know that Deo Gloria is working in the river Mersey. She was built in 1978 and is:- 70.36m long and 14.33m wide. She has a gross tonnage of: - 1512 tons and a deadweight of: - 2100 tons.

The Mersey Ferry Royal Iris was originally named:- 'Mountwood' and was built in Dartmouth, by Philip and Sons Ltd. The Ferry was then launched on 6 July 1959, and travelled up to the Mersey from Dartmouth in 1960. She was renamed in 2001 as the Royal Iris of the Mersey. The craft is 46.32m long, by 12.2m wide and is owned by Merseytravel.
Hoylake Local Sainsbury's are backing the RNLI
THIS year, shoppers at Hoylake Sainsbury's will be please to know that the convenience store will be supporting its local RNLI Lifeboat service, at Hoylake, after picking them as the stores 'Charity of the Year!' As the RNLI team at Hoylake commented:- "We are extremely pleased as this will help us to provide vital support services along the coastline and will help save lives at sea. We want to say a big thank you to everyone who voted for us in the store." More information about the Sainsbury's Charity of the Year scheme can be located via this link.

Flats closed on Talbot Street, Southport, by Court Order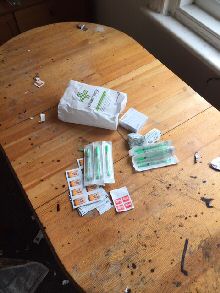 MERSEYSIDE Police have been granted a closure order for a block of flats, located in Southport, on Friday, 8 July 2016, following reports of drug activity and antisocial behaviour. The order was granted for 8 flats, at 15 Talbot Street, by South Sefton Magistrates Court, and will remain in place until Saturday, 8 October 2016. The orders were applied for by the Local Neighbourhood Policing Team, in response to community intelligence in relation to the supply of drugs.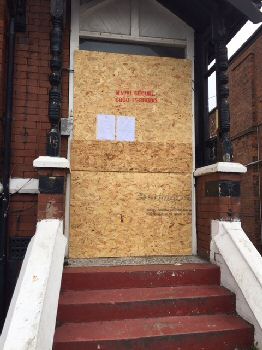 Superintendent Dawn McNally said:- "By liaising with local councillors and residents evidence was gathered and collated by our Officers over a period of time. This was presented to the court and the order was granted. The complaints received included incidents of anti social behaviour, drug dealing and drug taking linked to the address and people calling there. The order was approved in court and means that nobody can visit the address other than the owner. Anyone, other than those specified in the order, found to be on the premises will be subject to arrest. The order will run for 3 months and will be reviewed by Officers at its conclusion. I want to assure our communities that we will continue to target offenders and any properties associated with them who continue to cause problems for the community, and will do this using all lawful powers available to us in order to make Sefton a safer and more peaceful place to live. This closure order was only made possible due to the assistance of the local community, and the hard work and diligence of our Officers, and we will continue to be robust in tackling criminal activity and anti social behaviour. I would encourage any members of the community who have any information to call us via our 101 number or through Crimestoppers, anonymously, on:- 0800 555 111."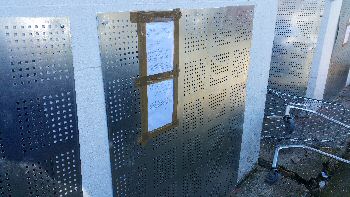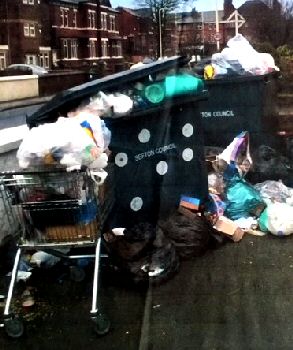 Driver advice for RHS Tatton Show
THE Highways Agegency in England are reminding drivers using the M56, A556 and M6 in Cheshire that the annual RHS Tatton Show is taking place over 20 July and Sunday, 24 July 2016. They are saying that all drivers travelling through the area or to the show itself are should plan ahead and check traffic conditions before setting out. Highways England Events Planning Manager Chris Chadwick said:- "This is a long standing event in the region's summer calendar and we are not anticipating any major traffic problems, but we always encourage people to check before they travel when we know there are large events taking place. As usual, Highways England traffic officers will be monitoring the motorway network to respond to any incidents and we will also be setting signs to advise drivers of any problems. Drivers can help themselves by checking travel conditions before setting out and by ensuring they are prepared in the event of a breakdown or being stuck in traffic or behind an incident."

Although Highways England is not anticipating major traffic issues it is likely that many drivers heading to the show will use the M56, A556 and M6 during part of their journeys to the event at Tatton Park, near Knutsford. With some congestion around Junctions 19 and 20 of the M6 and Junction 7 of the M56 will be possible, at times throughout the event. Highways England traffic officers at the North West regional control centre will be setting signs before and during the event to give advice to drivers and the motorway routes will be supervised by on road patrols from the outstation at Knutsford. Highways England is also advising drivers heading to the show to stick to any signed routes to minimise the chance of delays. During the event, drivers using the northbound A556 will be prohibited from making right turns into the A5034 Mereside Road at Bucklow Hill and into Cherry Tree Lane at Rostherne. Northbound drivers will be able to access these routes from the A556 by joining the southbound carriageway via Bowdon Roundabout. Drivers using the M56 are reminded the Eastbound exit slip road, at Junction 7, is closed until November 2016.
The Royal Horticultural Society's website features full information about the show including public transport options and advice for drivers. The show is open between 10am and 6.30pm each day except on the Sunday when it closes at 5pm. Updated travel bulletins can be found on our hub website MerseyReporter.com, but please only log on if safe to do so!